I believe when in doubt, simplify. Don't over complicate with colors, and stitches and tricky patterns to follow, just keep it simple. And that's why I'm in love with this simple crochet baby blanket.
First, it started with color choices and yarn.
Earlier in the summer, Hannah and I visited my parents in Colorado. We definitely wanted to take my mom to a specialty yarn store. Usually, we head to a Michael's or a JoAnns, but at that time, we wanted to see what a smaller, unique store would offer.
We found Shuttles, Spindles and Skeins in Boulder! My mom crocheted her whole life, making blessing blankets for each one of her grandchildren, and Hannah and I thought that maybe it would be nice to find her some gorgeous white yarn to start making a blessing blanket for her hopeful first great-grandchild!
(My mom has thirty-three grandchildren and Hannah is not the only one married, so said hopeful blanket could really go to anyone.)
But while my mom was shopping for her white yarn, Hannah and I were scanning all the different brands and brainstorming for new projects for the Daisy Farm.
I fell in love with this cream and lilac shades of yarn from the Cascade Yarn Company.
Here's the thing though, it was wool and a little pricey. I'm so used to my Caron Simply Soft acrylic and Bernat Wool Roving that is affordable. Affordable meaning that I don't panic if my ideas don't turn out, I haven't wasted money. But then I reminded myself that it's okay, it's just crochet and it can be undone and redone very easily. And maybe it wouldn't be so bad to have a super nice wool blanket for a grandchild someday.
Who knows, maybe one of these future grandbabies will be living in the colder regions.
The feel of this yarn is soft with a bit of stretch to it. I played around with a few stitches, thinking this really needs to be something special since I had spent so much. (I bought 5 balls of the cream and 4 of the lilac, each one was almost 9 dollars. So 81 for enough to make a baby blanket. That's about double what I usually spend.)
And that's when I was in doubt, and I chose to simplify and create this Simple Crochet Baby Blanket.
So take a closer look at this stitch, it's a basic Half Double Crochet in US Terms:
What I decided to do is work in between each stitch, instead of just under the top two loops. A half double crochet is made by yarning over once, inserting your hook into a stitch, yarning over and pulling through, then yarning over and pulling through all three loops left on your hook.
It's the inserting your hook into a stitch part I tweaked. Usually, after working your first row of HDC into the base chains, your hdc's are worked into the hdc's from the row below, and usually under the two loops. Well, look closely at that stitch, and in order to go in between each hdc, you essentially are working under all three loops the hdc makes. We also like to call this wide half double crochet.
Understanding this will help you to make sure you don't miss the last stitch on each row. You will always be working to the left of the post.
Here's a video clip to make sure you understand what I'm trying to explain:
(Or click here to view the video on YouTube.)
This yarn worked so well using this technique, that the sides of the blanket were so straight, the general agreement when I held up my finished blanket to Annie, who seems to be always sitting on the couch across from me, was that it did not even need a border. It was gorgeous as is! And she called dibs! (She's the youngest of the five kids, she might have to fight her older sisters for it.)
So this blanket really is a simple, fast, amazing blanket to make and I hope you give it a try!
And yes, I think it will work with any type of yarn and give you great results, I just happen to love these colors together and have never seen them in any other brand of yarn.
Materials
Cascade Yarn (superwash wool, 220 yds/100 g/3.5 oz)
5 balls color 910A, 4 balls color 902
Size H/5.00mm crochet hook, tapestry needle
Size
Finished size 36 in x 36 in
Stitches
Half Double Crochet (HDC): Yarn over (YO), insert your hook, YO and pull up a loop, YO and pull through three loops on hook.
Wide Half Double Crochet (WHDC): YO, insert your hook between stitch posts, YO and pull up a loop, YO and pull through three loops on hook.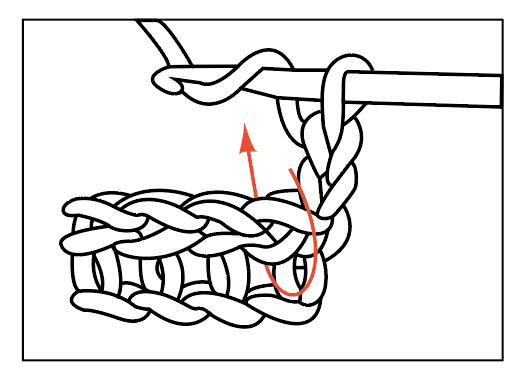 Pattern
Chain 120 with cream (no pattern repeat, you make your chain any number to the length you need.)
Row 1: In the third chain from the hook, work 1 HDC. Work 1 HDC into each chain. CH 2 and turn.
Row 2: Insert your hook under all loops the HDC made and to the left of the stitch post. This is in-between each stitch. Work 1 WHDC across the row, making sure the last stitch is in between the last post and the chain 2 turning chain. CH 2 and turn.
Rows 3 – 14: Repeat row 2, pulling through on row 14 with the new color.
Rows 15 – 28: Repeat row 2, with lilac.
Change colors every 14 rows for a total of 5 stripes of cream and 4 stripes of lilac.
Tie off and weave in all the ends.
I lay all my blankets out and spray with water and pin them into place before gifting them. Lay them on a towel, or foam mats and pin them straight. I usually eyeball it, (no one is measuring and you're not being graded, it just straightens the lines a bit.)
Then what I absolutely love, is if you decide to take a picture of your finished blanket, share it to my facebook wall so I can share to other crocheters who get inspired by you. Or, if you have an Instagram account, tag your post using the hashtag #daisyfarmcrafts. I will for sure see it and I can post it up into my stories on Sundays.
Thank you for stopping by!
xoxo,
Tiffany
Click here or on image below for printable pattern