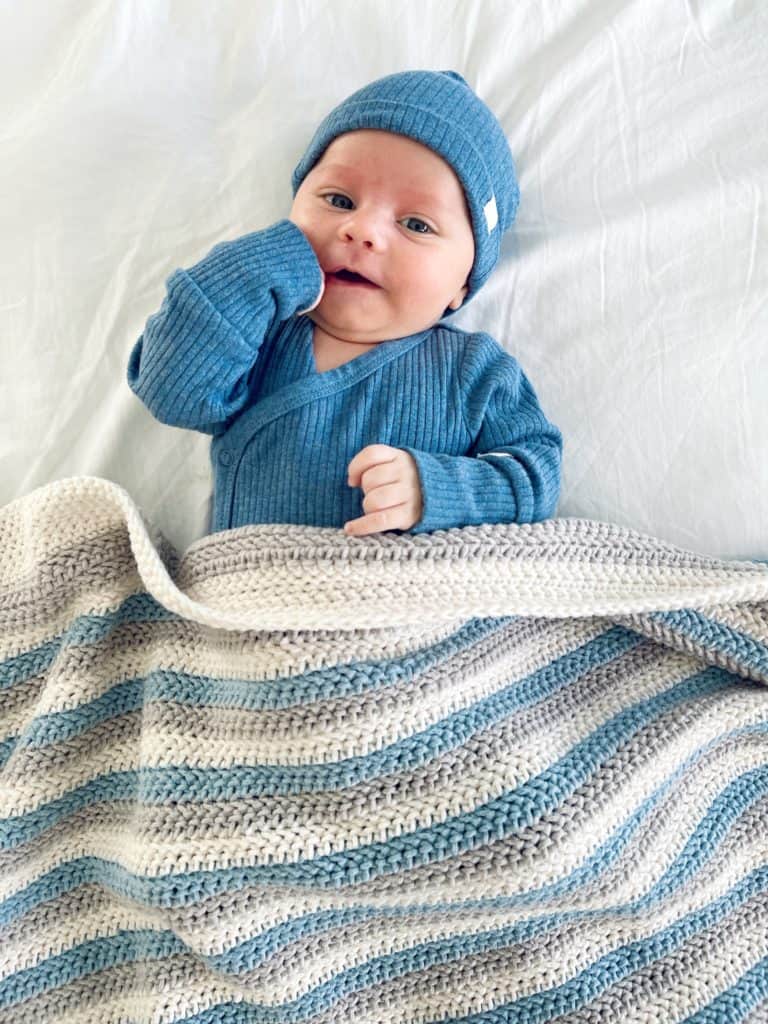 They grow way too fast! Baby James is already out of infant stage and full into baby stage.
Annie made this blanket over the summer with Bernat Bundle Up yarn. She challenged herself to learn the Herringbone Half Double Crochet stitch and I think she's got it!
Once she got the hang of pulling the yarn back through and through the first loop on the hook, it was a breeze.
It is one of my favorite stitches for blankets when you want a nice flat, no-hole look.
Hannah reports that Bernat Bundle Up is very cozy and she loves wrapping James up in it. He nods right off to sleep!
Materials
Bernat Bundle Up (100% Polyester, 140 g/4.9 oz, 244 m/267 yds, #4 worsted, medium) (Click highlighted name of yarn to see on Yarnspirations.com)
1 ball each of Dove and Sky Blue, 2 balls of Marshmallow
Size I, 5.5 mm crochet hook, scissors, tapestry needle
Size
Approximately 30 x 33 inches, gauge: 14 sts and 14 rows = 4 inches, taken from blanket
Stitches
Herringbone Half Double Crochet (HHDC): YO, insert your hook, YO, pull up a loop and pull directly through first loop on hook, YO and pull through remaining two loops.
Single Crochet (SC): Insert your hook, YO and pull up a loop, YO and pull through two loops on hook.
Tip: Tap highlighted names of stitches for video demonstrations.
Pattern
Chain 105, or any number to the width you would like, with Dove (gray)
ROW 1: Begin in the third chain from the hook. HHDC into each chain across the row, CH 2 and turn. (103)
ROW 2: Begin in the first st, HHDC into each st across the row, CH 2 and turn.
Repeat ROW 2 instructions for the next 2 rows. (4 rows of Dove). At the end of the 4th row, on last step of stitch, pull through with Sky Blue. CH 2 and turn.
ROW 5 and 6: Repeat Row 2 instructions with Sky Blue.
ROW 7 and 8: Repeat Row 2 with Marshmallow.
Going forward, change color in this order every two rows: Dove, Sky Blue, Marshmallow
Tip: To save on weaving in ends, carry yarn up the side of the blanket.
When blanket is approximately 30 inches long, work final 4 rows in Dove.
Tie off and weave in all ends.
Border:
With Marshmallow
Round 1: Work 1 HHDC into each stitch and at the end of each row, also work [HHDC, CH 1, HHDC] in each corner. Join with a SL ST to the first HHDC, CH 1, do not turn.
Round 2: Work 1 SC into each stitch and [SC, CH 1, SC] into each corner. Join to first st, CH 1, do not turn.
Round 3: Work 1 HHDC into each stitch and [HHDC, CH 1, HHDC] into each corner. Join, CH 1 do not turn.
Rounds 4-6: Repeat rounds 2 and 3.
Tie off at the end of round 6, and weave in the ends.
Overall, I'm so happy Annie is really starting to love to crochet. She is working on another blanket for baby Kate!
Thank you for stopping by! We have a free printable version below or click here.
XO, Tiffany