Hello Crochet Friends!
It's Cyndi! You might know that a few months ago my sister Tiff has been teaching me how to crochet and how to design crochet and I am absolutely loving it!
If you haven't yet, stop by and visit us for Crochet Sister Chat now on my YouTube channel, Sugar Joye where we chat about what we are working on and I get to ask Tiff all of my beginner crochet questions!
With this latest blanket project, I've added the berry stitch to my repertoire! (And if you are new to the berry stitch make sure to check out the video tutorial on the Daisy Farm Crafts YouTube channel!)
I was totally inspired by Tiff's Crochet Berry Stitch Windowpane blanket that she made for baby James. The berry stitch is so lovely and the way Tiff designed it into a grid using the pure white was just gorgeous!
Truly an heirloom piece of art!
I really wanted to see if I could incorporate Tiff's design into a design closer to my level of experience and I felt at this point in my crochet journey trying to keep track of counting out the grid seemed a little too overwhelming!
So, instead of trying to tackle a grid, I thought I would just make the border with the berry stitch with just one big square in the middle.
I really liked how warm and happy the Light Terracotta in the Caron One Pound was (and it just happens to go really well as a throw in my orange and green craft space!)
I also loved that it only required one skein! And as a baby blanket it's just the right size for playmat or a car seat or stroller snuggle!
One of the challenges I encountered with the berry stitch was crocheting too fast and forgetting to put the single crochet between each berry stitch and as a result I had to do a fair amount of unraveling and staring over because my berries weren't lined up properly!
I really appreciated the Susan Bates hook with the pointy tip for smooth berry making!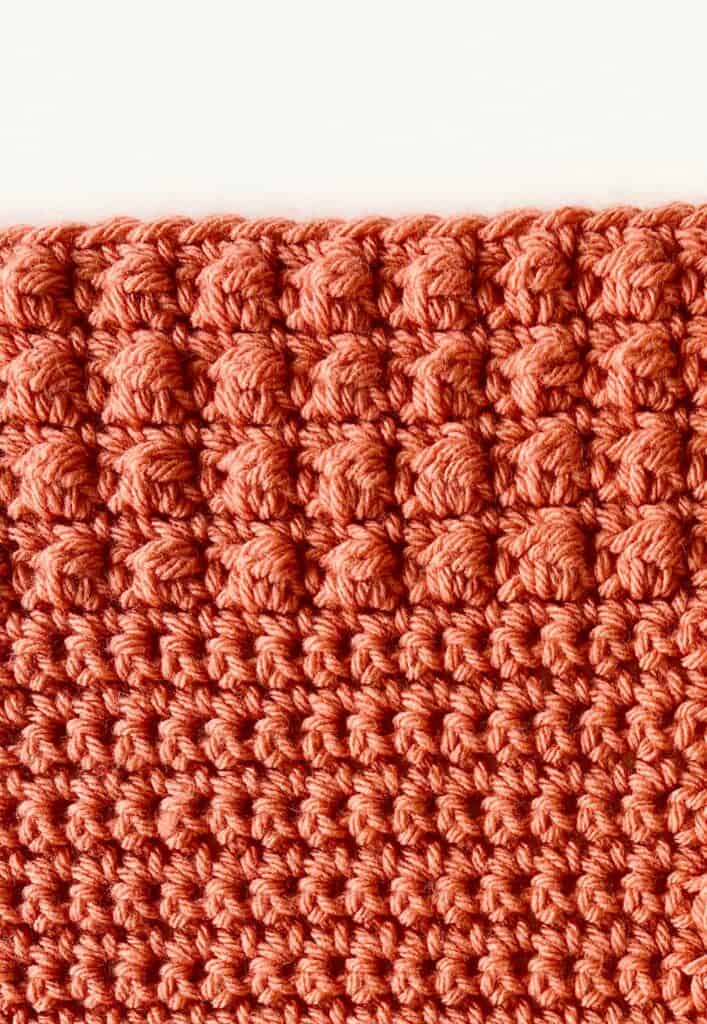 Overall, I think it is a fun and relaxing project that you'll enjoy making and keeping or gifting to someone special!
Materials
100% acrylic

Ball Size: 454g / 16 oz, 742 meters / 812 yards

4 weight worsted
1 skein Light Terracotta
8mm Susan Bates Crochet hook, scissors, tapestry needle, measuring tape
Size
Approximate finished size 36 in x 48 in
Gauge: 4 inches = 8 stitches and 8 rows taken from the blanket
Stitches
Single Crochet (SC): Insert your hook, YO and pull up a loop, YO and pull through two loops on hook.
Berry Stitch: YO, insert hook, YO and pull up a loop, YO, pull through one loop on hook, YO, insert hook into same stitch, YO and pull up a loop, YO, pull through all five loops on hook.
Pattern
Chain 70 (or any even number needed for approximately 3 feet.)
ROW 1: SC in the second chain from the hook, SC into each chain across the row. CH 1 and turn.
ROW 2: Work 1 SC into the 1st stitch, Berry Stitch into the 2nd st. Continue alternating 1 SC, and one Berry Stitch until the end of the row. Your last st of the row should be a SC. Ch 1 and turn.
ROW 3 through ROW 9: Alternate Row 1 and Row 2.
ROW 10: Alternate 1 SC and 1 Berry Stitch for 8 stitches. Continue with SC in stitch in each of the next 53 stitches. Berry Stitch into the next st, SC into the next st. Alternate to the end of the row. Your last st should be SC. Ch 1 and turn.
Tip: you will have a total of 4 Berry Stitches at the beginning of the row and 4 Berry Stitches at the end of the row.)
ROW 11: Repeat Row 3 (one row of SC)
ROW 12 – 93: Alternate Row 10 and 11
ROW 94 – 101: Alternate Row 1 and 2
Tie off and weave in the ends.
Thank you so much for checking out the Border Berries Baby Blanket! If you decide to make this you can tag Tiff at #DaisyFarmCrafts on Instagram or send me an email sugarjoye@gmail.com I would love to see it!
And make sure to visit my YouTube channel Sugar Joye for a video about how I made this throw!
Happy crocheting!
Cyndi 🙂
aka Sugar Joye
Click here or image below for free pdf download.