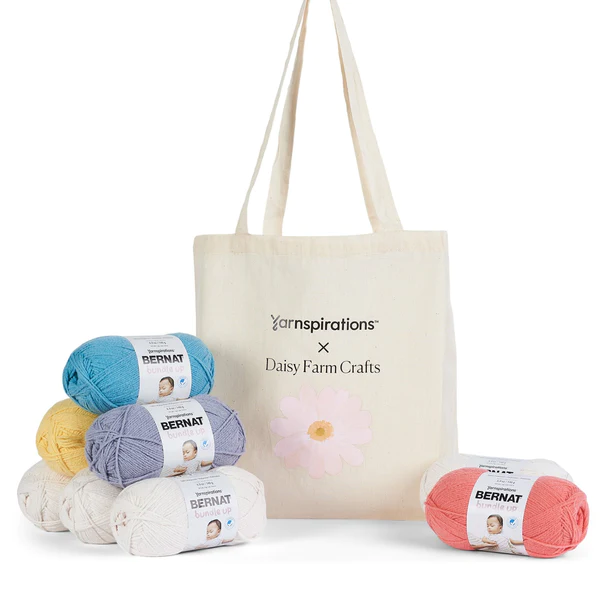 We are so excited to announce that we have curated a box of several of our favorite shades of Bernat Bundle Up yarn with Yarnspirations!
It's regularly $63.92 and is on sale now for $44.99 for 8 skeins. You will receive 4 balls of Marshmallow (the cream color, and one each of Brook, Duckling, Red Wagon, and Violet Gray.
And, we have also designed a fun little tote bag to be included with your order. It's a lightweight canvas tote, perfect for a project on the go.
Tap here to shop the sale and order the Daisy Farm Crafts Curated Collection of Bernat Bundle Up.
(Don't wait, limited quantities are available, while supplies last.)
Need an idea of what to make? We are including in this post a list of all the projects we have made with Bernat Bundle Up. It is absolutely one of our favorite yarns for baby blankets, hats, sweaters, and anything that needs to be soft and cozy.
Bernat Bundle Up is like crocheting with really soft flannel. It is very easy to work with and mistakes are easily undone. It has extra bounce and stretch so hats and sweaters turn out great. We can't say enough about our love for Bundle Up.
Keep scrolling to see all the patterns we have made with Bernat Bundle Up.
Thank you so much for stopping by! We appreciate each and every one of you. We especially would like to thank the team at Yarnspirations for partnering with us to bring you this curated box with a special tote. We have had so much fun working with them to put a little extra into the box for you.
XOXO, Tiffany and Hannah