Hello Crochet Friends!
It's Cyndi! As you all probably know my younger sister Tiffany has great ideas, especially when it comes to designing crochet!
And I have so enjoyed learning the craft of crochet from her over the last year.
Recently, I was chatting with my nieces Hannah and Nico about their favorite crochet stitches and they both recommended the Even Moss Stitch!
And so I went home, watched Tiff's Even Moss Stitch Tutorial on her YouTube channel, absolutely loved the stitch, and started crocheting!
Tap here for the stitch tutorial for the Even Moss Stitch
And it just so happened, without either of us knowing, that we both ended up making blankets using the Even Moss Stitch at the same time!
Tiff made the most gorgeous version for our nephew and his new wife she called the Crochet Even Moss Mock Cable Throw that she made with soft and cuddly Bernat Forever Fleece that turned out so elegant!
Make sure to check it out if you haven't already! (Tap any highlighted word in red to be taken to the pattern or the yarn.)
I decided to pair the Even Moss Stitch with the Front Post Single Crochet for this sister version.
You might recognize the FPSC (front post single crochet) stitch from the Berry Ridge Blanket I made a few months back.
I love the texture that the FPSC gives to the blanket, it's like little knitting v's cascading down one side.
I separate the rows of FPSC with rows of SC so the v's fall on the same side of the blanket.
With this latest sister blanket project, I combined the Front Post Single Crochet with the Even Moss Stitch and finished it off with some long fluffy crocheted fringe.
I just love the result, and I love making fun fringe.
It is such a nice and relaxing way for me to finish off the edges of the blanket.
If you aren't already familiar with the versatility of crochet fringe make sure to check out my video on crochet fringe that can be added to any crochet or knit project!
I have made lots of samples of fringe if you want to play around with some ideas.
You definitely can change it up any way you would like.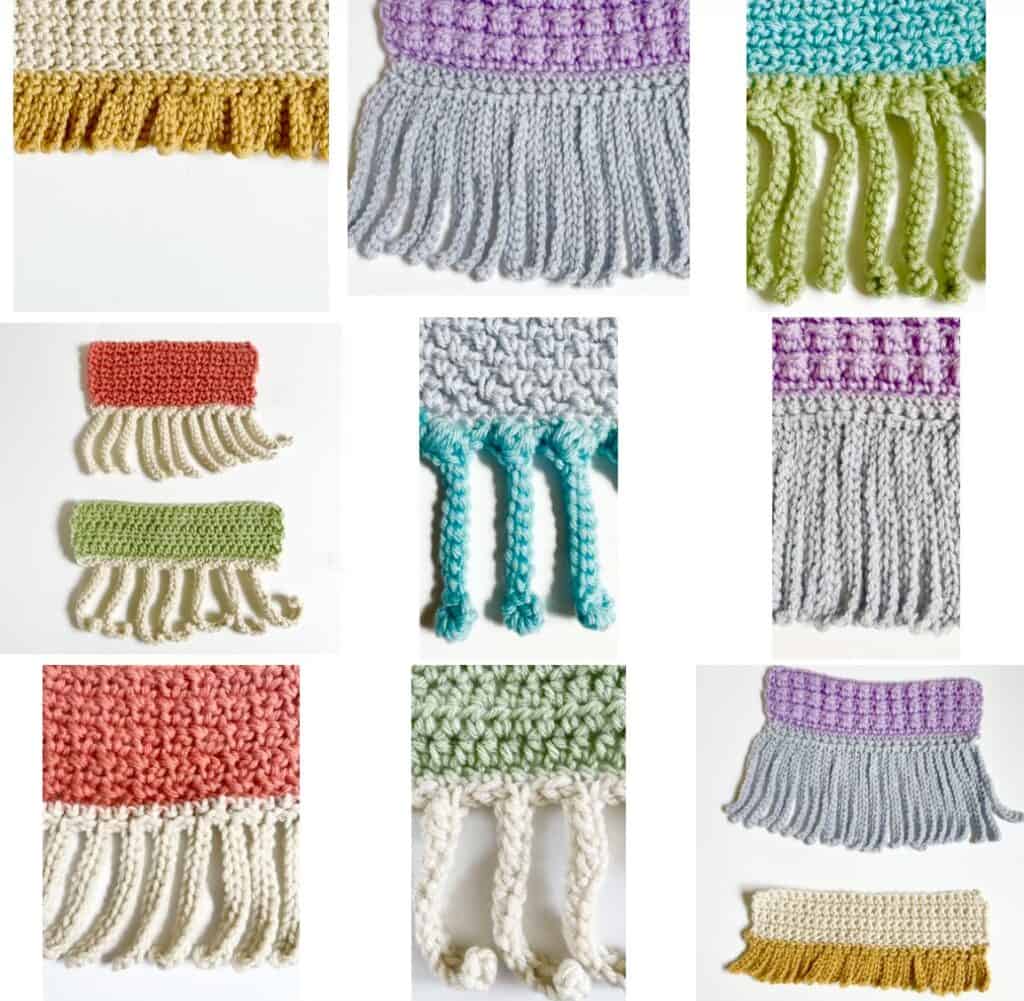 Be sure and scroll to the end of the post for the free printable pattern.
It's my favorite thing that my sister Tiffany has done, is to provide a free printable version of the patterns at the end of each post.
So if this pattern isn't right for you, look under the menu heading for textures, and you can find more blankets similar to this one with a free printable pattern.
Tap here to see more textured blankets and throws.
Materials
2 skeins Caron One Pound, Hosta
(Tap name of yarn to purchase on Yarnspriations.com)
9mm crochet hook, scissors, tapestry needle, measuring tape
Stitches
Single Crochet (SC): Insert your hook, YO and pull up a loop, YO and pull through two loops on hook.
Half Double Crochet (HDC): YO, insert your hook, YO and pull up a loop, YO and pull through all three loops on hook.
Slip Stitch (SL ST): Insert your hook, YO, pull up a loop and pull directly through loop on hook.
Front Post Single Crochet (FPSC): Insert your hook from front to back and back to the front around the post popping it forward, YO and pull up a loop, YO and pull through two loops on hook.
Pattern
Size 60 x 48 inches approximately
Gauge: 8 stitches per 4" x 8 rows per 4"
Chain 130 (or any even number needed for approximately 5 feet.)
ROW 1: Begin in the second chain from the hook with SC. SC into each chain across the row. CH 1 and turn. (129)
ROW 2-4: SL ST into the first st. *HDC into the next st. SL ST into the next st. Repeat from * across the row. (your last stitch should be a SL ST.) CH 1 and turn.
(This stitch sequence is known as Even Moss and you'll work it for 3 rows.)
ROW 5: Work 1 SC into each stitch. CH 1 and turn.
ROW 6: Work 1 SC into the 1st stitch, work 1 FPSC around next post. Continue working the FPSC until the last post, do not work around the last post, work one SC into the last SC, CH 1 and turn.
ROW 7: Repeat Row 5. (SC Row)
ROW 8: Repeat Row 6. (FPSC Row)
ROW 9: Repeat Row 5. (SC Row)
Repeat rows 2 through 9 until the blanket is the width you desire. End with a row of SC.
Tie off and weave in the ends.
Border
For this add-on version of Fun Fringe, I worked two rows of single crochet at the end of the blanket to create a uniform row from which to work the fringe.
ROW 1-2: Pull up a loop and work SC. SC into each space along the row. Chain 1 and turn.
ROW 3: Work a slip stitch into the first space from the hook. Chain 12
ROW 4: Turn and work a Slip Stitch into each chain. At the base, work a slip stitch into the same space the chain started from. Work a Slip Stitch into the next chain.
Repeat Row 3 and Row 4 until finished. Tie off and weave in ends.
Thank you so much for checking out the Mock Cable Sister Throw! If you decide to make this you can tag Tiff at #DaisyFarmCrafts on Instagram or send me an email at sugarjoye@gmail.com I would love to see it!
And make sure to visit my YouTube channel Sugar Joye for a video about how I made this throw!
Happy crocheting!
Cyndi 🙂
aka Sugar Joye
Click here or image below for free pdf download of pattern