I hope I'm not too late to the love party! I made these hot pads for a friend this past Valentine's Day and didn't have a chance to share the pattern until now.
I used a heart graph I created years ago that has come in so handy when I want to add a heart into my crochet.
I've used the graph to create a gingham heart in a little baby sweater that you may have seen shared before:
Or, I've used it in a Corner to Corner Heart Blanket that I made for a friend's little baby about 5 years ago.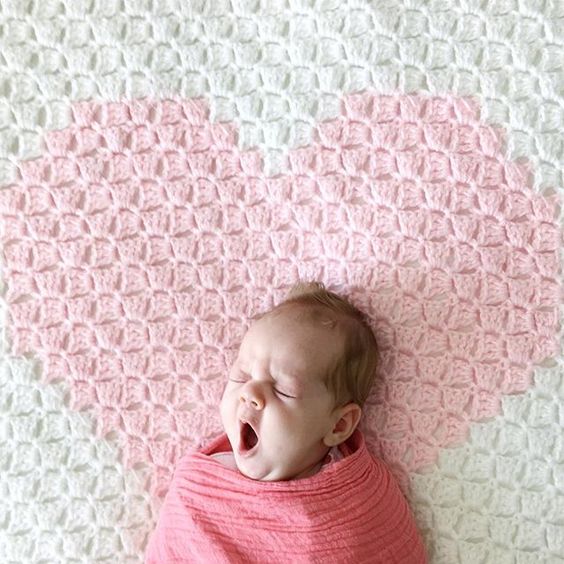 (One of my favorite pictures ever! Darling Gigi)
It's very versatile depending on the yarn you choose and what you want to make.
I used Bernat Softee Cotton which is a 60% cotton and 40% acrylic blend. Usually we use 100% cotton, but couldn't resist trying the Bernat Cotton because of the beautiful rich colors and the smaller 3 weight yarn.
We gave it a try with some hot pads that Hannah made last fall, and they have yet to melt, burn her hands or anything at all. In fact, she says they are her favorite hot pads and she uses them all the time.
So maybe using 100% cotton rule is more of a suggestion? Either way, please make the best decision for yourself.
Materials
Bernat Softee Cotton (60% cotton, 40% acrylic, 120g / 4.2 oz, 232 meters / 254 yards)
1 skein Clear White, 1 skein Fuchsia
Size G/4.00mm hook, scissors, tapestry needle
Graph (click here for printable PDF)
Size
Finished size 8 in x 7.5 in
Stitches
Half Double Crochet (HDC): Yarn over (YO), insert your hook, YO and pull up a loop, YO and pull through three loops on hook.
Half Double Slip Stitch (HDSS): YO, insert your hook, YO and pull up a loop and pull directly through two loops on hook.
Single Crochet (SC): Insert your hook, YO and pull up a loop, YO and pull through two loops on hook.
Pattern
Before beginning, it is helpful to work with 2 balls of the Fuchsia color so you don't have to carry the yarn through the rows, you will simply drop the Fuchsia, work with white, then work with a second ball of Fuchsia. I wound out a baseball size amount of yarn and that divided the skein in two.
Chain 26 with Fuchsia.
Following the graph beginning in the bottom right-hand corner, each square represents a single crochet stitch. Begin in the second chain from the hook and work 1 SC into each chain for a total of 25 stitches. CH 1 and turn. (Always CH 1 and turn at the end of each row.)
Continue following the graph. When it comes to changing color, pull through with the new color on the last step of the stitch and begin working the next stitch in the new color.
When you have completed the last row of the graph (Row 23) don't turn.
Round 1: Work 1 more SC into that stitch, then begin working down the side. *Work 2 SC into the end of a row, then skip a row and repeat from *.
Work 3 SC into the next corner then *work 2 SC, skip 1 stitch and repeat from *. (You are working the underside of the starting chain.)
Work 3 SC into the next corner and repeat working 2 SC per end of row or st, skip a row or st. Finish the round by working 1 SC into the starting stitch of the round. Join with a slip stitch, ch 1 and turn.
Round 2: Work 1 HDC into each stitch, work 3 HDC into each corner stitch. Join with a slip stitch to the first HDC of the round, ch 1 and turn.
Rounds 3 and 4: Work 1 Half Double Slip Stitch into each HDC, and 3 Half Double Slip Stitches into each corner. Tie off. (Don't turn or join between the rounds.)
Make another panel with or without the heart.
To join the two sides together, match up the sides and work 1 SC in each stitch and 3 SC into each corner. Tie off and weave in all the ends.
Thank you for coming by!
XO, Tiffany
Click here or on image below for printable pattern