I've crocheted several different gingham blankets over the last few months, so I wanted to make a post where you can easily find them all.  The great thing about these patterns is that they are very easy to mix and match–so pick your favorite stitch and your favorite colors and get to work!  Please tag me on Instagram or Facebook when you finish your project, I'd love to see more gingham creations!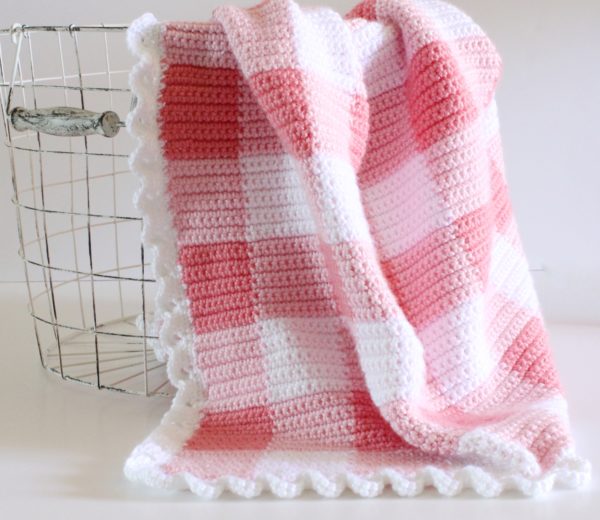 This pink gingham is the very first one I made. I used Caron Simply Soft yarn in the colors Strawberry and Light Pink. This is when I discovered that if you could find two similar shades of yarn and pair it with white, or cream, working the pattern so that the light pink is alternating with either the strawberry or white, it really does give off the appearance of gingham. Be careful to alternate the colors just so, or your blanket will be a checkerboard pattern, not gingham.
With this blanket, I experimented combining two strands of yarn to get one of the balls to have a striped look. I used Bernat Tiny blanket yarn so the blanket would not be so heavy when finished. It worked out perfectly! I call the striped yarn, the medium color and used it in every row. It's the color that needed to be rotated with the dark blue and the white to get the gingham look. I wanted to experiment with a new stitch, and found that the extended half double crochet held the yarn being carried in place just fine.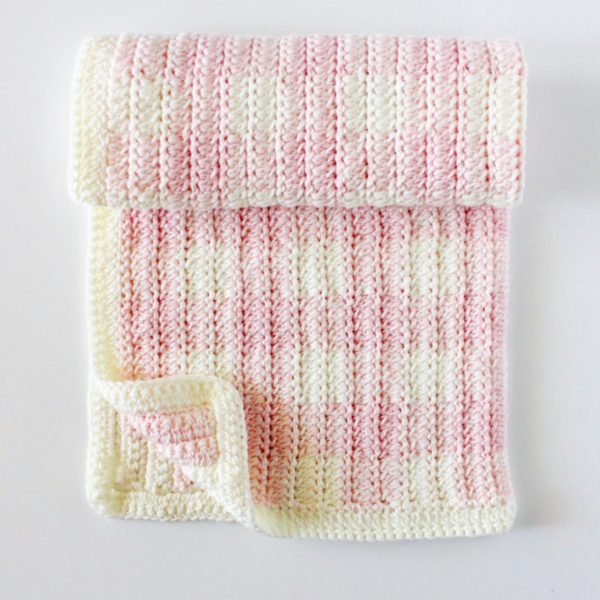 This blanket has to be one of my favorite of all. The colors were just a shade or two different from each other and I love the cream color. I used Paton's beehive baby sport for this, in only two colors, but I combined two skeins, a pink and a cream, to make the third color. This blanket is perfectly snuggly without being too heavy.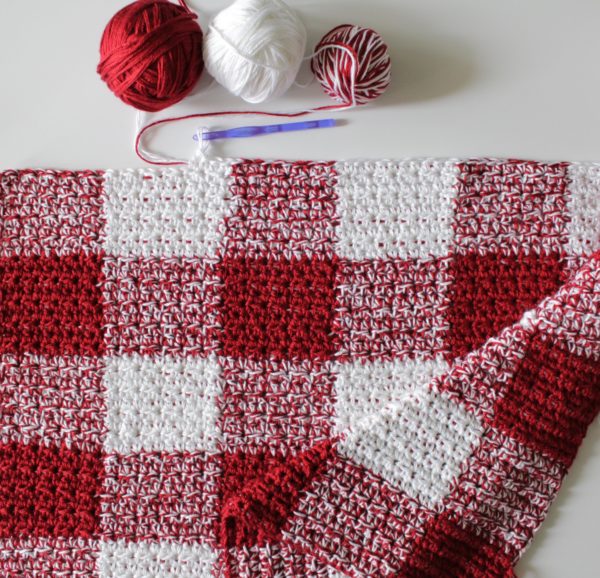 This Red Gingham was my first attempt at using darker colored yarn to see if I liked the look of little bits of red showing through the white. (And yes, of course when you carry the yarn through the work, it is going to show a little.) I decided when the whole thing was finished, that yes indeed I liked it! It really gave it a gingham feel. I used Caron Simply Soft in Autumn Red for this and combined a skein each of the red and the white to make the third color of stripe. This blanket is definitely warm and a bit heavy when finished. And that was just the baby size I made. So be aware if you want to make this a giant throw. You might want to use lighter weight yarn to combine.
Oh wait, THIS one is my favorite! (Ha ha, who am I kidding? They all are my favorite!) But this one tops the list for sure. It is made with Paton's beehive baby sport and the yarn already came striped! So I did not have to combine skeins for this one. It was already done for me. Yahoo! This blanket is lightweight, perfect for a baby and the crumpled stitch gave it just the right texture. LOVE!
Here is one where I used Caron Simply Soft yarn in three separate colors, no combining and it turned out amazing! I'm so happy when I can just find yarn in the right shades. I'd love to make this again, but use white instead of cream.
This is a great blanket to start with if it's your first time working a gingham type blanket. It's all single crochet, made with two shades of purple and one white from I Love This Yarn brand at Hobby Lobby. It has a very simple shell border and really turns out fabulous.
This would have to be my most advanced gingham-plaid type blanket. I experimented with six colors and combined in different ways to get the most shades. I also used a Linked stitch, so the yarn is not being carried through on this blanket. Each square is worked in its entirety before changing colors and working the next one. I would rate this as an intermediate level blanket. You really need to understand how to work the linked stitch for one, which is a cross between tunisian crochet and regular crochet, and be really patient with all the ends you'll need to weave in at the end of the project. But the results are spectacular. They really are, and I used Paton's beehive baby sport yarn for this and it is perfectly soft and blocked up very well.
So I hope you have found this post so helpful in deciding which blanket you'd like to try! Each post has even more tips to help you understand how a gingham blanket is made. The number one question I receive is how am I carrying the yarn, or changing colors. So I have a Youtube clip that addresses that question I'll post here, but hopefully, you'll see that it's not as hard as it seems and you'll give it a try.
Here is the clip:
I used to be able to say email me with any questions, but as the popularity of this blanket has grown, it's getting hard for me to answer all the questions. Please look at this crochet gingham blanket FAQ post and hopefully it will answer any more questions you may have. I'd appreciate it so much.
I love to share all the projects I'm making and you can watch my process if you follow me on Instagram. It's a fun place to be! I'm @daisyfarmcrafts and the quickest way to find my account is to simply click on the row of pictures at the very bottom of this page. It will take you straight there.
Thank you for becoming a Pinterest follower too! Everything from my blog is posted to Pinterest so you can see other designs if you are interested.
One more thing, you absolutely have my permission to make, sell, share, teach, and tell anyone you wish about how to make a gingham blanket. The more crocheted gingham blankets in this world, the better the world becomes in my humble opinion.
xxoo
Tiffany