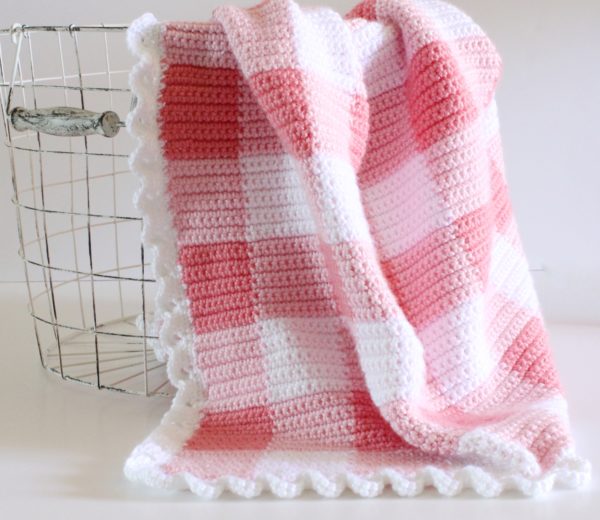 (If you'd like to download this pattern as a PDF without ads, you can go here)
The hardest part about making this crochet pink gingham blanket is shopping for the yarn. I'm serious! You'll need to find two colors that are in the same family but separated by a few shades. And sometimes when you hold the skeins together, you still won't believe the colors will work. I experimented with Caron Simply Soft in light pink and strawberry and I feel like I have a good representation of pink gingham! So if you're not sure about which yarn to choose, start with Caron in these three exact shades.
Materials
3 skeins each of Caron Simply Soft in White, Soft Pink, and Strawberry.
H- crochet hook, J- crochet hook
tapestry needle to weave in the ends.
Finished blanket is approximately 36 x 36.
Pattern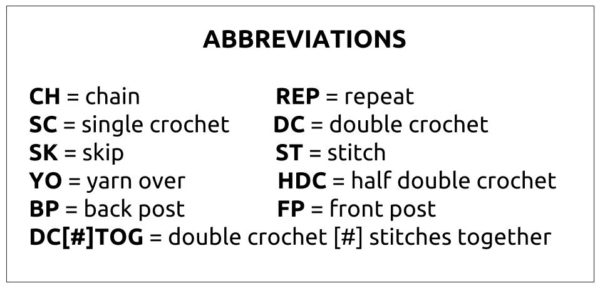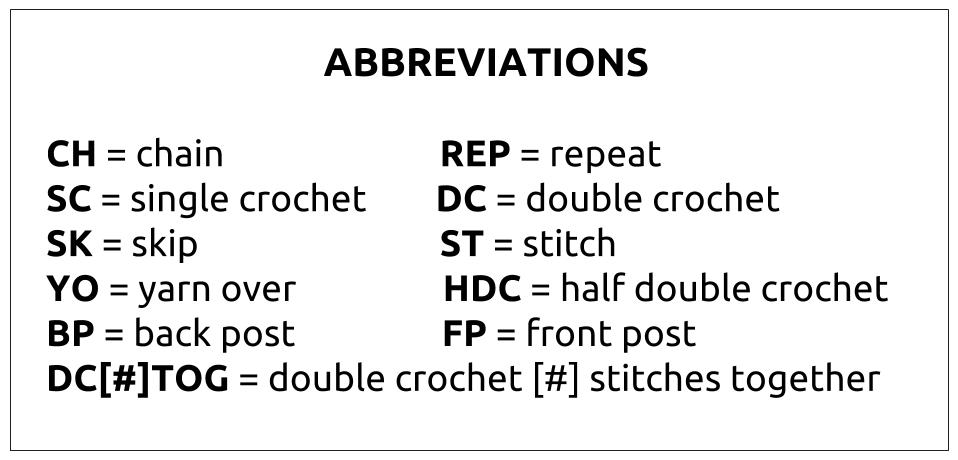 Chain a multiple of 10 plus 1. If you use this yarn, 130 base chains is approximately 36 inches wide. (It does depend on your own tension, are you tight? or loose?) But also, either do 130 +1, or 110 +1, (not 120 or 140) chains. Each block is ten wide and I like to have the starting color the same as the ending color.
Make the base chain in white and with a smaller size hook (H). (Chain 130 +1 or 110 +1,) whatever you choose.)
Change hook size to (J), join light pink color with the chain one and turn. Start your next ten SC with pink, crocheting over the white yarn, when you get to the tenth SC, do not finish all the way with pink, stop, pull up the white, pull through, and now do the next ten SC with white, crocheting over the pink.
That is all this is!! Continue changing colors every ten stitches. Do ten rows. At the end of your tenth row, you'll cut off the white, add in the strawberry, and alternate between strawberry and light pink. (You will be weaving in the white end, do not crochet over the white, you'll join that back in after ten rows).
Notes
Now in case that makes zero sense, I did a video clip of changing yarn colors and turning: (If you have trouble loading the video, you can also watch it on YouTube)
And watch this video to see how to keep your yarn from twisting when working the gingham:
(If you have trouble loading the video, you can also watch it on YouTube)
If you like the border I did, here is the pattern for that. I experimented around until I found something that reminded me of eyelet lace.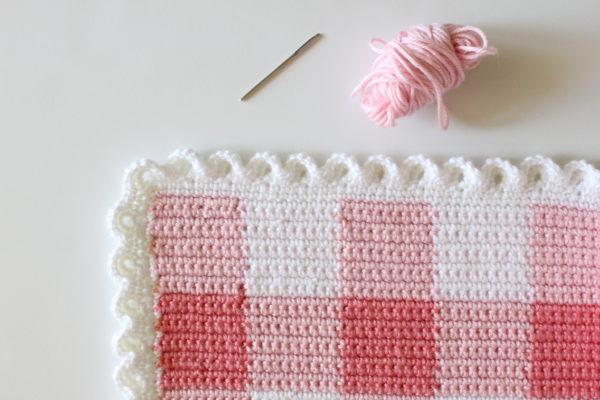 Round 1: First, I changed J hook size back to H. When I am only working with one strand of yarn, this is the size I prefer with the Caron yarn. SC into each stitch around the entire blanket, working 3 SC into each corner. Slip stitch with the first SC when the round is completed.
Round 2: Continuing on in the same direction, *chain 5, slip stitch around the post of the SC making a loop. SC into the next 4 stitches*.  Repeat from * all the way around. if you happen to be SC-ing around a corner, put 2 SC into the corner SC. Slip stitch to join the round.
Round 3: Continuing on in the same direction, *6 SC into the circle of chains.  Skip over the next SC, SC into the next 2 stitches, skip the next SC.*  Continue repeating *around the whole blanket.  Slip stitch to join the rounds.
Round 4: Continuing on in the same direction, SC into each and every stitch.  Slip stitch when you get to the stitch you started with and fasten off.
Weave in the ends.
Enjoy.
If you'd like to see more variations of this pattern, I've also made gingham blankets in gray, black and white, red and purple!
I hope you are successful with your gingham blanket!  There needs to be more crocheted gingham blankets in this world, and only hands can make them. Did you know that? A machine can not replicate this blanket. To me, that is why crochet is important and when well done, can become a family heirloom.
If you have any questions about this pink gingham crochet blanket, please see my Crochet Gingham Blanket Frequently Asked Questions post.  And when you finish your project, please share and tag me on Instagram or Facebook ! I'd love to see!
xxxooo
Tiff