I've been wanting to make a yellow gingham forever! I don't know what took me so long. OH WAIT, I know, I've been making all my other favorite colors of gingham! haha.
This is gingham blanket number 16 for me! I know, it's an obsession, I can't help myself. I still just look at the finished blanket and can't believe this idea was able to find it's way from my head into an actual crocheted blanket!
Did you know that the idea for gingham in crochet came from my friend Laura? We were on a tour bus in the middle of North Carolina about three years ago. (One of those spouse tours as our husbands were attending the same judicial conference.)
It was around the time that I had started crocheting in hopes to become a grandma and was telling Laura about it. She liked to crochet, too, so we started sharing ideas, and she said her very favorite design was gingham. And it would be her dream if I could figure out a way to make a gingham design that didn't involve granny squares. Neither one of us likes to make granny squares very much.
I went back home to Arizona, she went back home to Arkansas, and I started pondering. At the same time, my dear friend Mandy, who I have mentioned before, called me and asked me to make a very special baby blanket for her very first grand-daughter. I asked her if I could brainstorm and do what I wanted, and she said of course, as long as it was pink.
So as they say, the rest is history. It took me several attempts to figure it all out, I'd never heard of carrying yarn along the row and switching it up, but once I learned…game changer.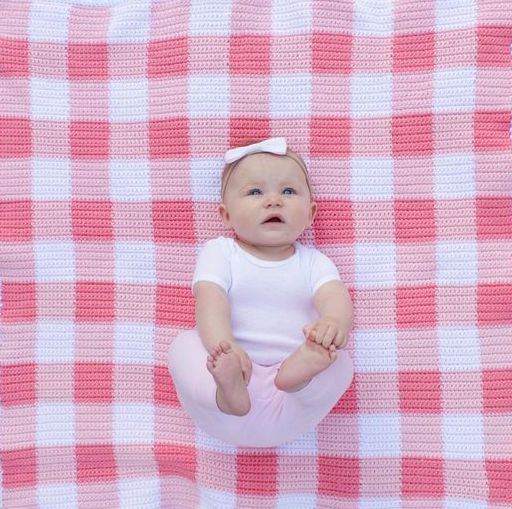 And here we are today with blanket #16 in yellow!
But, there is even more good news about blanket #16, it's an official professionally written pattern on Yarnspirations.com! I still have to pinch myself that this is even real. I just was planning on making a few blankets, Hannah would be pregnant, and grandma life would start and that would be it!
(Here's a great post about how Daisy Farm Crafts began if you are interested.)
And now, I have my pattern posted on a website, of the same yarn company I've been using for years! (Caron Simply Soft) For them, I of course made it in pink!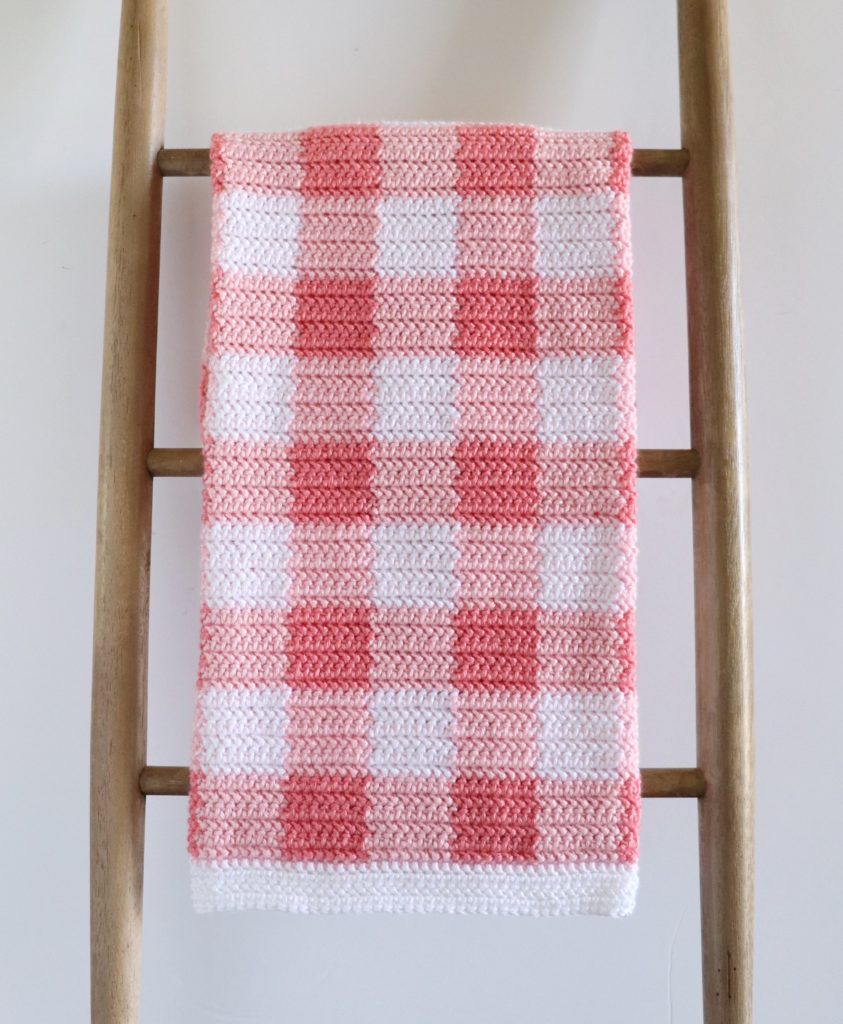 So to my dear friend Laura, thank you!! Thank you for sharing your love of gingham with me and inspiring me to get to work and figure it out. That's an idea that grew and grew and grew! I think thousands of gingham blankets have been made by crocheters all over the world and many more to come.
This is Laura's grand baby boy hanging out on his darling gingham blanket made by her:
Now let's get to the details: (Video Tutorial is at the end of the post.)
Materials
Caron Simply Soft (100% acrylic, 170 g/6 oz, 288 m/315 yds)
3 skeins each White, Baby Sunshine and Lemonade
Size I/5.5mm hook, tapestry needle, scissors
Size
Finished size 34 in x 34 in
Stitches
Herringbone Half Double Crochet (HHDC): Yarn over (YO), insert your hook, YO, pull up a loop and pull directly through the first loop on your hook. Then YO and pull through the remaining two loops.
Double Crochet (DC): YO, insert your hook, YO and pull up a loop, YO and pull through two loops, YO and pull through remaining two loops.
Pattern
With Lemonade, chain 106. (Pattern repeat is 8 plus 2. Chain any odd number by the number 8 and then add 2.)
Row 1: Work 1 HHDC in the 3rd chain from the hook. Work 1 HHDC into each of the next 7 chains for a total of 8 HHDC. Before finishing the last step of the 8th HHDC, pull through with Baby Sunshine. Work 1 HHDC into each of the next 8 chains, working over the Lemonade yarn and carrying it along with you. Before you finish the 8th stitch, pull the Lemonade through. Work the next 8 stitches with Lemonade, and carry the Baby Sunshine along the row with you. Continue alternating every 8 stitches. Chain 2 and turn when you get to the end of the row.
Rows 2 – 6: Continue working in the same manner as ROW 1. Always chain 2 and turn and carry the yarn around the side of the work and continue working over it.
Rows 7 – 12: ON the last step of the HHDC stitch of row 6, pull through with Baby Sunshine and cut Lemonade. Work the first 8 stitches with Baby Sunshine and introduce White on stitch 8 as before. Work the next 8 stitches with White and alternate every 8 stitches as in ROW 1. Cut White after row 12.
Rows 13 to the end until you have 13 blocks of color high: Continue switching colors every 6 rows and work as explained in rows 2 through 12.
Border
(This border is worked slightly different than the one shown on Yarnspirations.com and in the YouTube tutorial.)
Round 1: Before starting the border, weave in all the ends. In any corner, pull up a loop with White. Chain 2. Work 2 DC into the corner. Work 1 DC in each stitch around, working 3 DC into each corner. Work 8 DC per 6 rows of color on the sides of the blanket or as evenly spaced as possible. Work 1 DC in starting corner, slip stitch to the first DC, CH 2 and turn.
Rounds 2 – 4: HHDC in each stitch around, working three into each corner. Do not join when finishing a round and do not turn. Slip stitch to the first stitch of round 4 and tie off, weave in the end.
If you need video help please watch this tutorial:
Thank you for stopping by and loving gingham as much as us! I'm so thrilled you have found us in our little corner of the internet. Come and find us on Instagram or Facebook. We share what we are working on as we go!
Happy Crocheting!
xo, Tiffany
Click here or on image below for printable pattern