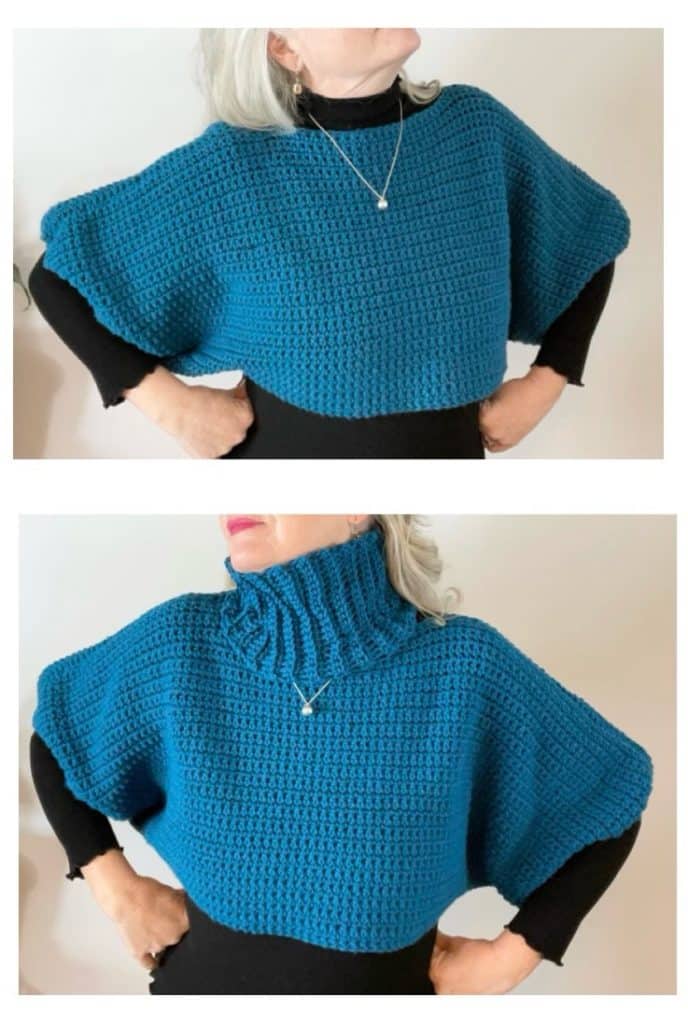 Hi Crochet Friends! It's Cyndi, Tiffany's sister!
This super easy-to-make single crochet crop top is a variation on the Easy Single Crochet Three Panel Sweater from last week's blog post.
For this version I stayed with the crop length and I added an optional ribbed turtleneck that you can attach to the top or just wear like a neck scarf. Tiff and I joked that it was a hot flash top because when a hot flash comes on you can just take the turtle neck off!
I'm so happy with how it turned out and I think you will enjoy how unique and stylish it is and best of all how simple it is to make!
The top consists of two panels of the same size stitched together at the shoulders and underarms with gathered sleeves with a separate turtleneck.
Materials
Caron One Pound (100% acrylic, 16 oz/453.6 g, 812 yds/ 742 m)
2 skeins, Ocean
Size J/7mm hook, large metal tapestry needle, scissors, 10 to 20 stitch markers, measuring tape.
Stitches
Single Crochet (SC): Insert your hook, YO and pull up a loop, YO and pull through two loops on hook.
Single Crochet Back Loop: Insert your hook into back loop only, YO and pull up a loop, YO and pull through two loops on hook.
Measurements
The 2 measurements you will need:
Elbow to elbow (length)

Shoulder to under bustline (width)
I used my measurements for the pattern and you can make the necessary adjustments, larger or smaller, based on that.
For reference, I am 5' 7' 160lbs and wear a size 10/12 US and my measurements are 38", 36", 39".
My elbow to elbow measurement: 36"
And shoulder to under bustline: 14"
Make 2 panels 36" X 14".
Turtle Neck 18" X 6"
Pattern
Chain 100 (or an even number) for approximately 36".
Panels 1 & 2: ROW 1: Starting in the 2nd chain from hook, work SC 99 total stitches. CH 1 and turn. Repeat for Approx 48 rows or 16".
At the end of each panel cut yarn, secure the last stitch by pulling it through the loop to create a knot then weave in the end with a tapestry needle.
Turtleneck : Chain 20 or approximately 7 inches. Row 1: Starting at the second chain from the hook SC 19. Chain 1 and turn. Work the back loop for 19 SC. Chain 1 and turn. Repeat for 42 rows or approximately 16 inches. Tie off leaving a long tail. Thread the tail with tapestry needle and matching the ends stitch the neck piece together. Tie off and weave in ends.
Construction
On a flat surface lay out Panel 1 and Panel 2 one on top of the other.

Fold in half and insert a stitch marker through both panels at the midway point.

Unfold and lay flat. With stitch markers attach all four corners of the panels together. Depending on how well your panels match up you might have to do a little stretching to match. As long as your initial chain count on both panels are the same you'll be fine.

The next measurement you will need is for the neck opening. I measured from bra strap to bra strap for 14".

From the marked center on the panels measure 7" on each side for a total of 14". Mark with stitch markers matching the panels together stitch to stitch. Using a large tapestry needle and enough yarn to complete the seam, secure the yarn with a knot at the corner and leave a tail long enough to weave in and join the panels together using a blanket stitch starting at the corner and ending at the stitch marking the neck opening. Repeat on the other side. Secure and weave in the ends.

With the top seams finished, try on the sweater and estimate how tight or how loose you would like the bottom opening to be. Mark one side of the bottom with a stitch marker with your size estimation. It's better to estimate large because it is easier to take in the seams than to let them out and you want to make sure it fits over your shoulders. For my sweater I counted in 25 stitches or approx. 10" from the sleeve edge on each side.

Match the panels and stitch together.

Try it on again and make any adjustments.

With the tapestry needle weave in the ends.
Sleeves
Starting at the bottom seam of the sleeve, choose the first chain space and insert hook and slip stitch yarn into place. Row 1: Work 1 Single Crochet into each chain space only (48). Join to first stitch with a Slip stitch, Chain one and turn. Row 2: Single Crochet into every other chain (24). At the last stitch join the first stitch with a slip stitch, chain one and turn. Row 3: Single Crochet one into each stitch (24) Join with a slip stitch. Tie off and weave in tails.
A video tutorial is available on my YouTube channel Sugar Joye!
Thank you so much for stopping by and if you are on Instagram make sure to tag your sweater with #daisyfarmcrafts I would love to see it!
Cheers!
Cyndi aka Sugar Joye