It's that time of year where I'm going for quick and easy gifts to have around for my friends and family and this crochet Velvet Neck Warmer is up first.
Last year, Hannah made neck warmers similar to this version, and they were a hit with my girls that live in colder climates. Velvet is so soft and cozy and helped keep them warm without getting in the way.
Here's Hannah's Double Velvet Cowl from last year:
This year I decided to make them a bit more narrow, and add the twist yet still make them double thick.
I also eliminated a step of sewing as these are made in the round with no joining the rounds. You essentially crochet a long tube, give it a twist and then sew the ends together.
They fit down right over your head and add just enough warmth around your neck without adding too much bulk.
I'm hoping to make about 4 per each ball of 10.5oz of Bernat Velvet. I've been able to finish one in about 3 or 4 hours. (But I'm not a super speedy crocheter so you might be able to work faster.)
You may also use Bernat Baby Velvet, I'd just change the hook to a size G 4.00mm as the only adjustment.
Before I get to the pattern, I would like to point you to a post I wrote about how to successfully work with velvet. It really is important to keep your tension tight so the loops don't slip free. I also share my experience working many different projects with it.
Materials
Bernat Velvet (100% polyester, 300 g/10.5 oz, 288 m/315 yds)
1 skein makes up to 4 neck warmers
Size H/5.00mm hook, tapestry needle, scissors
Size
Finished size 4.5 in x 22 in
Stitches US Terms
Slip Stitch (SL ST): Insert your hook, YO, pull up a loop and pull directly through loop on hook.
Half Double Crochet (HDC): Yarn over (YO), insert your hook, YO and pull up a loop, YO and pull through three loops.
Wide Half Double Crochet (WHDC): YO, insert your hook in between stitch posts of previous row, YO and pull up a loop, YO and pull through three loops.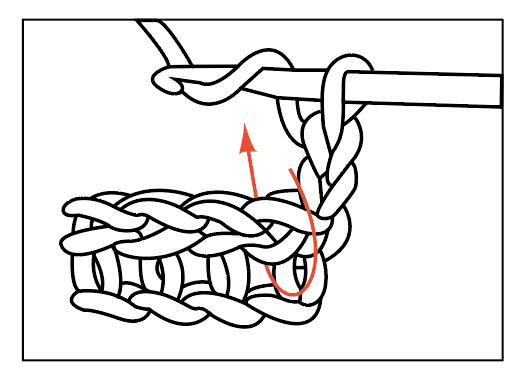 Pattern
Chain 28.
Round 1: Slip stitch to starting ch space to form a circle. Work 1 HDC into the same space and join. Work 1 HDC into each chain around. (28)
Round 2: Until tube measures 22 inches in length: Work 1 HDC between the slip stitch and first stitch. Work 1 HDC in between the next two stitches and between each stitch around (WHDC). Do not join, continue in the same direction working WHDC until the tube measures 22 inches.
Tie off with a long tail for sewing.
Lay tube out flat and twist once and match the ends together.
Use a tapestry needle to sew the two ends together. Tie off and weave in the end.
Here is a video for this pattern!
Thank you for stopping by! If you need more quick and easy gift ideas, we have a post called Our Favorite Crochet Patterns for Gifts that has over 20 ideas for you. And over the next few weeks we will be adding even more ideas!
Happy crocheting!
Tiffany
Click here or on image below for printable pattern