Hello! We loved the response we received from our last post of 10 organizations for donating crochet projects. Thank you for giving us even more suggestions of places for donations.
In no certain order, here are 10 more organizations and suggestions of some Daisy Farm Crafts pattern ideas to make.
1. Sgt. P's Lapghans for Veterans
This is a non-profit organization that provides complimentary lapghans to veterans and active-duty personnel.
A lapghan is a wheelchair-friendly afghan. The maximum dimensions are 36 by 48 inches and no fringe or other adornments that may get caught in the wheels.
Crochet Cluster Stitch Gingham Blanket could make a nice choice if you add some length to it.
Click image above for pattern
2. S.A.C.K
Supporting A Community with Kindness. Their vision is to inspire groups of volunteers around the country to crochet soap sacks with new bars of soap included. They encourage donations to local charities in your own community or to them.
Daisy Farm Crochet Soap Pockets could be a fun pattern or they have patterns on their site as well. You could make so many with leftover soft cotton yarn.
Click image above for pattern
This organization donates tiny hats and blankets to parents who lose their baby before they are far enough along to go to the NICU. You should be able to make a lot of blankets and hats because they are teeny tiny.
So many Daisy Farm hot pad patterns would be perfect, just omit doubling them like you would for a hot pad. I think the Crochet Striped Heart Hot Pad would be a precious blanket to donate.
Click image above for pattern
This is another organization accepting tiny crochet blankets, hats, and embellishments.
Project Robby was founded when their son Robby was born at 23 weeks gestation and did not survive. The hospital hats were all too big.
This Newborn Sleeping Cap made even smaller would be a loved donation.
Click image above for pattern
5. The Still Remembered Project
This is an organization that accepts crocheted blankets and caps to families who are grieving the loss of a child.
Any of our hot pad patterns would make such perfect tiny blankets like the Crochet Picnic Gingham Hot Pads. (I would change the yarn to something much softer.)
Click image above for pattern
Volunteers crochet flowers to donate to individuals going through cancer treatment, who in turn can give them to their healthcare providers as a thank you.
A daisy flower would be a perfect thank you flower to donate.
Click image above for pattern
Based in the UK, Blankets for Baby Rhinos aspires to help orphaned baby rhinos and bring awareness to the severity of the crisis affecting rhinos worldwide. You can donate blankets to the Rhinos as well as hats and scarfs to the staff who volunteer to protect them.
I think a Rhino would be thrilled with a Herringbone Half Mixed Stripes Throw.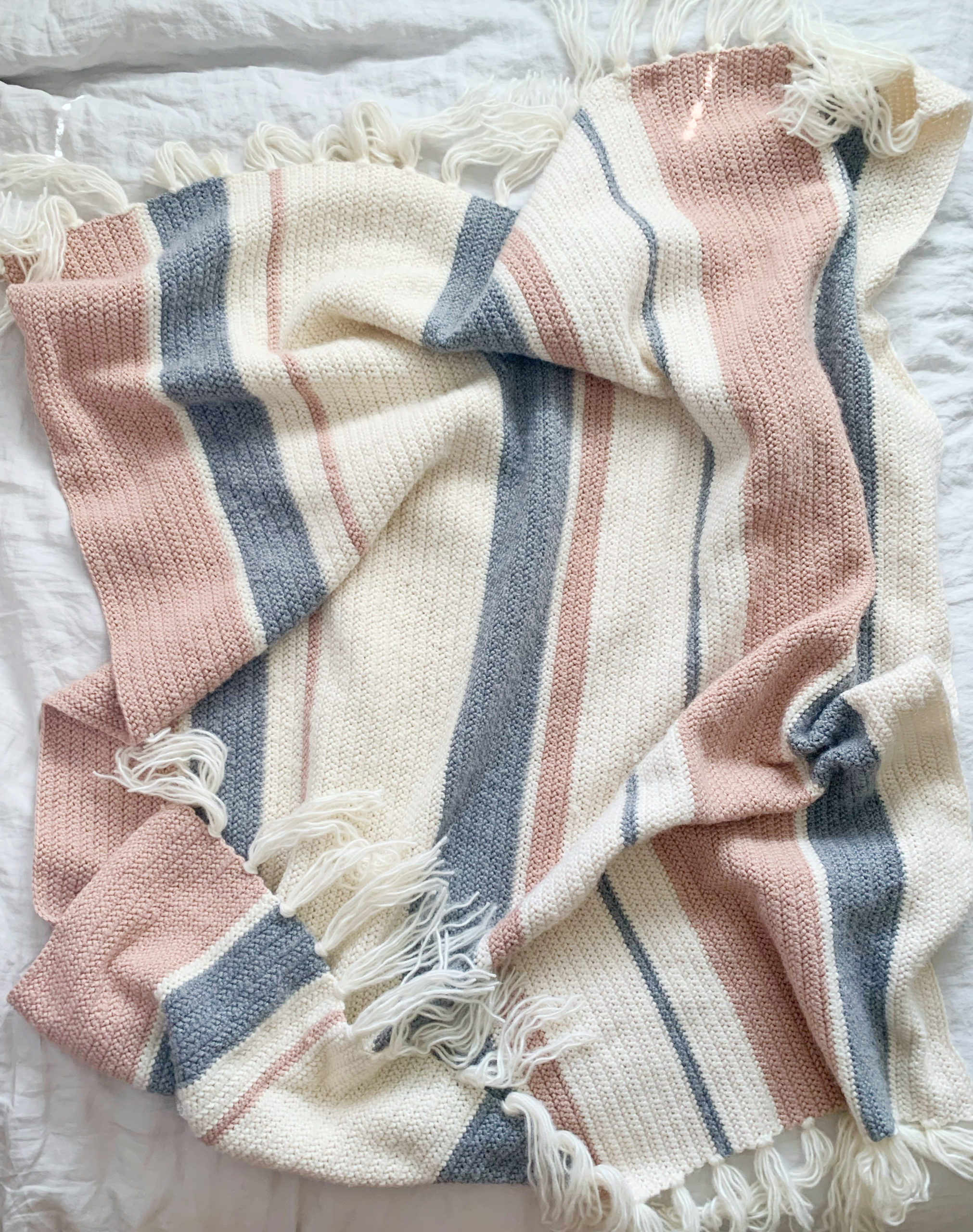 Click image above for pattern
Child Help is a residential facility for children who have been abused. They accept blankets.
Have you tried to make the Crochet Velvet Windowpane Throw? I think this one would be perfect to donate.
Click image above for pattern
This is an organization that accepts crocheted blue beanies and distributes them across the USA to schools once a year. They empower students to stop bullying.
The Crochet Back Loop HDC Hat is a great pattern for this worthy cause.
Click image above for pattern
10. Snuggles Project accepts handmade donated blankets, mats, pillows, and toys for displaced animals. All items need to be made of cotton.
The Beginner Striped Crochet Blanket works up fast and would be great for any furry friend.
Click image above for pattern
Thank you for all your wonderful suggestions. I loved learning about them and all the good they do for the world.
Please don't hesitate to e-mail or message me more organizations to add to the list. We are happy to keep adding on.
Tap these words to be taken to the first post sharing ideas of where to donate crochet.