Hello crochet friends!
OUR FAVORITE CROCHET STITCHES book is finished and available on Amazon. We also have it available as a Kindle E-book.
Hannah and I have been wanting to turn the stitch section of our website into a book and finally, that day is here. We have been working on this project all summer, making tons of swatches, photographing them, editing the instructions, and recording new tutorials for each one.
That's right, the e-book version includes links to video tutorials that you can watch to help make the stitch instructions even more clear. We really had a beginner crocheter in mind when we wrote the book and made the videos.
The photography might be my favorite part! Hannah did a beautiful job taking pictures of each swatch and making sure each photo is large and clear to show the stitch definition. The above photo is a sample of what each photo looks like in the book.
The print is also larger, (my request!) for my eyes and so it's easy to read. She did an excellent job laying out the type. Here's an example: (although this type is actually smaller than the book, but this is a glimpse of how we described each stitch.)
Each explanation is meant for you to work a swatch of that stitch so you can practice and learn how it's made.
We chose 47 of our favorite stitches that we use the most in our blankets and other projects. We decided to be very detailed as well.
We wanted the book to demonstrate the look of each stitch so you could see and possibly design your own project. I've always believed that stitches are the ingredients for beautiful crochet and are available to everyone to create whatever they wish.
They are for us all!
So when I say detailed, I mean in the book we show and explain working into the back loop, front loop, front two loops, (if it was half double crochet) and so on. There are so many ways to work into a stitch and each give such a different look, that we wanted to show the difference.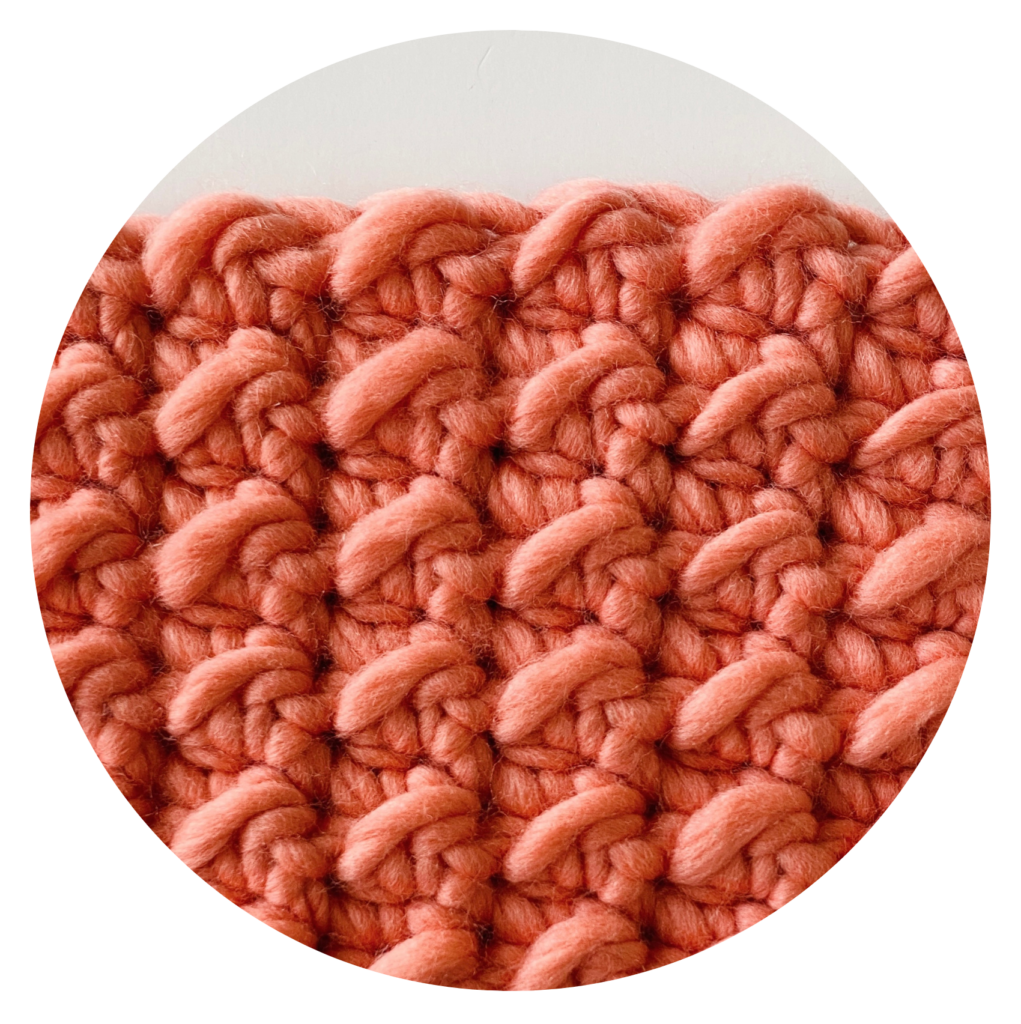 We also have stitch combinations included like the Even Moss stitch shown above. We included our favorite combos that we use the most often and that are also beginner-friendly.
Oh did I mention this book is great for beginners? It is! And guess who has been carrying this book around and gave me my first critique, my daughter Annie who really wanted to learn more than just single, and double crochet.
She has been using the book and has found it so helpful to have it right in her lap as she practices.
I'd like to give a special thank you to our crochet friend, Betsy Desmond, from the Daisy Farm Crafters Group on Facebook for giving us valuable feedback and editing help. She caught a few errors and gave us suggestions on making some of the combo patterns even more clear.
Thank you Betsy!
This book is available on Amazon only. We published this through Kindle Direct Publishing so we could also have the book formatted for a Kindle Reader.
A huge thank you to my daughter Hannah. She is so talented, not only for her crocheting skills, but for her book layout design skills as well! She made this book happen and I couldn't be prouder.
Thank you all for being our crochet friends and sharing in our love of this craft. Every day I am so grateful I have the opportunity to be associated with so many wonderful people all over the world.
Sending you the most giant internet hug possible,
xo, Tiffany
P.S. In case you are new, we have two other books that we've published too! We have a pattern book and a children's book.
(The children's book is my very fav.)