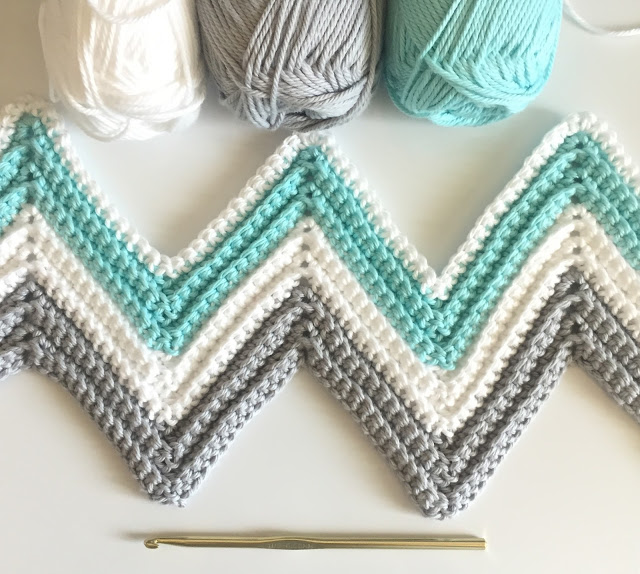 Chevron and I have struggled to be friends over the years. Those steep peaks and deep valleys challenged me and tested my patience -especially at the end of every row! I'd get ten rows in, take a minute to check my work, and cry with frustration because the sides were not working their way up in a nice straight line like they were supposed to but instead were growing as wide as the Grand Canyon.
So I'd quit. Undo my work and tell myself to forget it. The chevron blanket would have to be one of those patterns I'd never make. I was hopeless.
Until about five years ago. We had been living a year like no other. It started in early January with Haley, our 13-year-old at the time, having both of her feet reconstructed to help with her high arches she'd developed from CMT (Charcot Marie Toothe Disease.) Then as March approached, my husband broke his leg playing volleyball. And, just after he had healed from that, we found ourselves rushing him to the hospital in late summer with a heart attack! The grand finale was Annie's brain surgery. As an 11 year old, she'd been struggling with Epilepsy for two years and this was a chance to cure her. However, all that nursing everyone back to health wore me out completely.
Looking back now, there is no way I purposely picked making a chevron blanket at that time to prove to myself I could do hard things. Why would I? Life already had me beat, I didn't need to experience another failed attempt at a chevron. No way. I think I simply started one simply because I wanted to cheer up Haley. She'd been in a wheelchair most of Jr. High, enduring rumors that she had an extra toe removed! To give her a boost we had redecorated her room. Zig zag patterns were all the rage at Target, and she requested a chevron throw for the end of her new bed.
So, I took on the challenge one more time. If Haley could endure rumors of a sixth toe, I certainly could tackle that dang chevron pattern!
I studied and mapped out my own pattern I could understand. I did math-which has never been friendly to me either and finally, after a multitude of starts and restarts, I conquered! Finally! It all made sense and after ten rows in, the sides were as straight as an arrow.
I love making chevron blankets now, I dare say they are my favorite. There is something soothing about the rhythm of the pattern. The equal number of stitches up and down each side. The extra two stitches at the top, to make up for the skipped two at the bottom, and the ends -finally, I understand how to turn at the end of a row! It's no harder than combining the last two stitches into one. I don't know really why it all works, but it does.
Could it be that those stitches making the up and down of the chevron pattern be like the extra trials and hard times we go through? Could the unplanned heart attack, be like the skipped two stitches at the bottom that makes me work my way back up a hill? And could the extra two at the top be symbolic of the good times? We ended that year with everyone being home for Christmas and enjoying being together. And Annie's surgery was a success! She's never had a serious seizure since that time.
Or, it could just be that redirecting my thoughts to a complicated pattern, gave me a break from thinking how awful of a year we had just experienced. Crochet heals like that. It's why I like it so much. It gives me a chance to let go of the day's troubles, be excited and motivated to create something beautiful that a machine could never do.
I think surviving that year made me a stronger person, even though I was so miserable at the time. I think figuring out how to make a chevron blanket has made me a better crocheter, even though I was so miserable with frustration at my many failed attempts.
I'm glad I gave it one more shot. Thank heavens I gave it one more shot. Quitting is never good for the soul.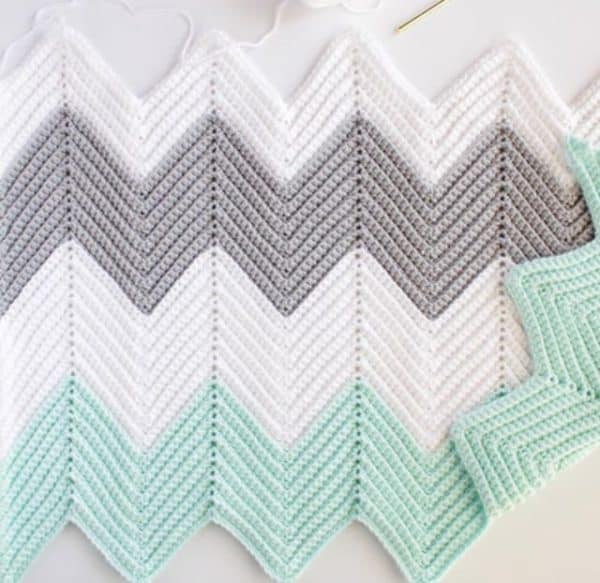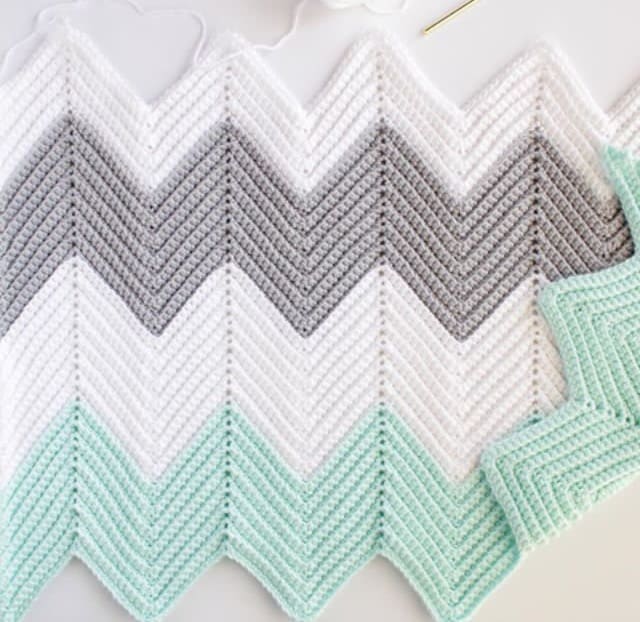 Find my pattern for a chevron blanket here.