I love to practice crochet. I also love to try new stitches with familiar patterns. I used this wave stitch pattern on one of my first blankets I made and shared here on the website.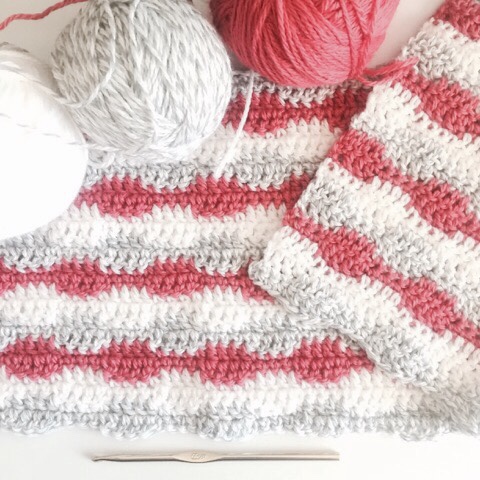 I called that one the Easy Interlocking Color Blanket in Coral, Gray and White. The difference between the hotpad and the blanket though, is the type of stitches I used. In the hotpad, I wanted to experiment with the Herringbone Half Double Crochet and a Slip Stitch, instead of regular Double Crochet and Single Crochet for the blanket.
Materials
Wool and The Gang Cotton XL (100% Cotton, 100 g)
1 skein each any color
Size K/6.5mm hook, scissors, tapestry needle
Stitches
Slip Stitch (SL ST): Insert your hook, yarn over (YO), pull up a loop and pull directly through loop on hook.
Herringbone Half Double Crochet (HHDC): YO, insert your hook, YO, pull up a loop and pull directly through first loop on hook. YO and pull through two loops on hook.
Pattern
Chain 29. (Pattern repeat is 8, plus 5.)
Row 1: Starting in the second chain from hook, *SL ST in each of the next 4 chains, HHDC each of the next 4 chains. Repeat from * across the row. CH (chain) 1 and turn.
Row 2: Repeat row 1, working only in the back loops (always work in back loops from here on out). Pull through on the very last step of the very last stitch of the row with the new color, CH 1 and turn.
Row 3: *HHDC into each of the next 4 SL ST's, SL ST in each of the next 4 HHDC's. Repeat from *. CH 1 and turn.
Row 4: Repeat Row 3.
Continue alternating colors for 24 rows. Tie off, weave in ends.
Back of Hot Pad:
Make a chain approximately the length of your finished front of hot pad. Add 1 CH and turn. Work the herringbone half stitch for as many rows as needed to cover the front of your hot pad.
With your tapestry needle, sew the two sides together, remember to fashion some sort of loop in one of the corners. Or, if you prefer, attach the two sides together using a single crochet stitch.
Weave in any remaining ends and enjoy! I love to give hot pads away. I think they make the perfect neighbor or friend gift. And I love the extreme thickness of this cotton. I'm hoping to find it again at my local Joann's Craft store.
Thanks as always for coming by the website. I hope you'll come join us on Instagram or Facebook. If this is the first time finding Daisy Farm Crafts, hello! I'm just a wanna-be granny, waiting for the day that comes true, and practicing my crochet and sharing what I'm making.
I'm mostly known for my Gingham Blanket patterns.
Here's a quick link to 8 free gingham patterns, although I think I've made and shared about 11 so far. If you'd like to see all the blankets I've made so far on my journey, just click the Menu heading "Blankets." I've dabbled in making baby sweaters too! Just look under all the Menu headings to see the projects.
Don't miss my Stitches Library either and see if anything inspires you!
Have a wonderful crochet day!
Tiffany
Click here or on image below for printable pattern