If you've been following me along on Instagram or here on the blog, you'll know that I have a sweet spot for stories about the gingham blankets or any Daisy Farm blanket for that matter. The blankets I make are intentional and for a purpose. I design and crochet them with hope and faith, that one day, my oldest daughter Hannah will be able to have a baby and bless me with the grandma title.
And since I started crocheting with this purpose in mind, others have also done the same. I've received emails from young moms who crochet for a baby of their own, and messages from wanna-be grannies like me. Some have told me of their success and I've been able to rejoice with them and others are still crocheting in faith like me, working every stitch with a prayer in their heart.
I love knowing that my little thought in my head of "crochet it and they will come" has inspired others to join me. They help me through the ups and downs of Hannah's journey. (Daughters might not realize that future grandma's ache right along with them as each month goes by.) The stories also push me forward to keep making blankets-no matter what.
But sometimes, it's nice to know that these blankets work different miracles in people's lives too. I was messaged this week by a crochet follower on Instagram @Katypar. Here's what she said:
"I was just scrolling through Pinterest and saw so many of your free patterns in my feed. So many of us are grateful to you for sharing your time and talents so freely. It just makes the world feel like a better place."
(This is so nice of her to say and truly humbles me to know that my little blankets can make a difference. Okay, back to Katy, sorry for interrupting.)
"Funny story, I am from San Diego, but was just in Utah for a couple of weeks to help my aging parents. I took my dad in to get a cortisone shot for his back and was starting to feel the exhaustion that comes with those trips to Utah for me. As I walked into the waiting room with him, I saw a cute lady over in the corner working on one of your gingham blankets. She was using the Caron Simply Soft in Strawberry, Soft Pink, and White."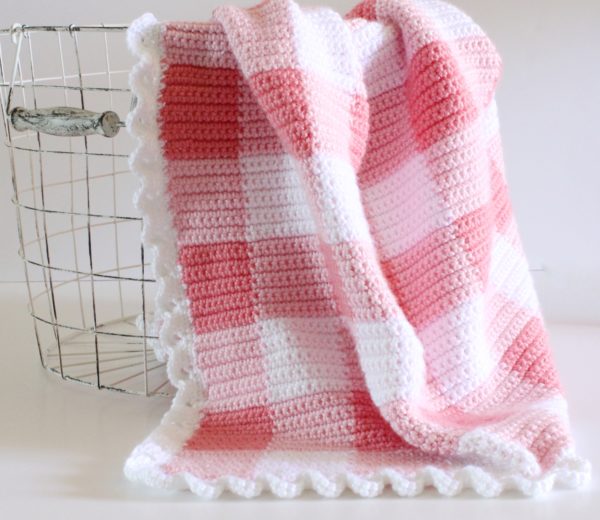 "She was almost finished and it was looking fabulous. I instantly got a surge of energy and excitement! I went over to her and spent the hour comparing crochet notes with a new friend. It was a reminder to me that God is good and cares about me and my little troubles and that crochet has been a lifesaver for me in so many ways! …I just wanted to share and express gratitude for you and your light." –@katypar
I think of the scene she describes and I would be so filled with a surge of energy and excitement too! I would have loved to have been in that waiting room with both of them. What are the chances of a blanket you've seen on Pinterest being made by a lady in a waiting room, in a place far from home, on a day you are taking your dad to a doctors appointment? I'm guessing one in a million!
And for me, knowing it's a Daisy Farm gingham blanket means so much in more ways than you can imagine. I've said this before but every blanket made from my patterns feels like extra prayers to Heaven on our behalf.
I'm in awe at the coincidence of the whole story. I'm honored to be a small part of it. I'm thrilled and happy and every good thing fills my entire soul about this story. I LOVE to crochet and the meaning and symbolism behind it. Have you heard that only two hands can make crochet? It can't be replicated by a machine.  So, we practice an art, that a machine cannot replicate, to make baby blankets to welcome brand new life into the world. It seriously can't get any better than that.
It was because of crochet that two ladies in a waiting room were able to connect and cheer each other. Two perfect strangers, both having a love of crochet and a gingham pattern to bring them together. These are the small miracles that I see crochet doing. Sometimes they happen by chance, just when you are the least expecting it. Or sometimes, like for Katy, when you are tired and stressed and need to know you are loved. Only two human hands can make that happen!
So even though my blanket stack for future grandkids is getting pretty tall, these two hands are going to push onward and keep crocheting in faith. I really don't know that Hannah will be able to have a baby, and neither does she. But we hope, pray and move forward happily with faith. For now, I'm okay knowing that a gingham blanket brought about a miracle happy moment for Katy.
Thank you Katy for sharing your story with me and letting me share it with all of the Daisy Farm crochet friends.
From the bottom of my heart I thank you ALL for loving and making Daisy Farm Blankets.