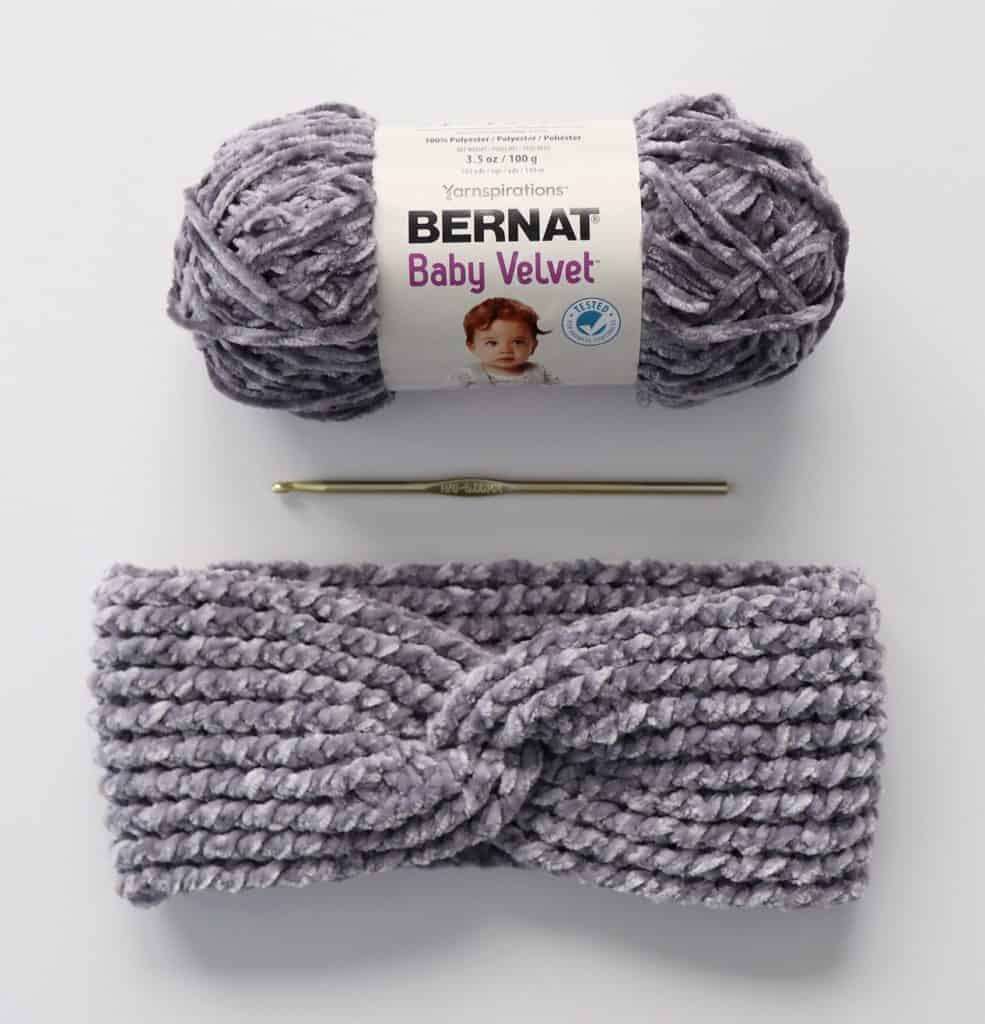 Hello crochet friends! Hannah here. It's been a few weeks since I've had a chance to crochet anything new because my husband and I recently moved from New Mexico to Colorado! 
We met a lot of wonderful people in New Mexico and we were sad to leave, but we are also excited for this next phase of my husband's medical training. My mom grew up in Colorado and my grandparents still live here, so it will be fun to be able to live closer to them.
But most importantly I finally have a chance to use all the winter wear I've been making lately, including this super comfortable velvet headband!
Last week we met up with my family in Salt Lake City the day after Thanksgiving and we were all so glad to have our headbands since it snowed almost the whole time we were there. 
We already have patterns for the Crochet Velvet Twist Headband and the Easy Velvet Twist Headband and this new ribbed headband is made in the same way, except I used alternating front and back post double crochet (FPDC & BPDC) for the body of the headband. If you're not sure how to work those stitches, here is a quick video to show you how: 
Materials
1 (3.5oz) ball of Bernat Baby Velvet (I used Vapor Gray)
Size H, 5.00mm hook
Tapestry Needle
Scissors
Finished size 5 inches wide by 19.5 inches long (or to the length you need to fit snuggly around your head.)
Click here for a standard head circumference chart from the Craft Yarn Council
(A PDF of this pattern is available on Etsy.)
Pattern
Chain 20 (chain 16 for children under the age of 5).
ROW 1: Starting in the 4th chain from the hook, work a DC in each chain.  (YO, insert your hook, pull up a loop, YO, pull through two loops, YO, pull through remaining two loops.) When you reach the end of the chain, chain 2 and turn. 
ROW 2: The chain 2 counts as the first stitch. Around the next stitch, work a Front Post Double Crochet (FPDC). An FPDC means you insert your hook from front to back around the post and work your DC. Around the next stitch, work a Back Post Double Crochet (BPDC). A BPDC means you insert your hook from the back to the front of the post and work a DC.
Continue alternating FPDC and BPDC to the end of the row. When you reach the end of the row, work a regular DC underneath the turning chain. Chain 2 and turn. 
ROW 3: The chain 2 counts as the first stitch. Around the next stitch, work a BPDC. Then work a FPDC. Continue working BPDC, FPDC to the end of the row. Chain 2 and turn.
Repeat rows 2 through 3 until your headband measures 19.5 inches for an average woman's size head or to the size you need. 
For the twist: 
Step 1: Lay the band out and fold in half and slide one side of the band across so one end is matched up to the middle of the other.
Step 2: Fold the right hand side around the back. 
Step 3: Fold the left hand side around the front, giving you four layers
Step 4: Sew with the tapestry needle through all four layers, then turn inside out. 
After you finish your twist weave in any tails with a tapestry needle and then enjoy your cozy velvet headband! 
Thank you for coming to visit our website and best of luck with your headband! When you're finished, please come share a picture with us on Facebook or Instagram, we'd love to see!
xo, Hannah