Thank you for stopping by for the pattern for our Pink and Gray Striped Scarf. It is beginner-friendly and works up beautifully.
This is a pattern that Hannah made that I'm re-sharing today. As always, please scroll to the end of the post if you'd like the printable version of the pattern.
The yarn used for this scarf is Bernat Roving. It is a nice 5-weight wool blend. However, if you are unable to source it as it is in limited supply, we recommend Bernat Forever Fleece as a nice substitute. Or any chunky weight yarn will work.
Or, if you use a smaller-weight yarn, just make sure you are making your chain long enough for the length you need and adjust your hook size.
Enjoy, XO Tiffany
From 2018:
Even though it's the middle of September, I'm still not quite into fall mode yet since I live in the desert, but I'm slowly making my way out of summer mode and this last week I started to get the itch to make more wintery things like scarves and hats and mittens.
I saw an adorable pink and gray striped scarf when I was shopping at H & M last week and I knew right away that I would love to make a crochet version. And luckily I happened to have some leftover Bernat Roving yarn in the exact right colors!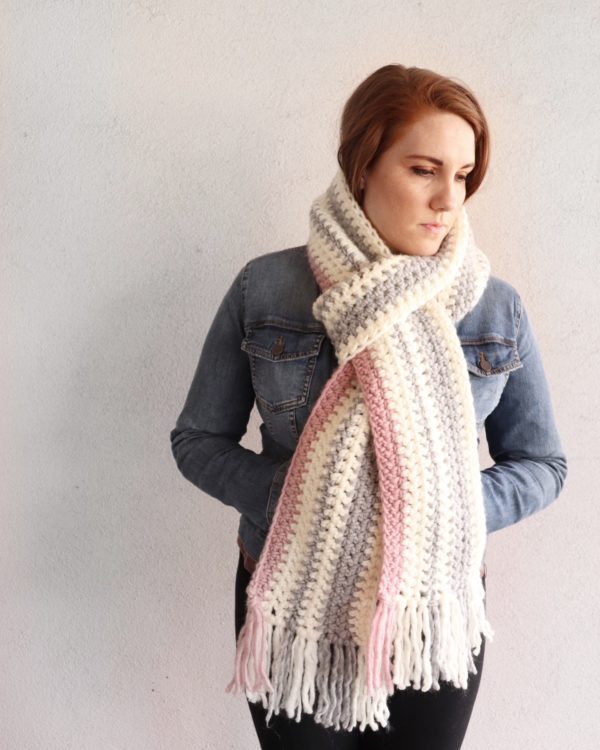 I decided to try out a new modified way to work half double crochet my mom shared a few months ago, and I really enjoyed working the stitch. It's completely beginner friendly and it was so easy for me to see where to insert my hook.
I also loved that the last stitch was worked between the post and the turning chain. My sides were really straight.
The best way to describe this stitch is Half Double Crochet Working in Between the Posts or Wide HDC. You work the stitch exactly the same as a half double crochet, except instead of inserting your hook underneath the top two loops, you insert your hook underneath all three loops, so that your hook is in between the two posts of the stitches from the row below.
Here is a video you can watch that demonstrates the stitch in case that doesn't make sense!
Materials
Bernat Roving (80% acrylic, 20% wool, 100 g/3.5 oz, 109 m/120 yds)
1 skein Quartz Pink, 2 skeins Putty, 3 skeins Rice Paper
Size K/6.5mm hook, tapestry needle, scissors
Alternative yarn: Bernat Forever Fleece
1 skein Patchouli, 2 skeins Balsam, 3 skeins White Noise
Size
Finished size 90 in x 6 in
Stitches
Half Double Crochet (HDC): YO, insert your hook, YO and pull up a loop, YO and pull through three loops on hook.
Wide Half Double Crochet (WHDC): YO, insert your hook between stitch posts, YO and pull up a loop, YO and pull through three loops on hook.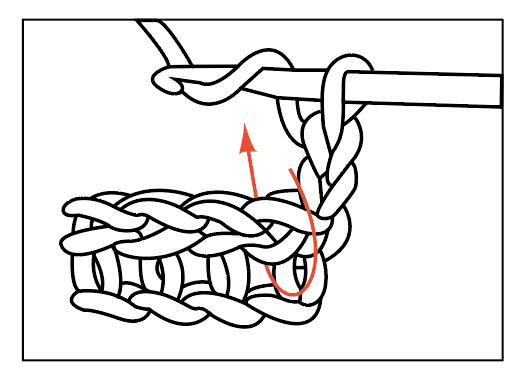 Pattern
Chain 170 in Pink.
Row 1: Starting in the 3rd chain from the hook, work 1 HDC in each chain. CH 2 and turn.
Row 2: Work 1 WHDC in each space across the row. When you reach the last stitch, pull through with Rice Paper (you should have three loops on your hook when you pull through). CH 2 and turn.
Work 3 rows of WHDC in Rice Paper, then work 1 row in Putty, 2 rows in Rice Paper, 3 rows in Putty, 2 rows in Rice Paper.
When I finished the scarf, I wove in all the ends with a tapestry needle and tied on some simple tassels.
Tassels
Supplies: A small notebook (or DVD case would work), Scissors, Yarn
Wrap a piece of yarn around the notebook.
Cut the yarn in half.
Take two pieces of yarn and fold them in half. Insert the folded end into the chain space. You can use your fingers or a large crochet hook to do this.
Pull the ends through the loop…
And pull tight to make a knot.
You can space your tassels out however close (I chose to do one for each row) and you can trim them to your desired length.
Thank you for stopping by!
Be sure and check out all our other scarves we've made if this one isn't quite what you are looking for.
Tap here to see our scarves category.
xo, Hannah
Click here or on image below for printable pattern