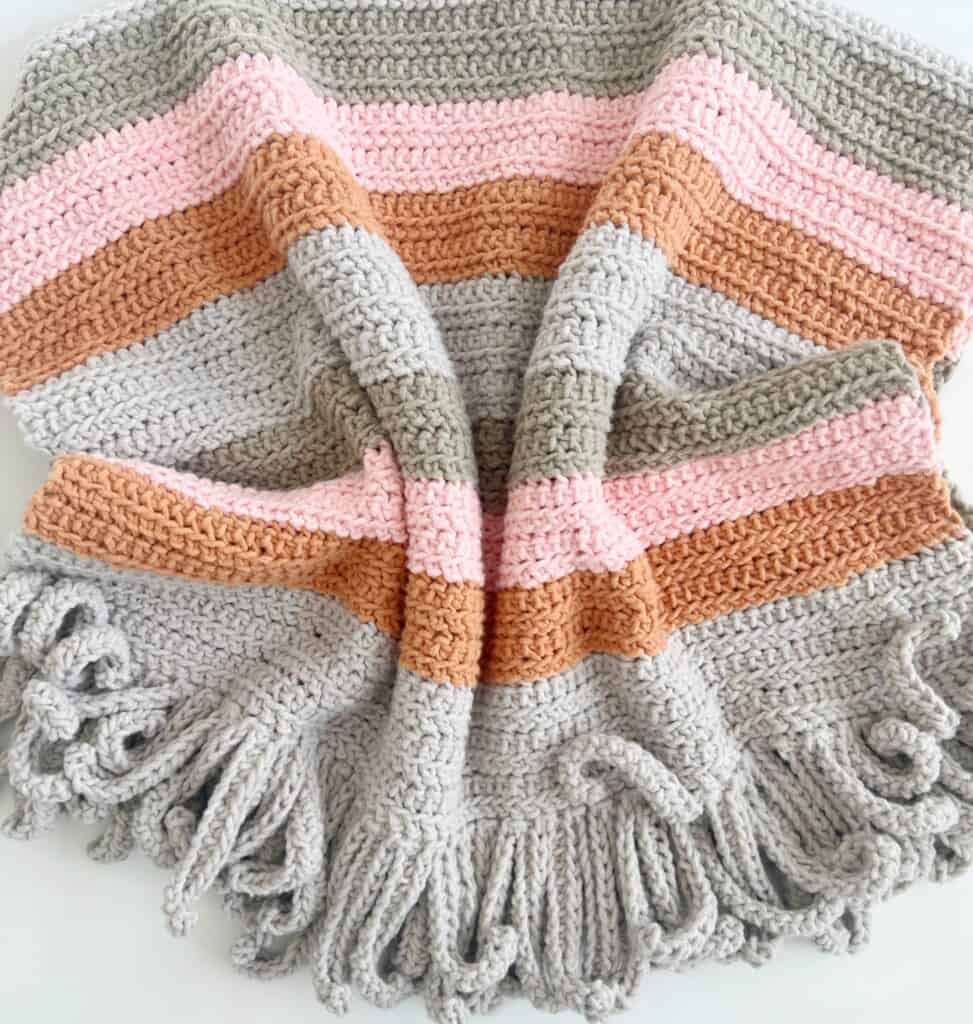 Hi there! I'm excited to share with you today a free crochet pattern for the Forever Fleece Patchouli Throw.
Patchouli is the name of the pink color. It's such a fun pop of happiness in this blanket I just love it.
The other colors are Bergamot (rusty orange) and Matcha (pale green) with Balsam (grey) for the larger stripe and fun fringe.
They are an unexpected combination of colors that work so well together.
Bernat Forever Fleece is quickly becoming a favorite yarn for me to use for throws and lap blankets.
It's so very soft, has a wonderful brushed matte appearance and works up relatively quickly.
And the finishing touch is fun fringe!
Previously, I made a throw with Forever Fleece for my younger sister and I put a regular tassel/fringe border.
She reported back to me, after about six months of use, to let me know that some of the tassels had fallen out. Fun Fringe definitely solves that problem.
My older sister Cyndi is the one who came up with the idea and we all have fallen in love with it.
You can make a variety of fun fringe finishes if you want to change what I did to something else.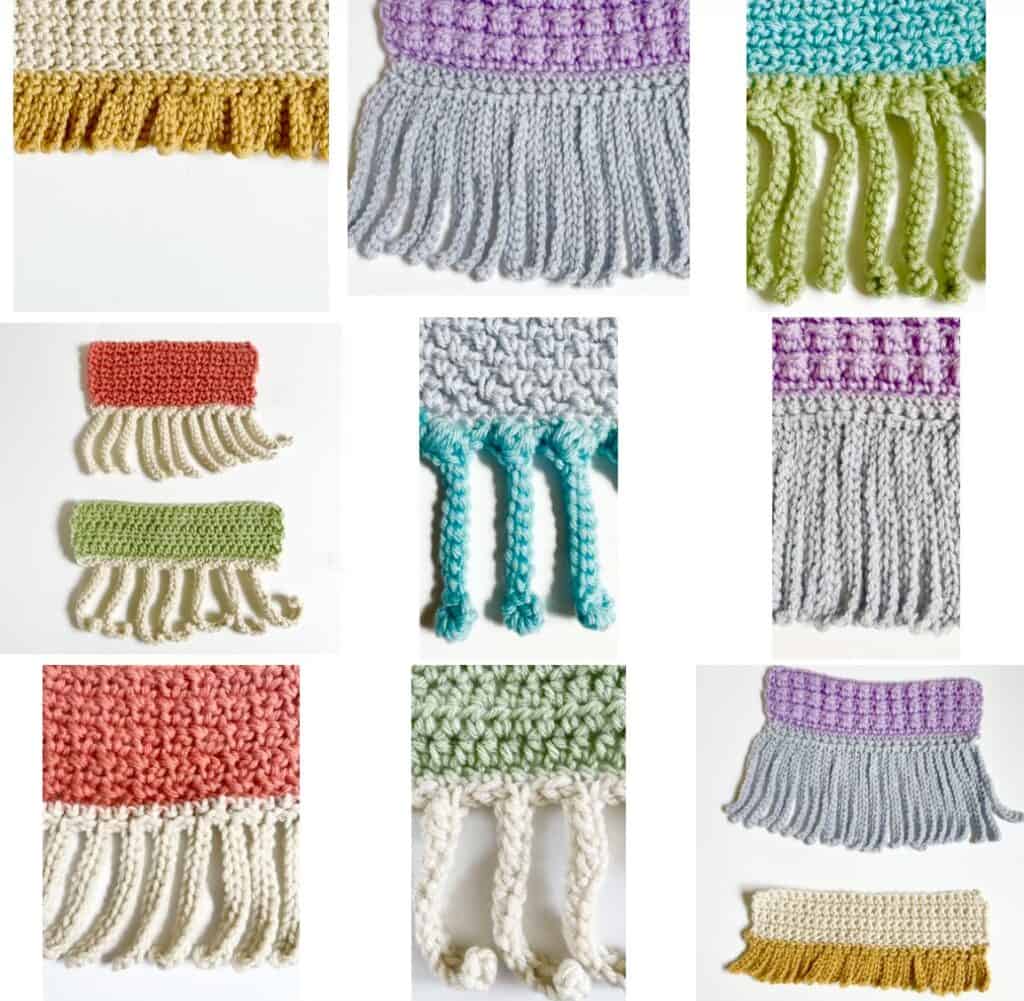 I made a little video/reel/short on our Instagram, Facebook and Youtube channels showing how the fringe is made, so if you need a little visual maybe this can help you.
Tap here to watch the short or tap the Youtube play button below
The main stitch used in the blanket is the Herringbone Half Double Crochet. There is a bit of a learning curve in making this stitch.
It sometimes can be tricky to learn exactly which loop you are pulling through before you yarn over and pull through all the loops left on your hook.
I have a video tutorial in the Crochet Stitches section of our website that has a quick Youtube tutorial linked if you need a refresher or want to get some practicing in before you start this throw.
Tap this link here for a tutorial on the Herringbone Half Double Crochet stitch.
In the materials section of the pattern, you can tap the highlighted name of Bernat Forever Fleece to see all the colors that are available on Yarnspirations.com.
(I checked and they are selling out quickly in the shades of this blanket, but we are going to be having a curated box coming soon with these exact colors in a few days, so you will be able to get these shades. Make sure you are following us on Facebook and Instagram, or have signed up for our newsletter in order to be notified of the sale!)
Tap here if you want to sign up for our newsletter.
Signing up means that you get an email every time we publish a new post here on the website. It's the best way to stay caught up in our latest pattern releases.
Be sure and scroll to the end of the post to print the free PDF of this pattern if you need it.
Happy Crocheting!
Materials
Size 40 x 60 throw
Gauge: 4 inches = 10 sts and 6 rows of pattern
Bernat Forever Fleece (100% polyester,280 g/9.9 oz, 177 m/194 yds)
4 skeins Balsam, 3 each Patchouli, Bergamot, Matcha
Size 10 mm hook, tapestry needle, scissors
Stitches
Herringbone Half Double Crochet (HHDC): YO, insert your hook, YO, pull up a loop and pull directly through first loop on hook, YO and pull through remaining two loops.
(If you need a video tutorial to see this stitch demonstrated, please tap the highlighted in red name of the stitch.)
Half Double Crochet (HDC): YO, insert your hook, YO and pull up a loop, YO and pull through all three loops on hook
Pattern
With Balsam, chain 88. (For a larger or smaller blanket, use any number to the width you'd like.)
ROW 1: Begin in the second chain from the hook with 1 HHDC. Work HHDC into each chain across the row, CH 1 and turn.
ROW 2: Beginning now and throughout the rest of the blanket, work HHDC into the front loop. HHDC into each st across the row, CH 1 and turn.
Repeat ROW 2 instructions for the rest of the blanket making the color changes as follows: *6 rows Balsam, 4 rows Bergamot, 4 rows Patchuli, 4 rows Matcha. Repeat from * until you have 4 sections of the colorful stripes. End with 6 rows of Balsam.
Fringe:
When the last row of the blanket is complete, *chain 15. Starting in the 3rd chain from the hook, work HDC into each chain, working toward the edge of the blanket. SL ST into the next stitch and the next stitch. Repeat from * across the top of the blanket. Tie off when you reach the end.
Pull up a loop on the other end of the blanket, and chain 15. Make fringe in the same manner as the top.
Tie off and weave in all the ends.
Thank you so much for stopping by! I hope you enjoy making this blanket! It is such a beautiful stitch.
XO, Tiffany
Click here or image below to download pdf.