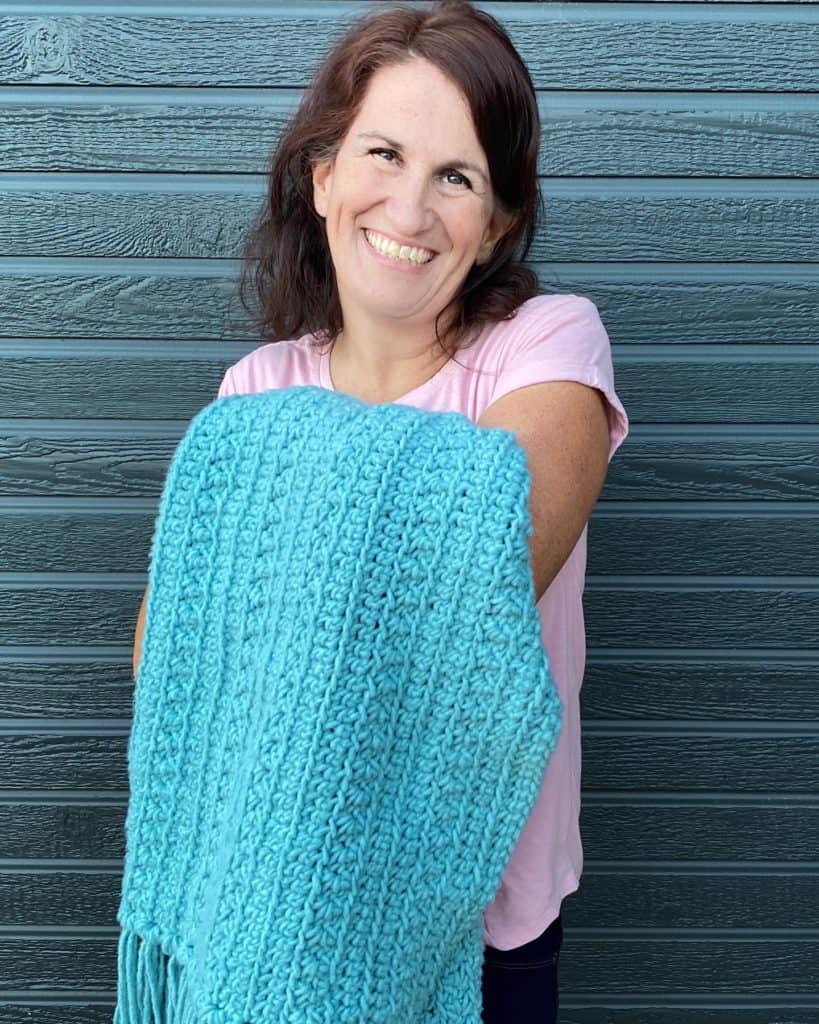 This is my baby sister Nichole and for her birthday this year, I made her a new throw. I was thrilled to give the new Bernat Forever Fleece a try too! (Thank you Yarnspirations for sending us some to try! *Stitch Ambassadors for Yarnspirations.)
This was my first time working with this yarn and it absolutely will not be my last. I can't wait to get my hands on more colors and make baby blankets.
It is so soft and since it's a heavier 6 bulky weight yarn, it works up so quickly.
I wanted a cable look blanket for her, but really wanted to make it simple so I could start my Hallmark Christmas movie watching without having to pay too close to what I was doing.
So, I used all front loop single crochet. Even the faux cable look for two rows is front loop single crochet, I just chose to skip a stitch, work the SC, then work SC into the skipped stitch. For those two rows, I did pay somewhat close attention to make sure I wasn't forgetting to go back and work the skipped stitch, but overall, I was really pleased with how quickly this worked up.
I would also say that this isn't a very heavy blanket for the size, and did I say it was soft? So incredibly soft, it was like working with brushed flannel. It's easy to undo mistakes and start over and I loved the stitch definition.
I can't say enough good things. Watch for more projects from us using this yarn. Hannah can't wait to experiment with it either.
Materials
Bernat Forever Fleece (100% polyester, 280 g/9.9 oz, 177 m/194 yds)
6 skeins Dark Eucalyptus
Size M/N/9mm hook, scissors, tapestry needle
Size
Finished size 50 in x 37 in, Gauge 4 in = 9 st and 8 rows of SC
Stitches (US Terms)
Single Crochet (SC): Insert your hook, yarn over (YO) and pull up a loop, YO and pull through two loops.
Front Loop Single Crochet (SC): Insert your hook into front loop only, YO and pull up a loop, YO and pull through two loops.
Pattern
Chain 121. (Pattern repeat is any odd number.)
Row 1: Beginning in the 2nd chain from the hook, work 1 SC. 1 SC into each chain across, CH 1 and turn. (120)
Row 2: Work 1 SC into the first SC. 1 Front Loop SC into each of the next 118 sts. Work 1 SC into last SC. CH 1 and turn.
(Tip: working the first and last SC of the row under the top two loops like usual will help when you attach the tassels, the rest of the single crochets are worked into the front loops.)
Rows 3 and 4: Repeat row 2.
Rows 5 and 6: Work 1 SC into the first SC. *Skip the next SC, work Front Loop SC into the next, work Front Loop SC into the skipped st. Repeat from * across to the last stitch, work 1 SC into the final sc. CH 1 and turn.
For the rest of the blanket repeat the sequence of 4 rows of Front Loop SC, then 2 rows of the skipped SC rows 8 times, then end with 4 rows of Front Loop SC.
(Tip: Avoid changing yarn mid row. When you are approaching the end of a skein, it's best with this yarn to make the switch to the next skein at the end of a row.)
Tie off and weave in the ends. I also knotted the yarn together at the ends of the blanket where the yarn changes occurred for extra security.
Attach tassels by cutting 14 inch pieces. I used 4 pieces per tassel.
I hope you have someone you love dearly to give this blanket to! My sister lives in Colorado and can't wait to snuggle up by the fire and relax.
Thanks for stopping by! We sure do love sharing what we are making with you, and we hope to see if you make it yourself. Come and join the Daisy Farm Crafters Group on Facebook and share or use #daisyfarmcrafts on your Instagram posts.
Happy Crocheting!
XO, Tiffany
Click here or on image below for printable pattern