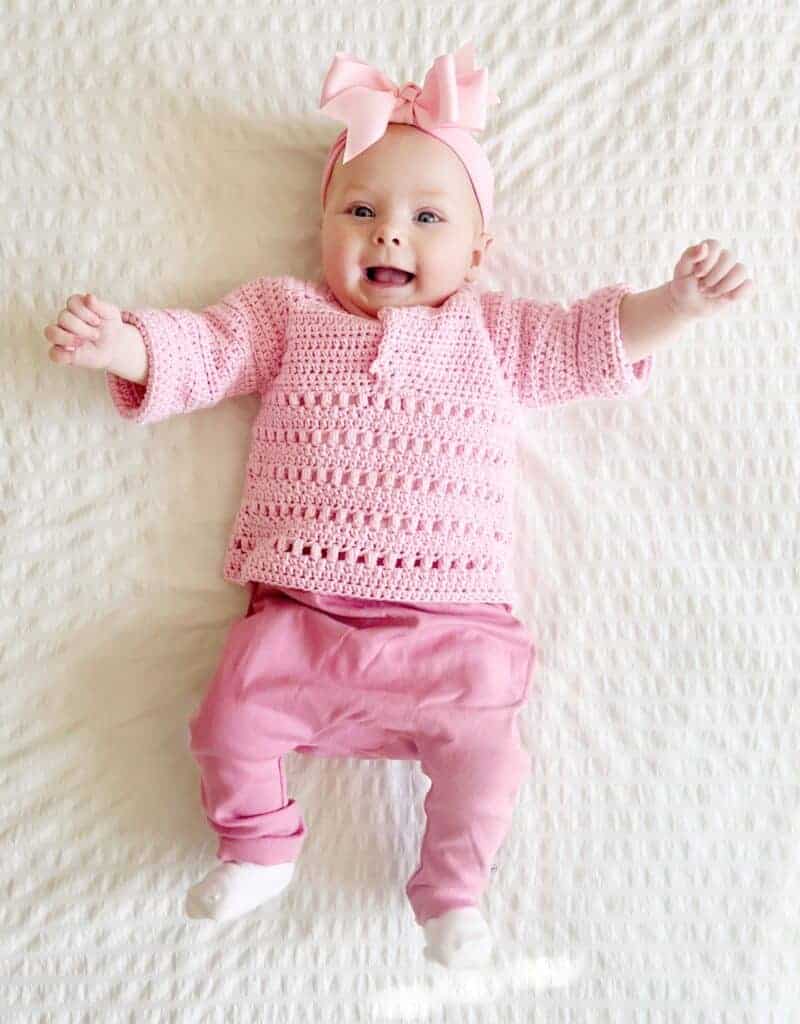 Baby Kate is ready for Valentine's Day! I found the cutest pattern on Yarnspirations.com called the Bernat Take It From the Top Pullover.
I opted to make it all one color and use Bernat Softee Cotton for the yarn instead of the Bernat Baby Sport yarn. Both yarns are a size 3 weight so it was a good substitution.
If you use a 4 weight yarn, the sweater will be larger for each size given.
You can make this sweater in size 6 months to 24 months, but if you use the larger weight yarn, you probably can make this pattern fit an even older child.
When I brought this over to show Elizabeth what I finally made for Kate, she was so excited! She loves the vintage crochet look for Kate.
That makes my day! I'm going to continue to scour the Yarnspirations website for more patterns I can make for her. Sometimes just using a different yarn can give a whole new look to a pattern.
I will rate this pattern as an advanced beginner. You will need to be familiar with how to join the rounds. (And sometimes, I didn't understand exactly how it was to join, but I just counted the clusters and made sure I had the same number in each round.)
You start with the neck and work the increases from the top down. Then, you tie off and begin the bodice underneath one of the arms. The joins are running down one side.
One change I did was instead of working 3 HDC for the increases, I worked "HDC, CH 2, HDC" because it's easier to find the chain 2 for me to work the increase around.
After finishing it, I opted to sew a snap at the neck and left the buttons off. (I didn't have time to run to the store to find buttons but I had little snaps on hand.)
I was able to make this in one day and made Kate the 6-month size. I used 1 full skein of the cotton plus just a little more of a second one, so buy 2 skeins for up to the 12-month- 18-month size, and probably get 3 if you are making it even larger.
I used the G/6 4.0 mm hook which is the size recommended in the pattern and what I usually use with a 3 weight yarn.
I can't say enough about how much of a fan I am of Bernat Softee Cotton, especially for baby clothes. It's a 60/40 cotton blend so it adds a bit of softness to the cotton.
Find the sweater pattern here.
Shop the yarn here.
Thanks so much for following along! My sister Cyndi and I are chatting each week on Youtube talking about the current projects we are making.
It's lots of laughs and lots of fun and we chat about what we will be making next.
XO, Tiffany
P.S. If you need links to some simple onesies and leggings to go with your sweater, check out the *Honest Company on Amazon. I bought packs of these for her and we loved them! It gives you a lot of color options to match the sweater you make.
*as an Amazon Associate we may earn from qualifying purchases.
Links to the baby leggings tap here.
Links to the baby Onesie tap here.