My youngest daughter Annie designed this darling beginner blanket. We thought it was so summery and fun we named it the Popsicle Stripe Blanket.
There was a lot of debate between all of us girls about that dark sage color. It turned out in the end that we all loved how it gave the pastel colors a bit of pop.
She learned the extended half double crochet (EHDC) stitch and used it throughout the entire blanket. It was a nice stitch once she got the hang of it.
She carried the white up the sides, but did have to cut the colors and weave them in after. Lucky for her she has a nice older sister Haley who didn't mind putting on a movie and settling in for about an hour to get the task complete.
And then Annie lost motivation after that, and I worked the border for her. This was a group effort to get it across the finish line!
I filmed a tutorial for beginners that will be linked at the end of the post.
Materials
Caron Simply Soft (100% acrylic, 170 g/6 oz, 288 m/315 yds)
1 skein each of Strawberry, Soft Pink, Soft Blue, Dark Sage, Sunshine
2 skeins of White
Size H/5.5mm hook, tapestry needle, scissors
Size
Finished size 34 in x 34 in
Stitches
Extended Half Double Crochet (EHDC): Yarn over (YO), insert hook, YO and pull a loop back through. YO and pull through one loop on the hook. YO and pull through all three remaining loops.
Single Crochet (SC): Insert hook, YO and pull up a loop, YO and pull through two loops on hook.
Pattern
With White, chain 100. (Or you may chain any number to the width you'd like, there is not a pattern repeat.)
Row 1: In the third chain from the hook, work 1 EHDC. Work 1 EHDC in each chain across the row. CH 2 and turn.
Row 2: In the first stitch of the row, (the chain 2 does not count as a stitch) work 1 EHDC. Work 1 EHDC in each stitch across the row. In the last stitch, pull through on the last step of the stitch with a new color. (Don't cut the white, you'll carry it up the side.) CH 2 and turn.
Rows 3 and 4: With the new color, work EHDC in each stitch across the row. CH 2 and turn. At the end of row 4, pull through with White. Cut the color.
Rows 5 and 6: Repeat rows 1 and 2 with White.
Repeat rows 3 – 6 for the rest of the blanket working your color changes as follows: Sunshine, Strawberry, Soft Blue, Dark Sage, Soft Pink, repeating the sequence three times.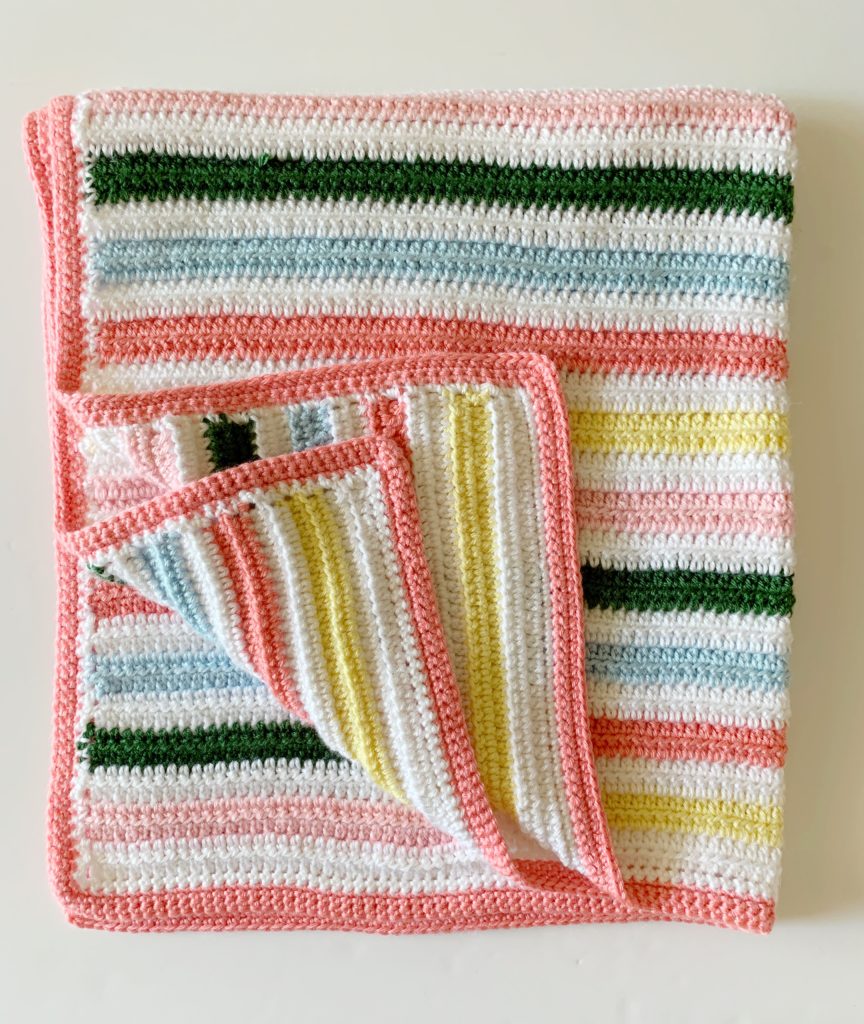 Border
(Weave in all the ends before beginning the border.)
Round 1: With White, pull up a loop in any corner. Work 1 SC per stitch. Work 3 SC into each corner space and approximately 2 SC per row on the sides of the blanket. Join with a slip stitch to the starting SC. Change to the Strawberry color.
Rounds 2 – 5: With Strawberry, work 1 SC into each SC and work 3 SC into the corner SC. Do not join the rounds, continue on in the same direction for each round. Join with a slip stitch at the end of round 5. Tie off and weave in the ends.
If you are a beginner and need some guidance, I recorded a video tutorial. I also included in the video a good tip on how to make your border more even by measuring your stitches.
Thanks so much for coming by our website to see what we've been making! It's so fun to share with you all. Come and share with us if you make this blanket. We'd sure love to see! Use #daisyfarmcrafts on your Instagram posts or come and join the Daisy Farm Crafters group on Facebook.
Happy Crocheting!
xo, Tiffany
Click here or on image below for printable pattern