I love simple crochet and especially when simple crochet produces such beautiful lines. I love the braided look that this half double crochet stitch makes. That's right! It's half double crochet, but I worked into the bottom front loop, instead of underneath the top two loops like usual.
Start with one regular row of half double crochet (US terms) and when you turn to start row 2, insert your hook underneath the front bottom loop.
Here's a quick clip to show you what I mean:
Once I had practiced and made a swatch, I turned it on its side and thought that it would sure make a cute baby hat!
I added 3 slip stitches to one end so it would help gather it in when I went to gather and sew it closed. This hat is made as one rectangle, with one end gathered and then fold the hat in half and sew up the side. (Full video instruction is at the end of the post.)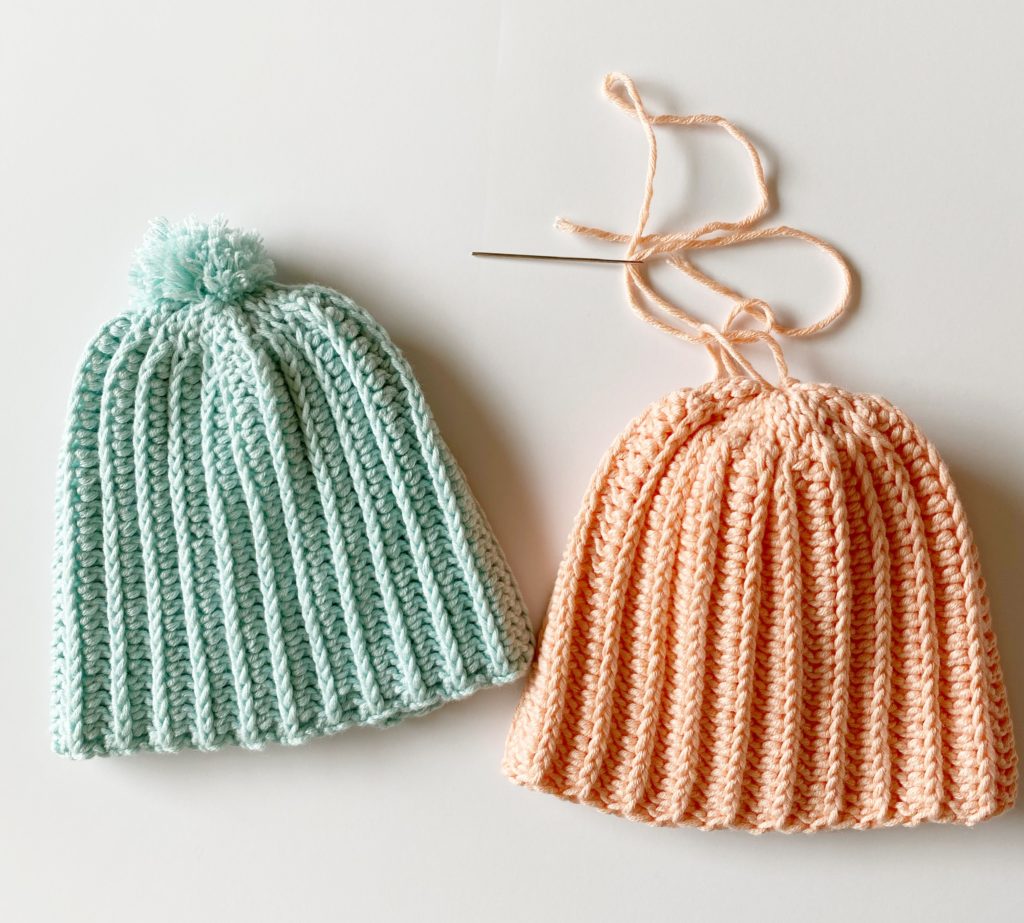 After I sewed them together, then I added a pom pom and easy-breezy I had a hat! Now let's get to the pattern details.
Materials
Bernat Softee Baby Cotton (60% cotton, 40% acrylic, 120 g/4.2 oz, 232 m/254 yds)
1 skein Blush or Aqua
Size G/4.00mm hook, tapestry needle, scissors
Pom pom maker (optional)
Size
For newborn size 6 in x 14 in
Stitches
Half Double Crochet (HDC): Yarn over (YO), insert your hook, YO and pull up a loop, YO, pull through all three loops on hook.
Front Bottom Loop HDC (fblHDC): YO, insert your hook underneath the front bottom loop of the half double crochet from the row below. YO and pull up a loop. YO and pull through all three loops on the hook.
Slip Stitch (SL ST): Insert your hook, YO and pull a loop back through and continue pulling through loop on the hook.
Pattern
Chain 30.
Row 1: In second chain from the hook, work HDC. HDC in each of the next 25 chains. SL ST in each of the remaining 3 chains. CH 1 and turn.
Row 2: SL ST into the front loop of each of the first 3 slip stitches, fblHDC into each of the remaining stitches across the row. CH 1 and turn.
Row 3: fblHDC in each of the next 26 stitches. SL ST into the front loop of each of the last 3 stitches of the row, CH 1 and turn.
(Tip: Mark with a stitch marker the first fblHDC you make in row 3 so when you complete row 4, you'll know which is the last stitch to work into.)
Repeat rows 2 and 3 until your hat measures 14 inches across the bottom. (The top where the slip stitches are, gather in the top to help ease the stitches together when you use the needle to sew them tight.)
My hat was 42 rows = 14 inches. (End your last row with row 2 instructions)
When finished, tie off the ends and use your tapestry needle to sew. Fold the hat by matching the starting row with the last row and sew up the side. Then continue around the slip stitch end and gather the top of the hat together. Tie a knot with the starting tail and tuck them inside the hat.
Attach a pom pom and secure it on the underside of the hat. If you'd like to make an adult version of these hats, check out these Easy Crochet Cotton Pom Pom Beanies.
Here's the video tutorial to watch for the hat:
Now, to tell you the amazingly good reason why I made newborn baby hats!
I AM GOING TO BE A GRANDMA!
My son and his wife Elizabeth are expecting a baby this December! I'm going to be getting the best Christmas gift I could ever imagine.
I made these two hats for the reveal party and it's a boy!!
We are all just over the moon excited to meet this little one. And believe me the pile of blankets this little guy has waiting for him is immense.
If you are new around here and don't know why the pile of blankets I have waiting for this little one is immense you can read all about how Daisy Farm Crafts started if you'd like.
Thank you everyone for coming by the website! I'm so happy to have you here and celebrate with me! There are going to surely be a lot of new baby boy projects around here!
xo, Tiffany
Click here or on image below for printable pattern