I'm trying to use up the rest of my velvet yarn stash before the new year so I've been making lots of simple infinity scarves to give as Christmas gifts!
I made some with Bernat Baby Velvet and the regular Bernat Velvet and I love them both! The Baby Velvet is a lighter weight yarn and is machine-washable and the regular Velvet is a heavier weight and hand-wash only.
These scarves are made with one simple stitch, called wide HDC or HDC in between the posts. It's our favorite stitch to use because it helps keep the velvet nice and tight so that we can avoid having any loose loops get pulled up. The stitch is just like regular HDC except you are inserting your hook in between the posts of the row below. If you've never used this stitch before here is a video you can watch before you get started!
Materials
Bernat Baby Velvet (100% polyester, 300 g/10.5 oz, 450 m/492 yds)
1 skein any color
Size H/5.00mm hook, tapestry needle, scissors
Size
Finished size 6 in x 55 in
Gauge 4 in = 14 st and 14 rows of WHDC
Stitches
Half Double Crochet (HDC): Yarn over (YO), insert your hook, YO and pull up a loop, YO and pull through three loops.
Wide Half Double Crochet (WHDC): Yarn over (YO), insert your hook between stitch posts, YO and pull up a loop, YO and pull through three loops.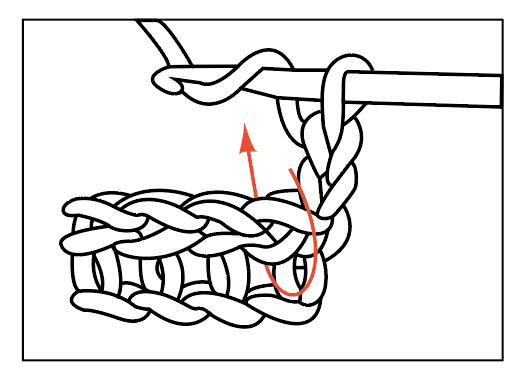 Pattern
Chain 24.
ROW 1: Starting in the 3rd chain from the hook, work 1 HDC in each chain. CH 1 and turn.
ROW 2: Work 1 WHDC in each space across the row. Be sure the last stitch is between the last post and the chain 2 turning chain. CH 1 and turn.
Repeat row 2 until the scarf reaches 55 inches or your desired length.
Note: For the Baby Velvet scarves I chose to only chain 1 at the end of each row so that the sides of my scarf would be a little bit straighter. If you'd like to chain 1 instead of 2, just be sure to make sure you still get that last stitch at the end of the row by inserting your hook in between the last stitch of the row below and the turning chain.
When you're finished, you can either slip stitch the two ends together or use a tapestry needle to sew them together to make an infinity scarf. To slip stitch the ends together, hold the ends together evenly and insert your hook through both sets of stitches, then yarn over and pull directly through your loop.
And that's all you need to do to make these simple infinity scarves!
The velvet yarn is so wonderfully soft and comfortable and I'm so excited to give these away as gifts!
Thank you so much for visiting our blog, I hope you enjoy making this scarf! When you're finished please come share a picture with us on Facebook or Instagram, we'd love to see!
xo, Hannah
Click here or on image below for printable pattern