I am in love with another version of gingham! So far, I have designed and made 18 gingham blankets and this latest one is crocheted with the extended single crochet stitch.
You can see all of my other gingham blanket patterns by clicking the picture of the teal gingham blanket: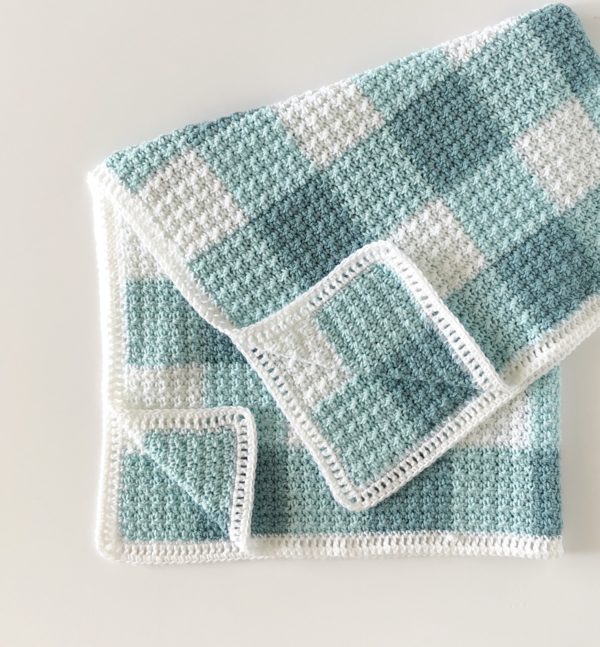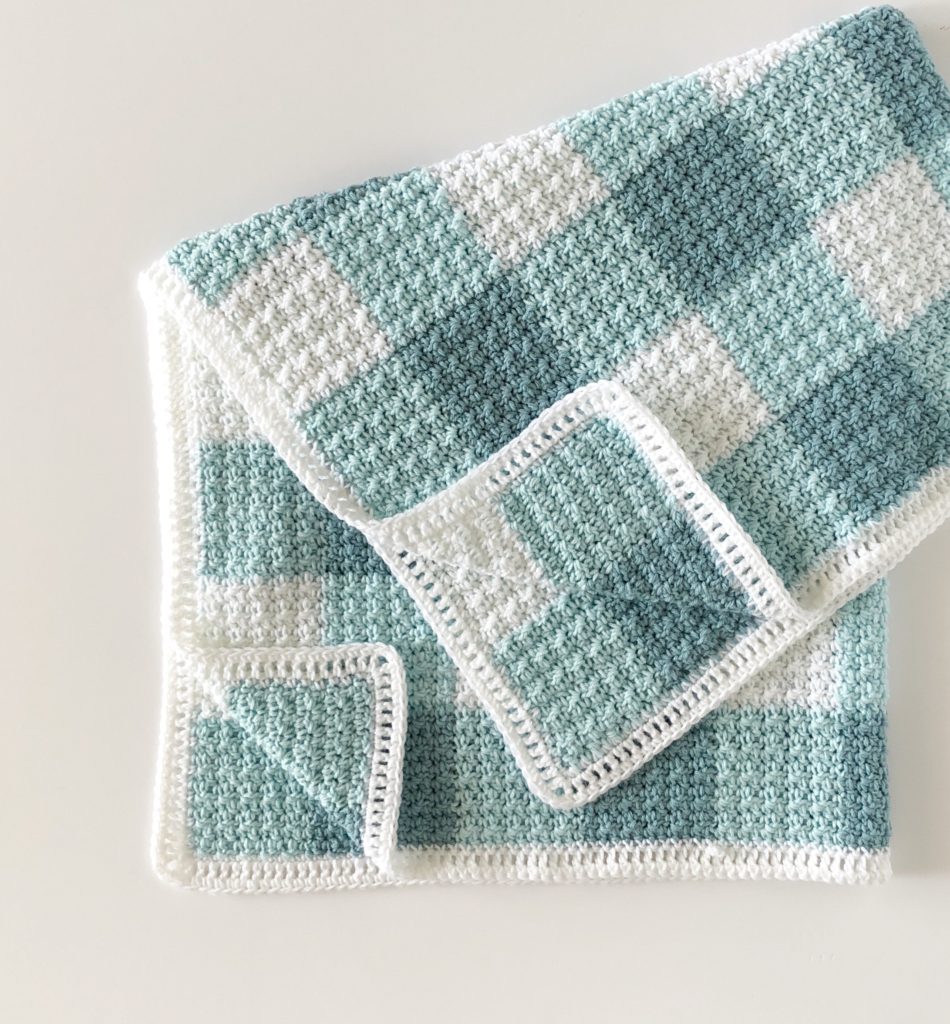 But first, we need to talk about the yarn and how I was able to make my own striped yarn for the third color.
I have used Bernat Baby Softee yarn in two colors, Navy and White. I have combined 2 skeins of each color together. I wound two skeins of Navy, two skeins of white, and one each of Navy and White together. Then I treat the two strands as one and crochet with a larger hook.
Bernat Baby Softee yarn is a size 3 weight yarn so this made the blanket a little heavier than regular size 3 weight yarn. But not super heavy. You will want to work a practice swatch and determine for yourself what you think of the drape and also to determine the appropriate hook size for yourself.
I have filmed a tutorial to show you exactly how to wind up the yarn into balls and to show you how to carry yarn along and switch colors easily.
Before I get to the pattern I would like you to really look at the picture below to see the color changes. Notice how the mixed navy and white color is used in every row, alternating with the solid navy and then with the solid white. This will help you achieve the gingham look. It mimics the subtle color changes you see in a gingham check design.
I hope you won't be afraid to try this technique out. I have seen many gingham blankets made from our patterns and overwhelmingly crocheters agree that after you do the practice swatch, it is easier than it looks. It just takes some practice to understand how to switch the colors.
If you'd like to read more about gingham blankets, I have a post called Frequently Asked Questions about gingham blankets that might help you out.
Or, if you are on Facebook, come and join the Daisy Farm Crafters Facebook group and see all the other gingham blankets that have been made. We started the group specifically for people to share their Daisy Farm projects. You are invited to join!
Materials
Bernat Softee Baby (100% acrylic, 140 g/5 oz, 331 m/362 yds)
4 skeins Navy, 4 skeins White
Size K/6.5mm hook, scissors, tapestry needle
Size
Finished size 36 in x 36 in
Stitches
Extended Single Crochet (ESC): Insert hook into designated stitch, yarn over (YO) and pull up a loop, YO and pull through one loop on the hook, YO and pull through final two loops on hook.
Pattern
Special Yarn Prep: Wind two skeins of Navy together keeping your balls to approximately softball size balls, (but this is up to you, if you want to wind them larger, you may.) Wind 2 skeins of white. Then wind one each of Navy and White together. (And you will have to do that again, but I suggest waiting until you use up all the first striped ball before winding another one. You will be using more of the white and navy stripe as it is used in every row throughout the blanket.)
Chain 91 with Navy. (Pattern repeat is 10 plus 1. If you'd like to make a larger blanket I'd suggest multiplying 10 times any odd number so the blanket begins and ends with the same block of color.
Row 1: In the second chain from the hook, work one ESC, work one ESC in each of the next 9 chains, before finishing the last step of the ESC, pull through with the striped yarn. Work one ESC in each of the next 10 chains carrying the Navy yarn with you and crocheting over it to hide the strands. On the 10th ESC, pull through with Navy and now work one ESC in each of the next 10 chains, crocheting over and carrying along the striped yarn. Continue changing colors every ten stitches. At the end of the row you should have 9 sets of color, ten stitches each. CH 1 and turn, carrying the striped yarn around the end of the blanket.
Rows 2 – 8: Work 1 ESC in each stitch across, carrying the yarn along and making the color changes to match the row below. On the 8th row and last stitch, pull through with the striped yarn and cut the Navy, leaving a long tail to weave in later.
Rows 9 – 16: Work one ESC with the striped yarn into each of the next 10 Navy stitches, switching to White on the tenth stitch. Work one ESC into each of the next 10 striped stitches, carrying the striped yarn along. Continue switching between the White and striped yarn every 10 stitches across the row, always chain 1 and turn at the end of the row.
Remaining rows: Switch blocks of color every 8 rows until you have 9 block of color running vertically. Weave in all ends before beginning the border.
Border
In any corner, pull up a loop and ESC in that space. ESC in each stitch around, working 3 ESC into each corner and approximately 1 ESC per row on the sides of the blanket, (you may need more, the goal is to keep it even.) Join with a slip stitch at the end of the round, CH 1 and turn. Repeat 3 times for 3 rounds of the border.
Weave in final ends and enjoy!
Thank you so much for coming by Daisy Farm Crafts! We are a mother and daughter team just sharing in our love of crochet with you. We started making blankets in hopes that one day, I, Tiffany, would become a grandma. I'm still waiting, but in the meantime, each blanket made from our patterns feels like a hope and a prayer that maybe one day my grandma dreams will come true.
Thank you for sharing with us! Come find us on Instagram where we post our works in progress.
xo, Tiffany
Click here or on image below for printable pattern