This is a perfect project for a beginner crocheter that wants a handmade touch added to their home. This crochet modern moss stitch throw looks amazing on a couch or a chair and combines that mid-century look that is so popular right now with crochet. It's a win-win!
The moss stitch is a very common stitch in crochet, but I've been seen it called many names–linen, seed, "that one that alternates" (lol!) But, it simply is an alternating SC (single crochet, US terms) and a CH, (chain.)
What I really love about this stitch is the ease of turning at the end of each row. All you have to do is find the space between the CH 2 turning chain and last SC. When you start working this, you'll know exactly what I'm saying and love it!
And to really convince you to try this, if you are a beginner, this blanket I am showing you is not made by me, but by my oldest daughter Hannah! It's one of the first blankets she has made and look at how she's got her sides lined right up! So now you know, this really is a great beginner project that you can do!
Since Hannah is a beginner, her tension was quite a bit loose on this blanket, so if you tend to be a tight crocheter, you may want measure your chain after you do the first row to make sure it's the length you want it to be.
This crochet modern moss stitch blanket can be made with any yarn you choose, but if you want a great one to start with, because you are new into crochet and don't want to spend a lot of money, buy either Red Heart With Love, or Hobby Lobby "I Love This Yarn" for this project. This blanket specifically was made with "I Love This Yarn."
Before we get to the pattern: here is a video to show you how to work the moss stitch:
Materials
4 skeins I Love This Yarn in Ivory, 1 skein in Black
Size J hook
Finished size approximately 60 x 30, but you can always customize and do your own size.
Tapestry needle to weave in the ends.
Pattern
Chain 200 in ivory (this is just a suggested number, if it is too long for your taste, just work any EVEN number you wish, but this blanket is worked from the long side on up so estimate the length. You want the stripes to be vertical so do a fairly long chain.)
ROW 1: SC in the 4th chain from the hook, *CH 1, SK 1 CH, SC in the nxt CH* repeat to the end of the row. (The last stitch should be a SC in the last chain.) CH 2 and turn.
If you don't speak crochet just yet, what I'm telling you to do is chain one after you make that first single crochet, skip the next chain, and single crochet into the next one. Repeat working a single crochet, chain one, skip over the chain space until you get to the end of the row.
ROW 2: SC in the CH 1 space, *CH 1, SK next SC, SC into the CH 1 SP* repeat to the end working your final SC into the space between the last SC and CHs. CH 2 and turn.
Translation: Single crochet in the chain 1 space from the row below, chain once, skip over the single crochet in the row below, work a single crochet into the chain one space. Repeat this all the way across and find the space between the last single crochet and the turning chains. Chain 2 and turn.
ROW 3-8: repeat row 2 in white
ROW 9: before you finish pulling all the way through with white in your final SC, stop and pull through with black. work the turning chains in black and then work the moss stitch across, stopping again just before you finish pulling through the last single crochet and pull through with white.
ROW 10-12: repeat row 2 in white
ROW 13: work in black, using the same instructions from ROW 9.
ROW 14-21: repeat row 2 in white.
Going forward, you are working *8 rows in white, 1 row in black, 3 rows in white, 1 row in black, repeat *.
Repeat until you have 16 stripes of black.
Weave in all ends before you start the border.
For the border, pull up a loop in black in any side stitch and work a SC into the chain one spaces and CH 1 and skip over the SC. Essentially working the moss stitch around. Work one extra set into each corner. Slip stitch to join and then weave in all ends.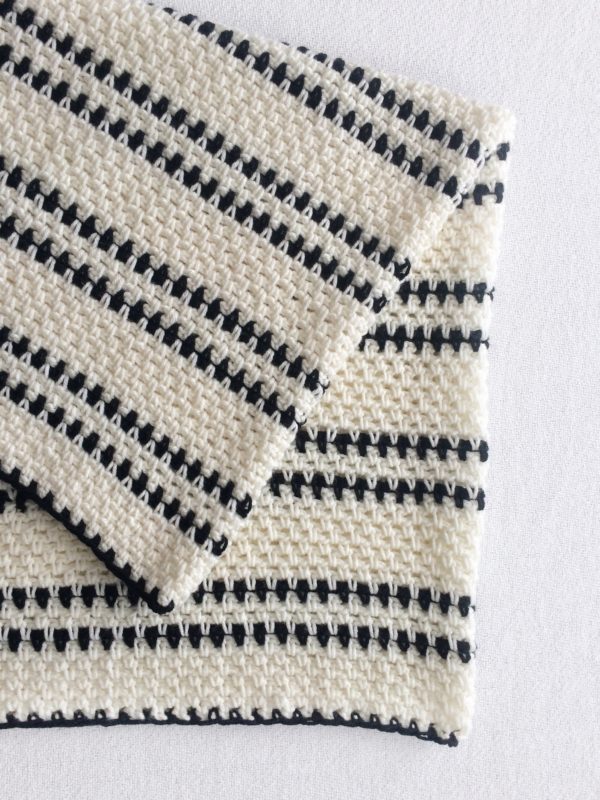 Now throw that beauty on your couch and enjoy!!
Come and find me on Instagram! I'd love to see your finished blanket so tag me! And once you've mastered the moss stitch, be sure to check out this Crochet Even Moss Stitch Blanket for a simple variation!
xxxooo
Tiffany