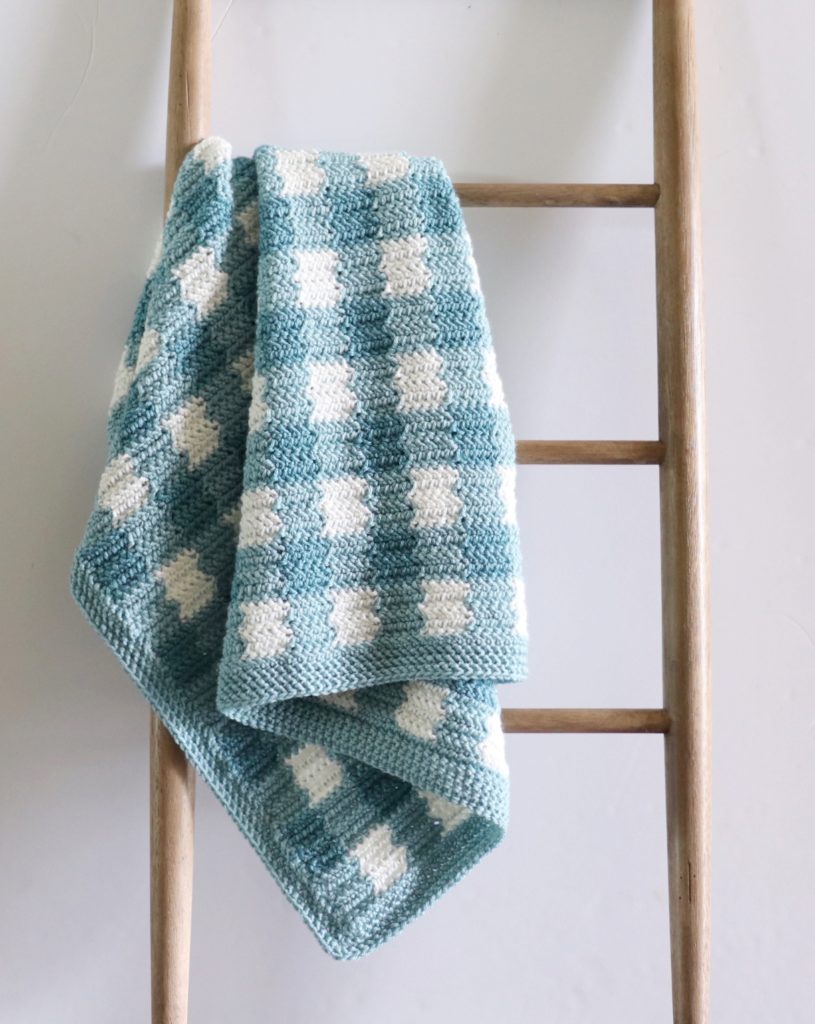 I get really excited when I can find shades of the same color for my gingham blankets. I was thrilled to see that the Paton's Canadiana line of yarn had not only two shades of teal but three! (Hint, you might be seeing me make even more.)
I went with the Medium Teal and Pale Teal however, for this blanket. I paired it with Winter White, which isn't the whitest white, it has just a touch of cream to it.
I am very happy with how this blanket turned out. As I've mentioned, Daisy Farm Crafts is sponsored in 2019 by Yarnspirations, so this is yarn that they sent to me to try and going forward, it's one of my new favorite acrylics.
I still love Caron Simply Soft, but Canadiana seems to be a step up in luxe. I just wish they had even more colors. Pros and cons for everything right?
Here is the YouTube Tutorial if you are a visual learner and want to skip reading through the pattern.
Thanks everyone for your patience as I've learned and practiced my Youtube skills! I can see how it's so helpful to have written and visual when learning these patterns and I'm glad I finally figured out a way to record and upload them all from my phone.
One other thing to know about this pattern. I am using the Herringbone Double Crochet stitch. It is worked by yarning over, inserting your hook, yarning over and pulling back through the stitch, AND through the first loop on your hook. Then, yarning over and pulling through ONE loop of the hook. Then, yarning over and pulling through the remaining two loops on your hook.
Let's get to the pattern!
Materials
Patons Canadiana (100% acrylic, 100 g/3.5 oz, 187 m/205 yds)
2 skeins Winter White, 2 skeins Medium Teal, 4 skeins Pale Teal
Size I/5.5mm hook, scissors, tapestry needle
Size
Finished size 34 in x 34 in
Stitches
Herringbone Double Crochet (HBDC): Yarn over (YO), insert your hook, YO, pull back through stitch and through the first loop on your hook. Then, YO and pull through one loop on the hook. YO and pull through the remaining two loops on your hook.
Herringbone Half Double Crochet (HHDC): YO, insert your hook, YO, pull back through and through first loop on hook, YO and pull through both remaining loops on the hook.
Pattern
Chain 107 with Pale Teal. (Pattern repeat is 5 plus 2. That means if you want to make a bigger blanket, multiply 5 times an odd number and then add 2.)
Row 1: In the 3rd chain from the hook, work 1 Herringbone DC (HBDC). Work 1 HBDC in each of the next 4 chains, pulling through on the last step of the stitch with Winter White. Work 1 HBDC in each of the next 5 chains, crocheting over and carrying along the Pale Teal color, pull Pale Teal through on the last step of the 5th HBDC. Continue across the chain switching colors every 5 stitches. Chain 2 and turn at the end of the row, wrapping the Winter White around the end and crocheting over it for the next row.
Rows 2 – 4: Continue repeating the instructions in row 1, alternating the colors every 5 stitches. The turning chain does not count as a stitch. On the last stitch in row 4, pull through with Medium Teal and leave the White behind. (You may cut the White to weave in later, or choose to carry White up the side of the blanket if you don't mind seeing bits of White in your border.)
Rows 5 – 8: Work 1 HBDC in each of the first 5 stitches with Medium Teal, carrying the Pale Teal along, crocheting over it, and changing to Pale Teal for the next 5 stitches. Repeat these color changes across the row as before.
Rows 9 – 68: Continue switching the colors as explained in previous rows. You will finish with 17 blocks of color high. (Or do more, if you want your blanket more oblong, just finish on a Pale Teal, Winter White row to match the starting rows.)
Border
Weave in all the ends before starting the border. Choose any corner and pull up a loop and chain 2 with Medium Teal. Work each stitch across with HBDC. Work 3 HBDC in each corner. Work HBDC as evenly as possible down the sides of your blanket. A rough guide is 2 HBDC around the turning chains and 1 HBDC per the rows that start with HBDC, but that is just a rough guide. If your side are puckering, it's either too many, or too few.
Do not join the rounds, just finish the starting corner with 3 HBDC then continue on in the same direction, changing your stitch to HHDC (Herringbone Half Double Crochet). Work 3 HHDC into each corner. Don't join these rounds and don't turn. Continue for one more round of HHDC.
Join with a slip stitch and weave in the ends.
Thank you all for coming by our website! I appreciate all the love and kind comments about our blankets. If you don't know, or are new to finding us, we are a mom and daughter team just sharing our love for crochet. It's our hobby. We aren't professional pattern writers, (as I'm sure you can tell!) But we try to do our best at pattern explaining!
If you see a mistake, or something just doesn't make sense, come and find us on Instagram or Facebook. We just started a Daisy Farm Crafter group on Facebook and you can ask questions there and share a Daisy Farm blanket if you'd like.
Happy Crocheting everyone!
xo, Tiffany
Click here or on image below for printable pattern