Post Update: A lot has happened since this original Crochet Sedge Stitch Post was published! Scroll to the end for the updates and the free printable PDF pattern.
Hi there, Hannah here. I'm excited to share the pattern for this crochet sedge stitch baby blanket!
It was really fun to make and I really loved how it turned out.
Sometimes I feel like it's hard to come with ideas for baby boy blankets, so I was really excited when I found this beautiful Bamboo Pop yarn a few weeks ago when my mom and I were visiting a yarn shop in Boulder, Colorado.
I really loved this soft minty green color and thought it would like great for a modern boy blanket.
I tried out a few different stitches when I was practicing with this yarn and finally settled on the sedge stitch, which seems complicated at first, but is actually pretty straightforward once you get it started.
I think the sedge turned out really cool with this cotton, but I think it would also look great in acrylic if you decide to use a different type of yarn!
Materials
Bamboo Pop (50% cotton, 50% bamboo, 100 gr/292 yds)
3 skeins White, 4 skeins Lily Pad
Size G/4.00mm hook, scissors, tapestry needle
Size
Finished size 32 in x 38 in
Stitches
Single Crochet (SC): Insert your hook, yarn over (YO) and pull up a loop, YO and pull through two loops on hook.
Half Double Crochet (HDC): YO, insert your hook, YO and pull up a loop, YO and pull through three loops on hook.
Double Crochet (DC): YO, insert your hook, YO and pull up a loop, YO and pull through two loops, YO and pull through remaining two loops.
Front and Back Post Double Crochet (FPDC & BPDC): A front post DC means you insert your hook from front to back around the post of the next DC and work your DC. A back post DC means you insert your hook around the post from the back to the front and work a DC.
Pattern
Start with a chain in a multiple of three. (For this blanket I chained 120.)
Row 1: In the second chain from the hook, do a HDC (half double crochet) and a DC (double crochet), skip two chains and in the next work a SC, HDC, DC. *Skip two chains and repeat "SC, HDC, DC" into the next space. Repeat * across to the end and there is one chain left. Do one SC and turn.
Row 2: Chain one (this counts as your first SC), HDC and DC into the top of the SC you just made of the row below. Skip over the DC and HDC, "SC, HDC, DC" into the SC. You'll always be looking for the SC to do your "SC, HDC, DC" into. Repeat the pattern across ending the last stitch with one single crochet. (When you get to the end, you'll have two stitches left, just skip one and SC into the last stitch).
Repeat row 2 for the rest of the blanket! The more rows you do, the easier it gets to figure out where to work each of your "SC, HDC, DC," but I would suggest doing a small practice swatch before you get started just to make sure you understand how to work the stitch.
Here is the color pattern I used: *10 rows White, 4 rows Green, 2 rows White, 4 rows Green, 10 rows White, 10 rows Green. Repeat from * until you reach your desired length. (When you are switching colors, pull through with the new color on your last single crochet at the end of the row when you have two loops on your hook.)
Border
Before you start the border you'll want to weave in all the ends with a tapestry needle.
For this border you will be making a ribbed stitch look on each side of the blanket, working one side at a time. I'll explain how to do this first, and then you can watch a short video clip that shows how to work front post and back post double crochet.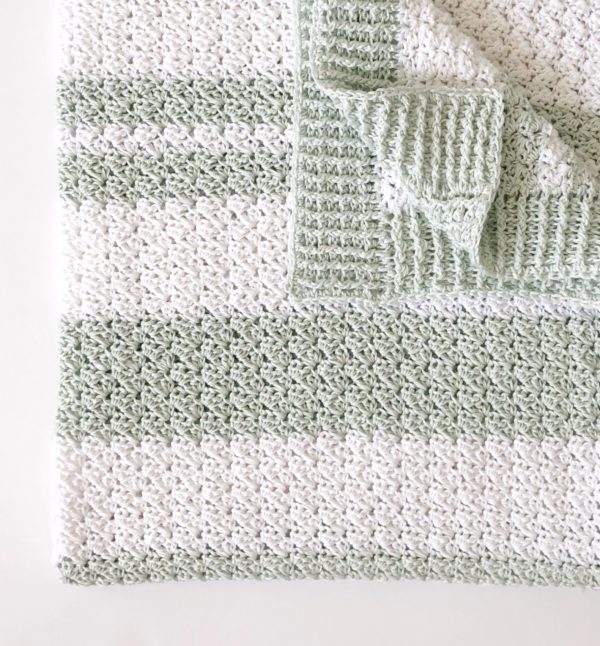 Pick either side to work across. Using lily pad, pull up a loop in the corner and chain 3. DC across the entire side. When you are working on the sides it can be hard to figure out how many DC's to work so that the border doesn't ripple or fan out, so you'll want to try to space them out as evenly as you can.
Stop when you reach the first corner, chain 3 and turn. This counts as your first DC.
Insert your hook from front to back around the post of the next DC and work your DC (front post DC). Then, around the next DC, insert your hook from the back to the front and work your next DC (back post DC).
Now continue alternating FPDC and BPDC around each DC. When you get to the last DC, work one DC into the top of the stitch. Chain 3 and turn.
Work back across the row with your alternating FPDC and BPDC matching each stitch to start making the ribbed look.
Go back and forth across the row until the border is as high as you would like it (Since this is a lighter yarn, I worked 7 rows for my ribbing – you'll want to pick an odd number so you can work around the whole blanket without having to tie off.)
When you finish the ribbing for the side, do not tie off, simply chain 3, and start working across the end of the blanket, working DCs into the sides of the FPDC and BPDC stitches, and then one DC per stitch. Chain three and turn, then work back across in the same manner you did before and work your ribbed stitch, alternating FPDC and BPDC.
When you finish 7 rows, chain 3, and now work in the same manner up the side, again working one DC per stitch. When you finish working the ribbing up this side and then across the last end, chain 1 and work a SC into each DC all the way around the entire blanket, putting 3 SCs into each corner space. This helps to even everything out and give the corners a nice finished look.
Tie off and weave in the ends.
Here is the video that shows how to work FPDC and BPDC:
Thanks so much for stopping by, I hope you enjoy making this crochet sedge stitch baby blanket!
If you've never been to our website before, you may not know that my mom is the original creator of Daisy Farm Crafts – one day she decided to start crocheting baby blankets in hopes that maybe one of them would be for her future grandchild.
My husband and I had been struggling with infertility for a few years and she thought that maybe if she crocheted it, they would come.
It's been a few more years, and there still isn't a grandbaby, but it's been really fun for us to have this project that allows us explore our creativity and work on our crochet skills.
A lot of the blankets we've made have actually gone on to be with other babies, some of which have parents who were waiting a long time to welcome them to their families.
I know whenever my mom crochets a new baby blanket, she secretly wonders if it will finally be the 'magic blanket' to bring her a grandchild (and I don't doubt that one day she'll get one, I have four other siblings, so I'm not her only hope :), but I don't really crochet with that purpose in my mind.
I don't know what the future holds for my own infertility story – I know it's very possible that I may never have children and sometimes it makes me laugh that I spend a lot of time trying to think of baby blanket designs.
But if I've learned anything through my experiences of being childless it's that there are lots of different ways to be a mother.
One of the hardest things about infertility is wanting to be an advocate of motherhood when you're not a mother yourself…but I find that making and sharing the patterns for these blankets is a small way that I can help contribute to the work of motherhood.
It gives me comfort that whatever baby ends up with this blanket will feel just a little bit more loved, and that there may be more blankets made based on this pattern that can be wrapped around a new baby to welcome them into the world.
It's a small thing, but sometimes we just have to work with what we have :).
xo, Hannah
POST UPDATE:
After so many years of infertility and a few rounds of IVF, I'm so excited to let you all know that I finally had a baby!
Baby James entered our life in August of 2022 a beautiful baby boy.
You can read more about my journey in the post for the Raindrops Baby Blanket.
My mom also made James a special Blessing Blanket called the Crochet Berry Windowpane Baby Blanket.
Tap here if you want the pattern or on the image below.
Thank you all so much for your love and support and for stitching and crocheting along with me as I endured this journey.
It's not an easy one and my heart goes out to those that are still on the journey.
Sending you all my love, Hannah
Click here or on image below for printable pattern