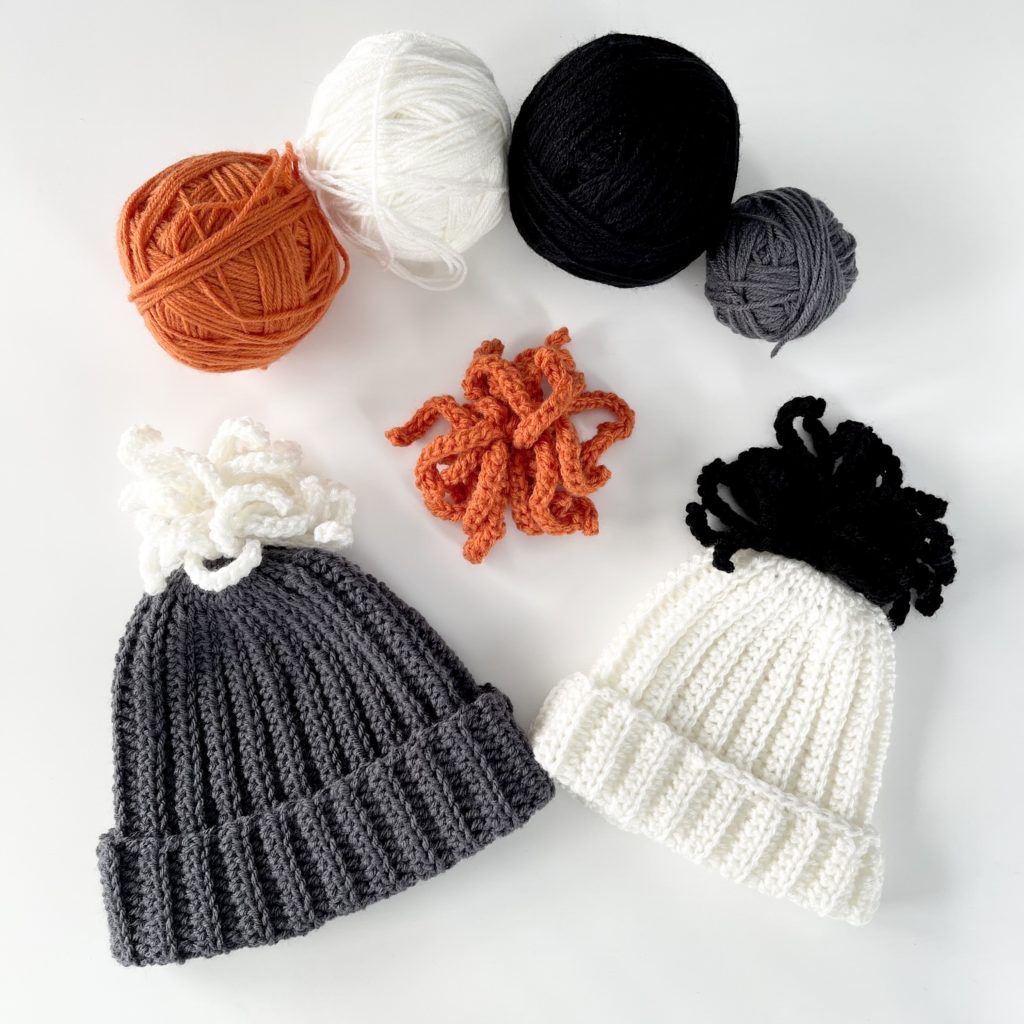 Hello Crochet Friends, it's Cyndi!
I'm Tiffany's sister and she is teaching me how to crochet and I'm loving every minute of it. Especially when something we designed together has totally gone viral.
In the Daisy Farm Crafters Group you can see hundreds of Fun Fringe Beanies and Hats. Tiff did a round-up post recently if you missed sharing a handful of them, but there are so many more in the group to see.
It has been so fun seeing all of the adorable versions of the Fun Fringe Beanie Pattern.
Since I am new to crochet, I haven't quite mastered changing yarn colors and I wanted to make a beanie with a different color Fun Fringe Pom-Pom rather than doing an all-in -one.
So I followed Tiff's Crochet Easy Ribbed Red Heart Brushed Hat to make the hat and designed this detachable pom-pom that comes with the added benefit of being able to switch up the color without having to make a whole new hat!
Here's a picture of the hat pattern I used.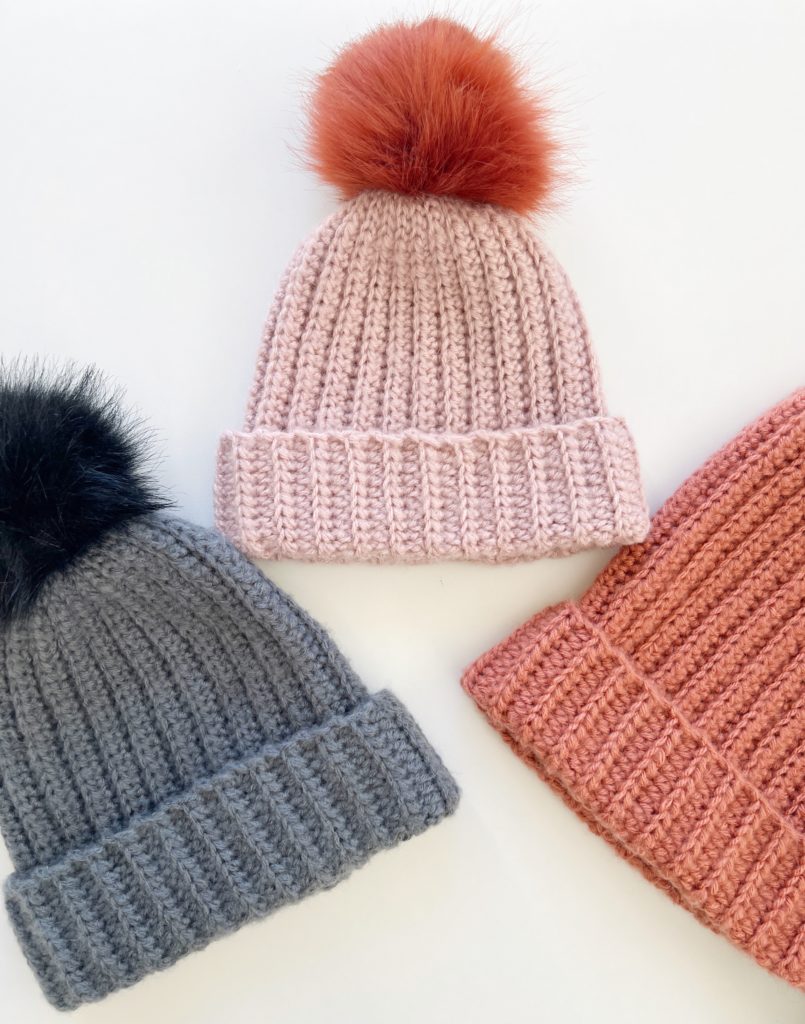 I made my pom-poms in black, white, and orange to match the school colors for our sister Nichole's exchange student who is a cheerleader.
The fringe is then added onto an elastic/hair tie and I used Tiff's idea of sewing a button on the underside of the hat for easy attachment and removal.
(Tiff has a full tutorial showing how to attach the button in the post where she shares the Easy Ribbed Red Heart Brushed Hat pattern.)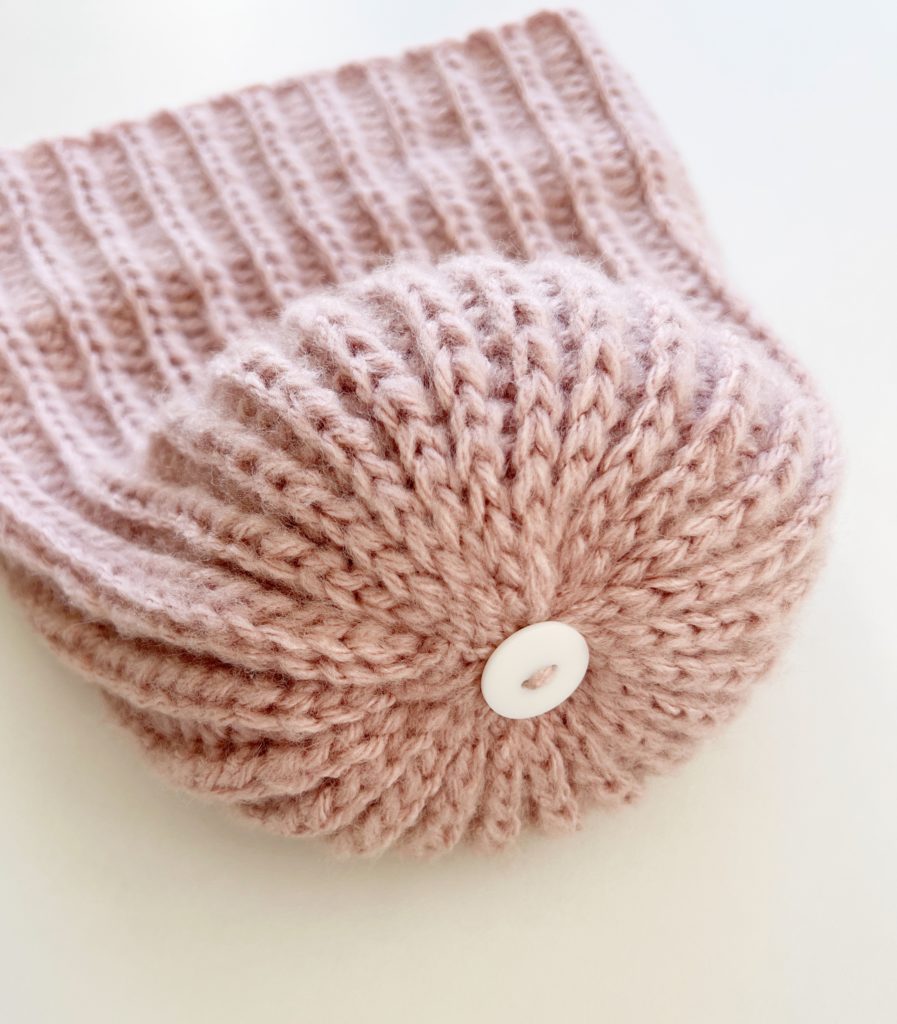 And here's our darling exchange student Chiarra from Italy wearing the hat.
I also made her some Moss Stitch Scarves and I'm getting those patterns ready to share with you soon.
Materials
Red Heart Super Saver (100% acrylic, 198 g/7 oz, 333 meters/364 yards, 4 – worsted)
1 skein each Carrot, Soft White, Black
J-6mm crochet hook, tapestry needle, scissors, small elastic hair tie
Stitches
HALF DOUBLE CROCHET SLIP STITCH (HDSS) –YO, insert your hook into back loop, YO, pull up a loop and pull directly through three loops on hook.
SLIP STITCH- Insert hook into chain, YO and pull through two loops on hook.
Pattern
Chain 50 or any even number depending on how fluffy you would like the pom-pom to be.
ROW 1: Starting in the 2nd chain from hook, work 1 Slip Stitch (SL ST), SL ST into the next ch.
Fringe: *Chain 13. Starting in the 2nd chain from the hook, work one HDSS in each of the next 12 chains. Ending at the base chain. (The fringe grows up from the base chain.)
1 SL ST into each of the next 2 chains on the base chain. Repeat from * until you reach the 48th chain. Slip Stitch into the last chain. Tie off leaving a 12-inch tail.
Finishing:
Thread a tapestry needle with one of the yarn tails. Weave the needle in and out across the base chain to gather.
Stitch the two ends together to form your pom-pom then stitch the pom pom to the elastic.
Attach to the interior button on the hat by pulling the elastic through the top of the hat and twist around the button.
Here's my Youtube tutorial for more help, (come say hi!)
Thank you all so much for coming along my crochet journey with me! It truly has been so fun to learn and create at the same time.
I also was thinking these fun fringe pom poms would work as cute hair ties for little girls too!
Anyway, I'm working on the patterns for the scarves that I made with the moss stitch and adding fun fringe that I can't wait to share, but here is a sneak peek at them:
So stay tuned!
Click here or image below for free pattern download.
XO, Cyndi (aka Sugar Joye)