I might not stop crocheting gingham blankets any time soon! If I find two shades of yarn that I think might accomplish the look, I can't help but buy them. That is what happened here with this blanket. These two shades of orange and peach were too perfect together, so I quickly swooped them up and threw them into my cart.
Now, if I only was as speedy as actually making the blanket. I've had this yarn sitting on my shelf for about 6 months or more and finally decided to get after it and turn it into a blanket. I wasn't sure which stitch to use for this one, so I did a practice swatch, which is essential for any of my gingham blanket patterns. (If you've never done this technique I beg you to do a practice swatch first.)
Please trust me on this. I've helped so many people over the last year to make their gingham blankets, and this is the number one tip that helps you have a gorgeous finished product.
I decided to use the DC2Tog Cluster stitch to achieve the look I wanted. I believe this stitch looks the most like a picnic type, summery gingham check. The squares turned out just the perfect height and width.
Now, if you use a different yarn than I do, I'm not 100% sure, but maybe 95% sure, that your blanket squares would be about the same. Simply because this is the second blanket I've made with this stitch and the first one is worked with different yarn.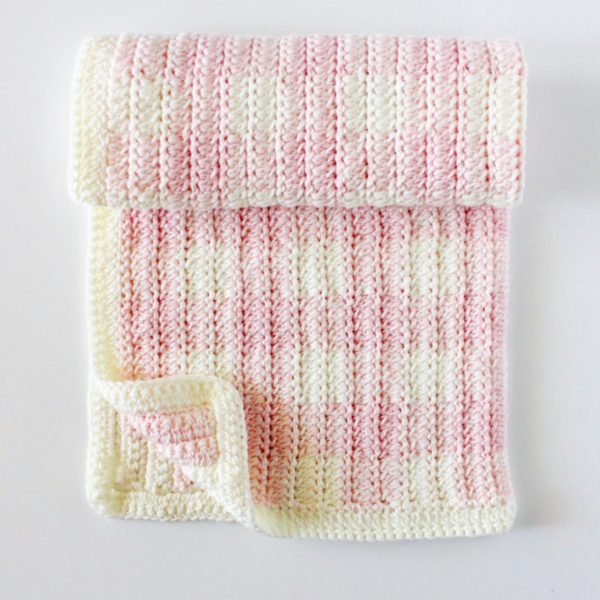 The picture above was made with Paton's Beehive Baby Sport yarn. I doubled up the strands to get the gingham look. The pattern for this dc2tog cluster blanket is explained in a different post.
This gingham blanket made up very quickly due to the fact that I finally have learned how to keep one color of yarn to the front and one to the back while I am working. This is key to tapestry crochet, or the yarn will twist and you will be miserable wasting time unwinding balls of yarn. I show you in the video below how to keep your yarn from doing this very thing. It is difficult to explain with words exactly how so you'll need to watch.
In the first part of the video I am introducing myself to that community. I'm finding that there are crocheters that are not on Facebook or Instagram and I needed to say hi! Plus, you can get a glimpse of my new craft room! I'll be posting soon about that makeover. Watch below or click here to watch on YouTube.
Materials
Hobby Lobby I Love This Yarn (100% acrylic, 5 oz/252 yds)
1 skein Mango, 1 skein White, 2 skeins Light Peach
Size K/6.5mm hook, scissors, tapestry needle
Size
Finished size 36 in x 36 in
Stitches
Single Crochet (SC): Insert your hook, yarn over (YO) and pull up a loop, YO, pull through two loops on hook.
DC2TOG Cluster: YO, insert hook into designated space, YO, pull up a loop, YO, pull through 2 loops, YO, insert hook into the same space, YO, pull up a loop, YO, pull through 2 loops, YO, pull through all 3 loops left on hook.
Pattern
Chain 96 in Light Peach.
Row 1: SC in second CH from hook and in next 4 spaces for a total of 5 SC. Pull through in 5th SC with White. SC next 5 spaces with white, carrying the light peach along and crocheting over the strand. In the fifth SC, pull through with light peach. SC next 5 spaces with light peach carrying the white along and crocheting over the strand. Continue alternating every 5 spaces to the end of the row. Ch 2 and turn.
Row 2: 1 DC into the top of the first SC of the row below with light peach, this counts as your first cluster stitch. Cluster in the next 4 SC making sure you have brought the white around the end of the work and you are working over the strand. Just before finishing the cluster, pull through with new color. Cluster stitch the next 5 spaces. Switch back to light peach in the 5th cluster. Repeat alternating the colors to the end of the row. Ch 1 and turn.
Row 3: Repeat row 1. (All SC, alternating colors every 5 spaces)
Row 4: Repeat row 2. (All Clusters, alternating colors every 5 spaces.) In the last stitch, pull through with Mango, cut off the white, continue carrying the light peach.
Row 5: Repeat row 1, with the exception that you are now alternating Mango and Light peach. Use all SC.
Row 6: Repeat row 4 with same exception as row 5.
Rows 7 and 8: Repeat rows 5 and 6, pulling through with white and cutting off the Mango.
Rows 9 – 68: Repeat rows 1-8.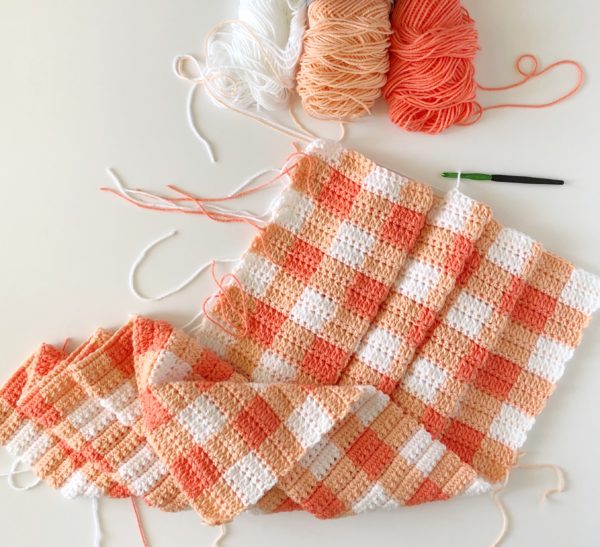 Border
Weave in all the ends before you start the border.
In any corner pull up a loop and SC in that space. Then SC into each space around the edge working 2 SC per the sides of DC's and on SC into the tops of the clusters. Work 3 SC into each corner space. When you get back the starting SC, join with a SL ST (slip stitch) chain 2 and turn.
Work a cluster stitch into each SC around the whole blanket, working 2 clusters into the middle stitch of the corners. Join with a slip stitch at the end of the round, CH 1 and turn.
Work one more row of all SC into each cluster, working 3 SC in between the 2 clusters in the corners. Join with a slip stitch when you return to the beginning stitch. Tie off and weave in all the ends.
Now, before you gift this gorgeous blanket, you may hand wash it if you've found you've had to drag it from place to place with you to get it finished. But, toss it in the dryer and this yarn will soften up an incredible amount and you will love the finished result.
Usually, I let my blankets air dry, laying flat on a towel, but for this one, I had lightly sprayed it with a spray bottle to flatten out the stitches. I tossed it in the dryer when it was still damp, and I was amazed at how the blanket turned out.
I actually posted about it on my Instagram account and asked my followers if they have ever used a dryer and a lot of them had and loved the results. Now, this might be just for acrylic blankets and for Hobby Lobby I love this yarn brand. I haven't tried on anything else. But, if you are wanting an amazing finish, give it a try.
I'd love to know how your blanket turns out and see it! Post a picture to my facebook page and I will share with the group. Others love to get ideas of colors and other border ideas, so share if you'd like!
You can also use the hashtag #daisyfarmcrafts on Instagram if you are on that platform. I've started a Sunday Share in my Stories and I love showing pictures of your blankets to my followers there too. You all do such beautiful work! I've seen some real stunners.
I hope you have a wonderful crochet day and good luck on your crochet gingham blanket! It's going to be awesome!
xo, Tiffany