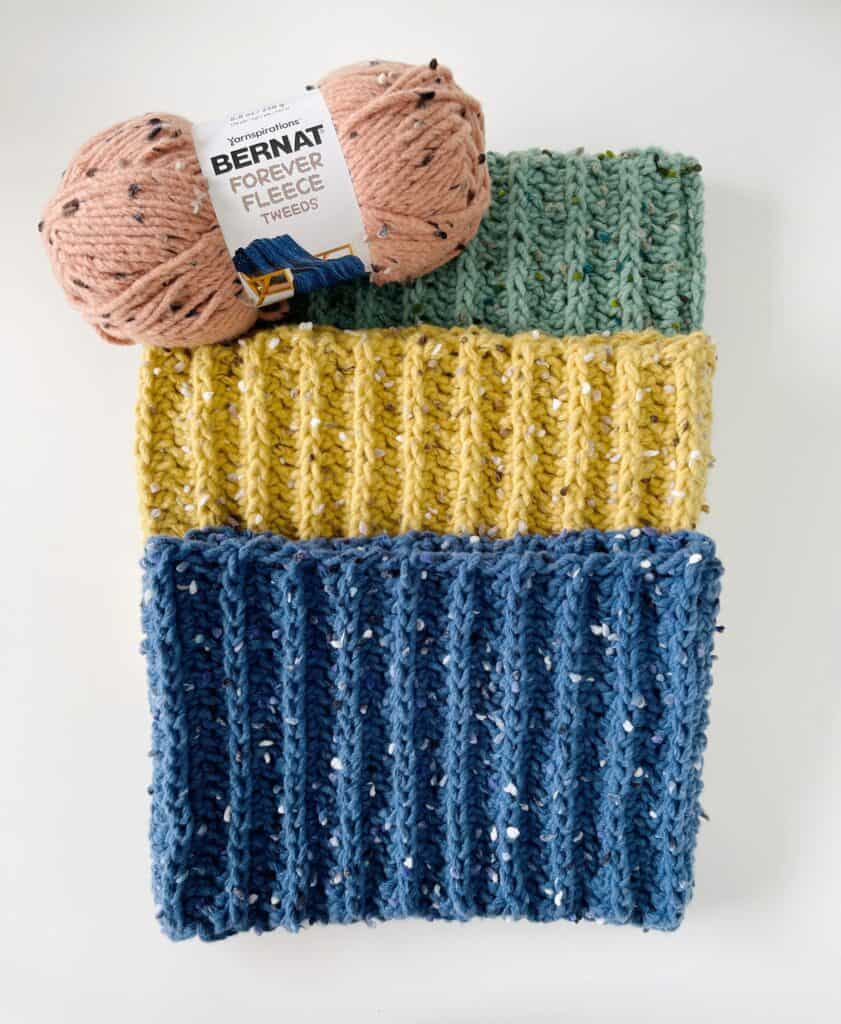 A few weeks ago our friends at Yarnspirations sent us some of this beautiful Bernat Forever Fleece Tweeds yarn to try out and since we only had one of each color, we thought some chunky cowls would work perfectly with this super soft and cozy yarn!
I decided to use one of our favorite stitches that gives off a beautiful knit look v-stripe. It's a variation of a half double crochet and very easy to make. You just need to be able to identify which loop to work your hook around.
The stitch is a half double crochet, the difference is where to insert your hook. We like to call it a front bottom loop half double crochet.
If you work one row of half double crochet into a chain, chain and turn. Look closely at the stitch. You will see the little 'v' that is on the top and you should be able to see two little v's that face you. You want to insert your hook up and under the bottom loop of the little v that faces you.
If you are totally confused, not to worry, watch the video tutorial below to understand exactly what we are explaining.
Here's the video of the front bottom loop Half Double Crochet stitch if you'd like to watch it before you get started.
This yarn is amazing! It is working up just like regular Forever Fleece, it just has that added fleck of color to give it a really nice and upscale look for your finished project.
You can make one cowl from one skein. That's a nice gift and so easy. I hope you enjoy this simple pattern and come and show us your finished cowl in the Daisy Farm Crafters Group on Facebook.
Or tag us on Instagram @daisyfarmcrafts, we'd love to see!
Materials
(for one cowl)
1 skein any color
Size N/P 10.00mm hook
Size
Finished size 9 in x 28 in
4 in = 9 st and 6 rows of pattern
Stitches
Half Double Crochet (HDC): YO, insert your hook, YO and pull up a loop, YO and pull through three loops on hook.
Front Bottom Loop Half Double Crochet (HDC): Yarn over (YO), insert your hook into the front bottom loop of stitch, YO and pull up a loop, YO and pull through three loops on hook.
Pattern
Chain 20.
Row 1: Starting in the 3rd chain from the hook, work 1 HDC in each chain. CH 2 and turn.
Row 2: Work 1 front bottom loop HDC in each stitch across the row. CH 2 and turn.
Repeat row 2 until your scarf measures about 27 to 28 inches or your desired length (make sure you have enough yarn left to combine the ends).
When you reach the end of your scarf, you can either tie off and leave yourself a long tail that you can use to sew the two ends together with a tapestry needle, or you can CH 1 and then slip stitch the two ends together, inserting your hook through both ends of the scarf as you go.
When finished, tie off and weave in all ends with a tapestry needle.
Be sure and check out more cowl and neck warmer patterns we have on our site if this one isn't quite what you are looking for.
If you look under the menu heading "Scarves" you can scroll through to see all that we have made throughout the years.
Tap here for the menu heading "Scarves"
This is the Easy Double Velvet Cowl made with velvet. One of our very favorites to gift to friends. It is so super soft and since it is doubled it is extra warm. We have lots of tips about how to work successfully with velvet if you have never worked with it before. There is a bit of a learning curve however, the stitch we use really helps to lock the velvet into place.
Another favorite is the Simple Daisy Cowl. This one is a little bit more of an intricate stitch, but produces gorgeous results.
Whatever you choose, I'm sure it will turn out nice.
If you are new to our site, please always scroll to the end of each post to find the free printable pdf pattern. Every pattern on our site has one.
We thank you so much for stopping by!
Click here or image below for free printable PDF.