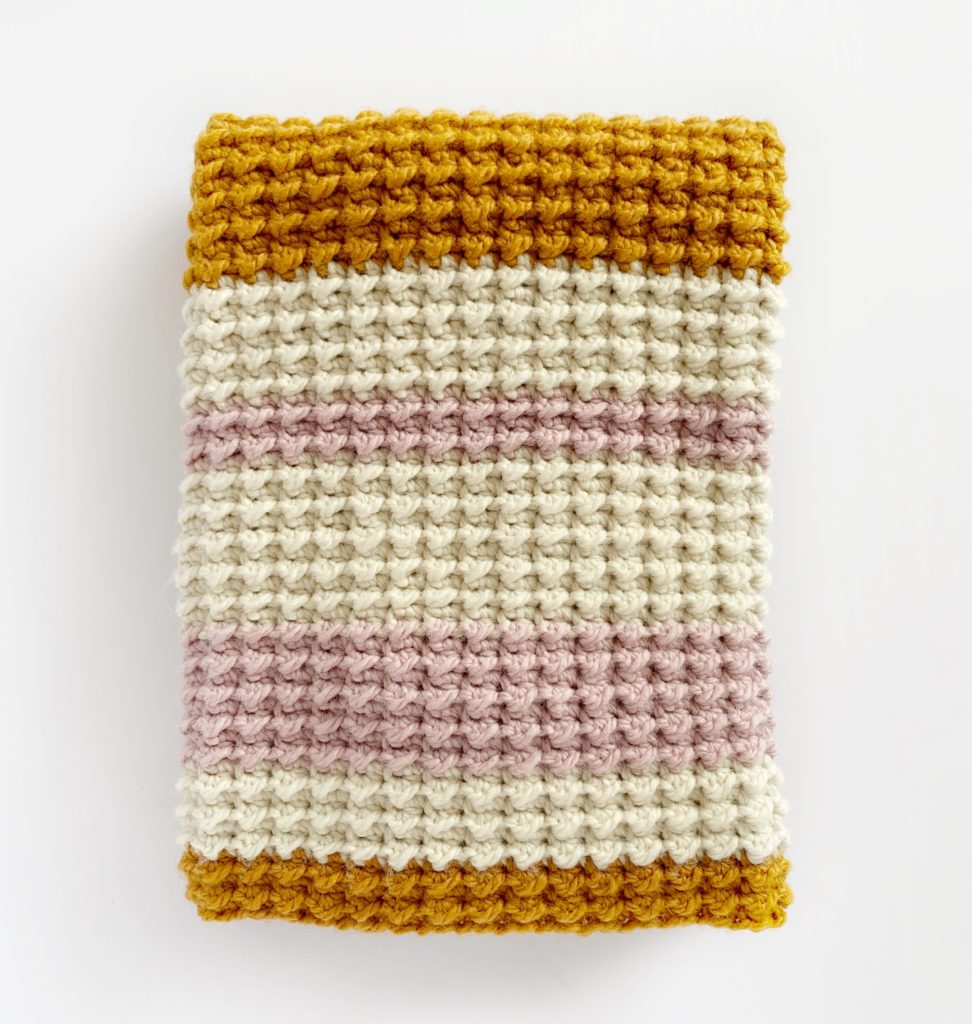 Hello! I'm Nicolina (Tiffany's 2nd oldest daughter) and I am a beginner crocheter. All of my patterns are beginner friendly and this one is no exception. I love thicker yarn and this one worked up so fast and beautifully. And the even moss stitch is a great stitch! It really adds a beautiful texture to the blanket.
Materials
Big Twist Natural Blend (80% acrylic, 20% wool, 5 oz, 105 yds)
5 skeins Almond, 2 skeins Mustard, 2 skeins Blush
Size 9.00mm hook, tapestry needle, scissors
Size
Finished size 34 in x 36 in
Stitches
Slip Stitch (SL ST): Insert your hook, yarn over (YO), pull up a loop and pull directly through loop on hook.
Half Double Crochet (HDC): YO, insert your hook, YO and pull up a loop, YO and pull through all three loops on hook.
Pattern
Chain 86 with Mustard. (To make a larger blanket, chain any even number to your desired width.)
Row 1: Slip stitch into the second chain from hook. Then HDC into the next stitch. Alternate a slip stitch (SL ST) with HDC to the end of your row. The last stitch should be a SL ST. CH 1 and turn.
Row 2: *SL ST into the SL ST you just made, then HDC into the HDC. Repeat the instructions from * across the row. (Always SL ST into a SL ST, always HDC into a HDC.) CH 1 and turn.
Repeat row 2 for the remainder of the blanket.

Here's how I did my color changes: 6 rows Mustard, 12 rows Almond, 4 rows Blush, 2 rows Almond, 8 rows Blush, 22 rows Almond, 11 rows Mustard, 8 rows Almond, 4 rows Blush, 12 rows Almond, 8 rows Blush, 6 rows Almond, 6 rows Mustard



To change color, when you reach the end of the row, insert your hook as normal for the last SL ST, but instead of pulling through with the same color, pull through with the new color. Then chain one and proceed as normal.
Note: For this blanket I had just enough yarn to make it the length I wanted, so if you want to change up the stripes or use more of one color than I did, be sure to buy some extra skeins!



I loved this blanket without a border so I chose not to add one, but feel free to browse our border section if you choose to!

When you are finished with the blanket, tie off and weave in ends.

To smooth out the blanket and ensure its shape, you may want to block it by using a spray bottle filled with water and getting the blanket wet. Smooth out the blanket and leave it to dry.
Thanks so much for coming to read this pattern! When you are finished with your blanket, please come share a picture with us on Facebook or Instagram using #daisyfarmcrafts, we'd love to see! xo, Nicolina
Click here or on image below for printable pattern