As Stitch Ambassadors for Yarnspirations, we have the opportunity to receive yarn from them and give it a try. We were so very excited when this Caron Colorama O'go Halo showed up on our doorsteps!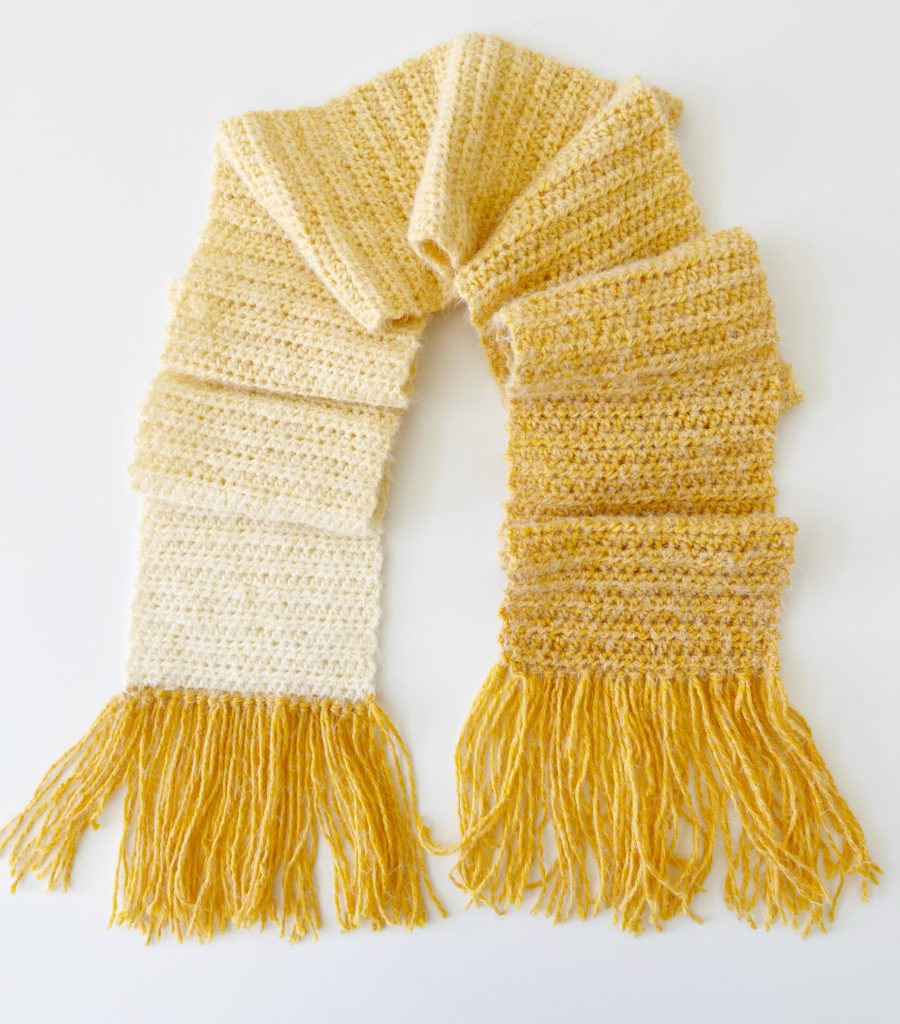 The ombre effect or gradual color change is simply stunning. Not to mention how very soft and easy it is to work with.
Even though it's fuzzy, mistakes can be undone with ease.
My daughter-in-law, Elizabeth, is a beginner crocheter and we had her try it out to make her first scarf.
She said that it was something she looked forward to working on every night to see how the color would change. It totally motivated her to keep going.
She also was so grateful that she could undo her mistakes very easily and pick up and start again. Overall, I love that a yarn that is so beautiful was so beginner friendly.
I also am just so proud of Elizabeth for completing the project! Sometimes it's really hard to find the time to crochet when she is chasing after baby Jack, but this was something fun to look forward to making each night.
In fact, she wants to make another, and I think she would look beautiful in pink.
She is expecting Baby #2 in a few weeks, and we absolutely can't wait to meet her new baby girl. (That's right, we have a third grandbaby on the way and it's a girl!)
Materials
Caron O'go Colorama Halo (71% Acrylic, 18% Nylon, 11% Polyester, 227 g/8 oz, 440 m/ 481 yds)
1 O'go in Beeswax Frost
Size J 6.00 mm hook, scissors, tapestry needle
Stitches
Size
7 inches x 82 inches (not including fringe)
gauge: 14 HDC and 12 rows = 4 inches
Pattern
Chain 24 (or any number plus 2)
ROW 1: Work HDC in the third chain from the hook. HDC into each chain across the row. CH 2 and turn.
ROW 2: Beginning in the first stitch of the row, HDC. HDC into each stitch across the row. CH 2 and turn.
Repeat row 2 until your scarf measures 82 inches. Tie off and weave in the ends.
Fringe:
Cut 12-inch pieces of O'go. (An easy way to do this is to wrap yarn around a book and then cut.)
Holding 2 strands of yarn together, fold in half. Insert your hook under a stitch and pull folded part of yarn through the stitch, (not all the way), drop hook and grab the ends of the yarn and pull through the loop. Tighten the yarn.
See the illustration below for more help.
I hope you enjoy working with Caron Colorama O'go as much as us! We've already ordered more and can't wait to make throws.
XO, Tiffany