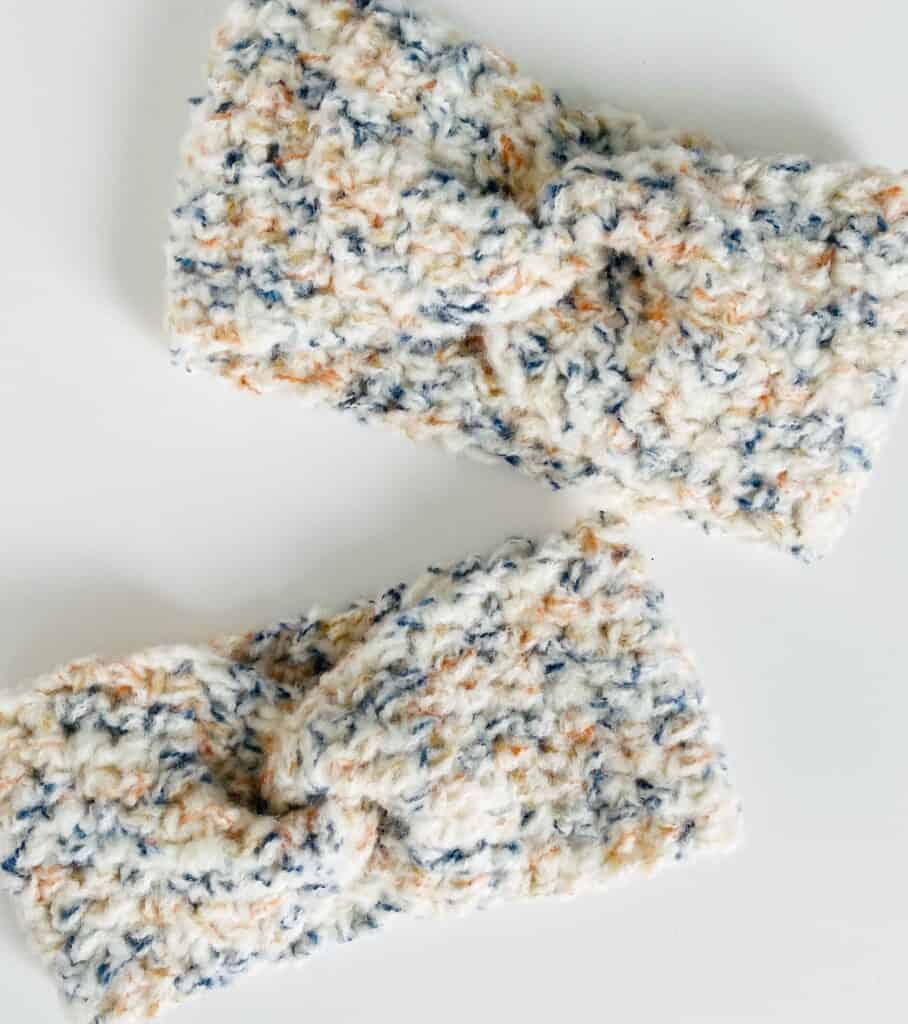 We are in love with the new Bernat Felted yarn! This is a wool/acrylic/nylon blend of yarn that gives hats, headbands, and mittens so much softness, stretch, bounce, and warmth. We found it very easy to crochet with and very easy to undo our stitches.
We also really loved all the colors that are available. The color we tried is called Ecru Fleck. It had just little bits of beige, rust, and navy blue with a cream-colored background. They have more warm colors available with flecks of color or they do have solid colors as well. Another favorite we tried out is a golden yellow color called Amber Fleck.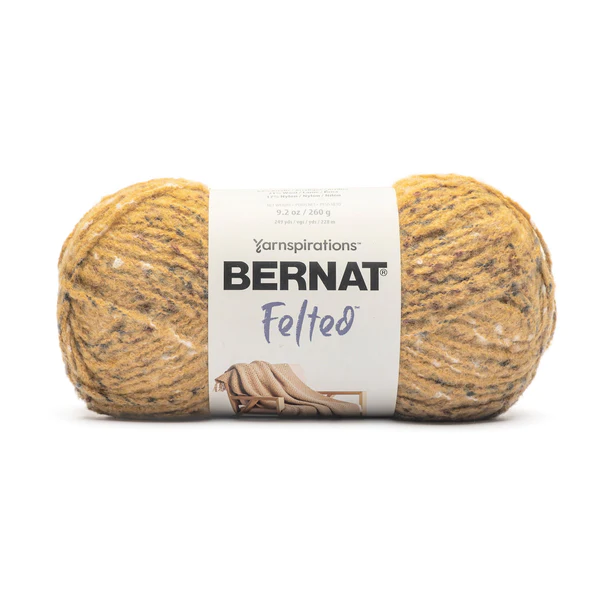 We can't wait to make more projects out of this beautiful yarn. For now, we sampled our very easy and popular pattern the Easy Twist Headband.
We use the half double crochet stitch, working in between the stitches, to make this pattern very beginner friendly. They also work up so quickly and make really nice gifts for friends and family for the holidays. It's very nice to have a lot of the easy-twist headbands on hand.
There is a lot of yarn in each ball of Bernat Felted. We are estimating that you would be able to make 3 to 4 headbands per skein. Or you'd have plenty to make a fun fringe hat and a headband, or a headband and a pair of mittens.
If you are a beginner, we have a video tutorial to show you step-by-step how these are constructed. Basically, you are crocheting a rectangle-shaped fabric, and then sewing it together in a special way to make the cute twist.
Don't be afraid to give them a try, lots of beginning crocheters start here on their crochet journey.
The pattern given is for an average size women's head circumference of 22 inches. They are approximately 4.5 inches wide. You can make these as wide as you like and also make them for children. For children I'd suggest reducing the width to 3.5 inches- 4 inches.
The chart below can help you with average head circumferences, but it is best to get the head circumference measurement of the person you are making it for. You will make the headband 2 to 3 inches less than the actual measurement to allow for stretch and to have it fit snug.
Be sure and check out our other Twist Headbands we have made. We have made a lot with Bernat Velvet, and some with Bernat Velvet Plus. They are also very soft and make wonderful gifts.
Tap here to see other Twist Headband patterns.
Materials
Bernat Felted (62% Acrylic, 21% Wool, 17% Nylon, 260g / 9.2 oz, 228 meters / 249 yards, 5 bulky)
tap name of yarn to see on Yarnspirations.com
1 skein in Ecru Fleck (or any color)
Size 8mm hook, scissors, tapestry needle, tape measure
Stitches
Half Double Crochet (HDC): YO, insert your hook, YO and pull up a loop, YO and pull through all three loops on hook.
Wide Half Double Crochet (wHDC): YO, insert your hook in between the posts of the previous row, YO and pull up a loop, YO and pull through all three loops on hook.
Pattern
Chain 12. (You may use any number of chains to about 4.5 inches)
ROW 1: Begin in the third chain from the hook with HDC. HDC into each ch to the end of the row. CH 2 and turn. (10)
ROW 2: Begin in the first space in between the first and second HDC of the previous row with wHDC. wHDC in between each post across the row. Your last wHDC will be between the last post and turning chain. CH 2 and turn.
ROW 3 until approximately 20 inches in length: Repeat row 2 instructions.
Tie off with a long tail for sewing.
Fold two ends together as shown in the diagram:
Step 1: Lay the band out and fold in half and slide one side of the band across so one end is matched up to the middle of the other.
Step 2: Fold the right-hand side around the back.
Step 3: Fold the left-hand side around the front, giving you four layers
Step 4: Sew with the tapestry needle through all four layers.
Tie the two ends into a knot and then weave in the ends.
Turn the headband inside out and see the beautiful twist!
See the video below for a full tutorial if you need any help at all. (Video plays after a short ad.)
Thanks for stopping by!
Click here or image below for free printable pdf.