Hi friends! I made my daughter Nicolina a winter hat…in black. And as I have quickly discovered, although black is an awesome color for a hat, it is the worst color for you to see what the stitches look like. However, Hannah really liked the look of the black hat, when she saw it up close and in person, she wanted to learn how to crochet the half-double crochet slip stitch.
I was playing around one day with a slip stitch and wondered what it would look like if I yarned over first before I completed the slip stitch. A braid formed across the row and I was in love! Plus, the stitch wasn't as tight as a regular slip stitch. So then, I added in a regular row of half double crochet so the braids would be on the same side of the work and be more uniform.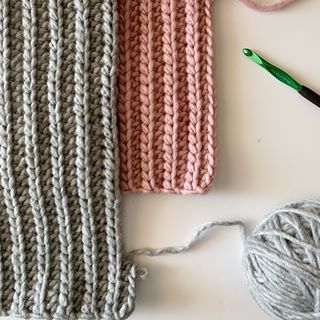 This is the stitch pattern that resulted and I turned it into a hat. It is very beginner friendly even though it may look complicated.
Hannah learned it fairly quickly and really liked it too! She loved using Bernat Roving, just one ball, to make several for friends. She attached pom poms that we bought at JoAnn's Craft Stores, but I'd bet that if you did a google search you'd find furry poms or whatever type of pom in any color.
I've made a video to help out my beginner crochet friends get started! If you at least have the skills to start a chain and have practiced or learned a single crochet, you will find this to be perfect to increase your skills a bit more. (Watch the clip below, or if it doesn't load, click here to see it on YouTube.
Materials
1 skein of Bernat Roving
Size K Hook
Scissors
Tapestry Needle
1 pom pom
(A PDF of this pattern is also available on Etsy.)
Pattern
The best way to make sure your hat fits is to make your base chain the same length as the tip of your nose to the crown of your head. You are making this hat lengthwise, so the length of your base chain will be your hat height. You can also use the chart below for some standard head sizes to measure your chain.
Make a base chain that measures the same length as your desired hat height. (I chained 28 for my own measurement.)
ROW 1: HDC (half double crochet: YO, insert your hook and pull up a loop, YO, pull through all 3 loops) starting in 3rd chain from hook.Work HDC in each stitch across. (26 hdc) Chain one and turn.
(Note: Normally when I use the half double crochet stitch I like to chain 2 at the end of each row, but because this yarn is so flexible, I decided to only chain 1 at the end of each row. If you'd rather chain 2 at the end of each row, that is perfectly fine, just be aware you may need a little extra yarn).
ROW 2: HDC-SLST-BLO (half double crochet slip stitch back loop only) in each stitch across the row. Here's how to work the stitch: YO, insert your hook into the back loop only, pull up a loop and pull it right through the two loops on your hook. Chain 1 and turn.
ROW 3: HDC in each stitch across the row, working in the back loop only. (In other words, you are working a regular HDC on this row, but you are inserting your hook into the back loop only.)
Alternate the 2nd and 3rd rows until the width measures about two to three inches less than the diameter of your head (or use chart to determine width), continuing to chain one and turn at the end of each row. I ended up with 38 rows to fit around my head.
When you finish the last row, chain one and line up the two ends together, slip stitch the two sides together. (If you don't like to slip stitch, you can also sew the two sides together with a tapestry needle). When you finish joining the sides, tie off, leaving a long tail that you can use to gather the top. I used a tapestry needle to gather the top into a circle. For me, the easiest way was to weave the thread around the edges about two stitches apart and then to pull it tight once I went around the whole thing.
After you've joined the two sides and gathered the top, make sure that that the slip stitches are facing outward and then attach the pom pom.
And that's it! I hope you enjoy making these hats; I think they are a fun and simple way to create something that looks more complicated than it really is!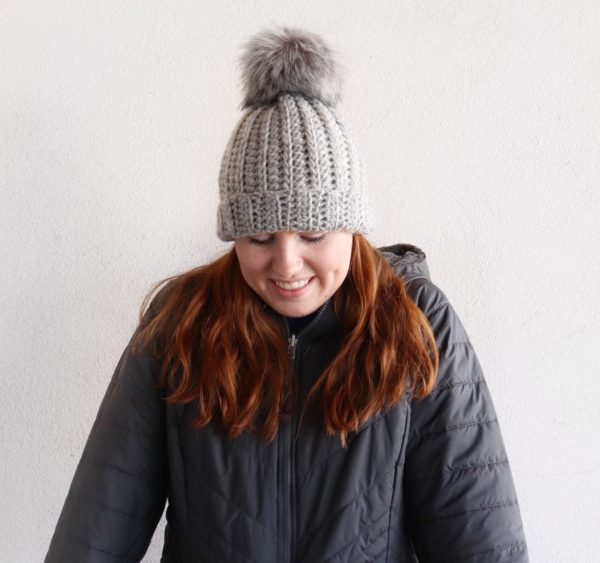 Thank you so much for coming to read this pattern, we hope you enjoy making this hat! When you are finished with your project please come share a picture with us on Facebook or Instagram using #daisyfarmcrafts, we'd love to see!
xo, Tiffany