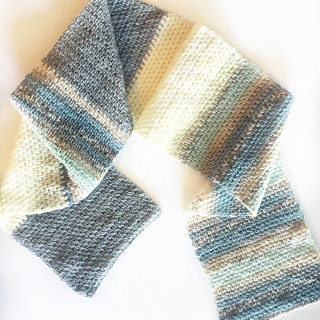 It's as light weight and airy as it looks. This scarf works up fast and turns out beautiful!
Materials
Yarn: Yarn Bee Brushworks at Hobby Lobby, 4 skeins any choice of color. I used an ivory, a grey, and a variegated.
Pattern
Use your own creativity to create the blocks of color I will teach you the stitch.
Chain any even number. I did 30, with and h size hook and it seemed just about right. Not too thin, Not too thick.
In the 4th chain from the hook, do an elongated SC, (insert hook pull up a loop and pull through one loop, YO and pull through remaining two loops on the hook) CH 1, skip next CH and do an elongated SC in the next stitch. Repeat a series of elongated SC, CH 1 all the way across ending in the last chain with a final elongated SC.
2nd Row: chain 2 and turn. Elongated SC into the next chain space, (not actual chain but into the space created by skipping a chain from the row before), chain 1, elongated SC into the next chain space and repeat the series again all the way across finding the space between the 2 turning chains and the last elongated SC, to work the final elongated SC. Chain 2 and turn.
The following rows: repeat row 2, over and over until you decide the color should be changed.
Notes
Feel free to let your inner artist come out and choose the width of the blocks of color and when they should be changed.
Add a fringe if you want, pom-poms, or leave it plain. Either way, I'd love to see what you come up with!
Find me on Instagram @daisyfarmcrafts and use the #daisyfarmcrafts to be sure I see your creation! I love seeing all the crochet and being inspired further by other artists!