I have shared a post in the past called 3 Things that Helped Me Become a Better Crocheter which has become one of our most-read blog posts and something that I receive a lot of feedback on comments about.
The three tips I shared, are one, practice every day, two, share every day, and three, learn to fix mistakes in your work as soon as you notice them. I'm so happy that the three things really have made an impact on your crochet and you are improving your skills.
However, so many of you also then emailed me and wondered how to take "becoming a better crocheter" to the next level and actually start your own website and share your own designs.
I'm going to outline what we have done and how we have been able to turn crochet into a family run business that has become a full-time job for both Hannah and me, and a part-time side jobs for the rest of my daughters, Nicolina, Haley and Annie.
1. Have a Passion for Crochet
First, I still use the same principles in the original blog post. I crochet every day and brainstorm and practice all the time. I like to figure out different ways on how to construct stitches in order to become hats, mittens, sweaters, blankets, etc.
I do absolutely love to crochet. I have developed a love for it and I wake up every day excited to get my daily tasks finished and be able to sit with a hook and yarn.
I think in order for a website to be successful and not stressful is that you have the passion. And honestly ask yourself that if your blog is not as successful as you'd like it to be, do you love to crochet anyway.
I started this website simply because I wanted to make sure any future grandchild of mine would have my patterns and a place to come and find me online. I thought it was a way to connect me to future generations through a craft.
It's been an absolute joy that so many of you love what we are making, but even if you weren't here with us, I would still be making and posting.
So, in sum, my number one tip for becoming a successful crochet blogger would be to have a deep abiding passion for crochet.
2. Learn to Take Beautiful Pictures of Your Work and Share.
Tip number 2 would have to be to learn and practice how to take beautiful pictures of your work. It's really important to show your crochet in the best light and best photo as possible.
I started posting on Instagram only at first and used their editing tools. And once I learned those, I downloaded an app called Snapseed and learned how to better edit my photos.
I prefer crisp white backgrounds. At first, I used the top of my dryer, then it dawned on me to buy foam core poster board. I read a lot of tips about natural light, but even then, I still rely on Snapseed to fully brighten and edit my photos.
Lately, Hannah and I love hanging our blankets on ladders. We feel like that can clearly capture the blanket's overall design.
When I finally have my grandbaby, (coming this December 2020!) he is going to be cuddled up in blankets, and who knows what else I make! (Poor little guy will have a whole lot of baby pictures of him in crochet he can be embarrassed by when he is a teen.)
I sometimes think of my blankets as my own babies and I will press, and fuss, straighten and arrange a blanket until it's just right.
But the second part is that you must take those pictures and share them every day on Instagram or Facebook. It's good in so many ways for you build connections and find all the other crocheters.
I learned so much about my work, how to improve my crochet, from sharing every day on Instagram.
In the beginning, after one year of sharing I had 1000 followers and I was so thrilled! I learned what photos really resonated and what video clips to share. I also realized that there were so many people that wanted to learn from me.
Sharing what you know and what you've made is key to a successful crochet blog.
3. Be Willing to Make Mistakes as You Learn How to Blog
Tip number 3 was my least favorite thing to learn but I pushed through and with Hannah's help, I finally figured it out. I had to learn how to properly blog and write a post using WordPress.
I had to learn how to take photos from my phone, and upload them onto the website. (Thank heavens for Mac computers and the iCloud because that helps me a lot.) Learning how to airdrop also is life-changing.
Here's a glimpse into my process. Once I have made a crochet item and it's photographed and all the photos are edited, (I do all of that on my iPhone 11) I then use a computer to write the pattern on the website. I upload the photos, and if I have recorded a Youtube tutorial, I link that into the post.
(Took me a while to learn how to do record video on my phone, edit with iMovie, and get that onto Youtube as well.)
I had to really make a lot of mistakes and just jump in and learn how to write a pattern that made sense to me. I never could find a book or anything about how to write a crochet pattern. All I could find were crochet abbreviations and short versions of patterns that were really complicated. I really wanted to write a pattern so that my future grandchildren would be able to read it.
At first, I thought I would be in trouble from those in the community that I thought were professional designers. But as soon as I realized that there is no such thing as the "Crochet Police" I freed myself to write a pattern however I liked.
I have now learned that every crochet designer has their own style of writing a pattern. I personally don't believe that there is a right way or wrong way to write a pattern.
As stitch ambassadors for Yarnspirations, we have learned that they have their official style of writing a pattern, which is succinct and short.
We are always so thrilled when they take one of our patterns and write it in their style. But I can't do it. I have to have my own way of explaining out a whole pattern.
Besides, most of our patterns are beginner-friendly, it's not our style to overly complicate crochet with intricate stitch patterns. I can see how the more involved a pattern becomes, a shorter symbolic way of writing the pattern can help.
To sum all this up, I would say develop your own style, your own way of enjoying and sharing crochet. Think of it like cooking and baking.
How many chocolate chip cookie recipes are there? Thousands right? And every baker writes a recipe in a way they understand or want it to be understood. That is how I see crochet. The stitches are the ingredients to crochet whatever and however you would like.
Those would be my top three tips you could ask yourself before you start on the journey of becoming a crochet blogger. 1: Am I passionate about crochet? 2: Am I passionate about learning how to take photos and sharing them every day, and 3: Am I willing to make a lot of mistakes while learning how to write my own patterns and learn how to write a blog post and all that goes into blogging about crochet?
If you answered yes to all of those, then keep reading and I'll get into the how revenue is earned and what the expenses are.
How to Receive Revenue from a Website
Mediavine
The main source of revenue for our business comes from our website. Specifically, the ads that are seen when you visit daisyfarmcrafts.com. Luckily, in this day and age of blogging there are companies called Ad Networks that you can sign up for, or for some you apply and get accepted into their network after you have met a traffic threshold.
The name of our ad provider is Mediavine. These companies will take care of filtering out appropriate ads to be seen on your site. Mediavine is a company geared toward Home and Family type websites. They sponsor a lot of food and travel blogs as well as arts and crafts like ours.
To help you understand exactly how money is made with ads think as your website as a highway and the ad network as the billboards. You will make money on how many people drive on your highway and see the billboards.
Traffic to your website is how you build revenue. How it's measured is by what they call sessions or pageviews.
Mediavine prefers to use sessions so that is what I am familiar with. Per every 1000 sessions you make a set amount of dollars. That is called your RPM. For example, if your RPM is ten dollars per every 1k session and in one day you have 5k sessions, you made $50 in 24 hours.
RPM can change every day. It depends on the time of the year, the day of the week and how companies decide to spend money on ads. We have seen RPM's go as high as $35 and as low as $9. It's sort of like the stock market. There are highs and lows.
If you'd like to know yourself how much traffic is coming to your website, you look on a site, or app called Google Analytics.
Youtube
The same ad principle applies to Youtube. It's more confusing for me to figure out exactly how they figure out the views versus subscribers versus ad rate, but they use the ad network called Adsense and Youtube runs and takes care of all the advertising.
I tend not to focus so much on Youtube, I use it so that I can help people with a visual on learning a pattern, but I'm sure there are posts out there with more detailed information about Youtube.
Etsy and more
Other ways that you potentially can make money as a crochet blogger is selling your ad-free PDF versions of your patterns on Etsy or other platforms.
If your Instagram account becomes larger, you may have craft stores approach you or yarn companies offer you contracts or free yarn. Then your job title would not only include crochet blogger, but social media influencer.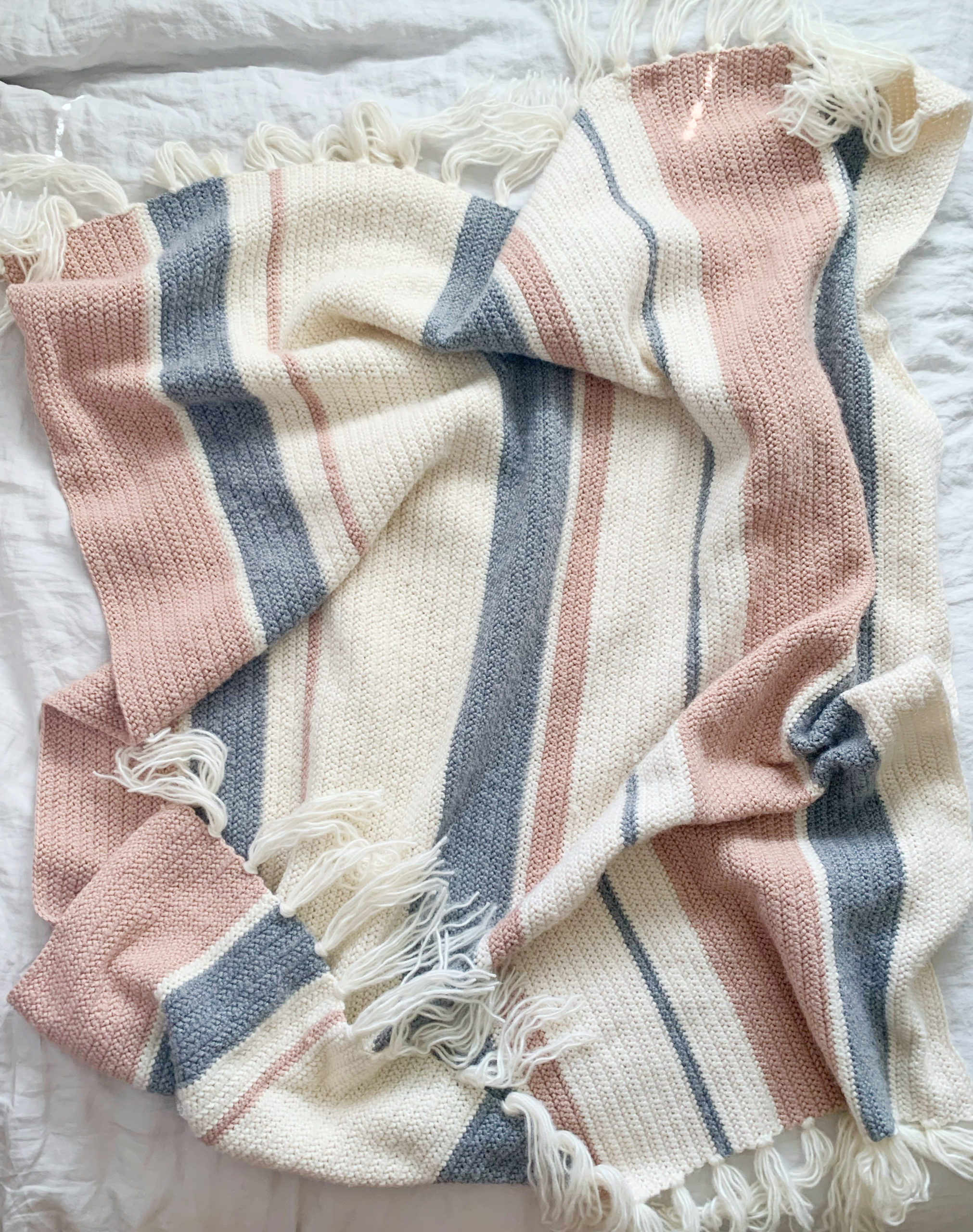 Expenses of Running a Website
website designer
Now let's talk about expenses. We hired a website designer to set up everything. She took care of finding a web host, a domain name, a newsletter provider, and will help us when we run into trouble. I love that we made an initial investment in creating a professional beautiful site.
I believe that has lead to an easier user experience for visitors and for me as well. I needed to be able to find patterns easily on our own site.
web hosting
You must have a reliable host for your site. Luckily for us, our web designer knew which ones were reliable and signed our site with WPEngine. A web hosting company makes sure that the traffic coming onto your site doesn't slow or come upon any roadblocks. They back up your site and help with any updates or security issues.
Keep in mind that as your traffic grows, so will your fees paid to them.
Newsletter
This can be optional to add to your website, but it was important to me to be able to connect with my community through email as I know that social media can be tricky for a lot of crocheters.
Our newsletter provider is MailChimp. The first couple thousand subscribers or so are free, but as your subscriber numbers grow, the costs will go up.
Domain Name
You will need to buy the name of your website which is called the domain name. We used the website name.com and it has a small yearly fee.
Lawyers and Accountants
These are important people to have on your team as your website grows. My husband happens to be an attorney and so he was able to initially set up my business as an LLC. My son happens to have a Masters in Tax and I'm able to have him file and pay all tax payments and keep the books. But I wanted to mention the importance of having them as a part of your business.
I hope some of that is helpful if you are considering starting a crochet blog. I would also like to point you to a businesswoman named Pam who I found on Instagram @thecrochetpreneur that helps crocheters with more in-depth information about the crochet business. She has a wealth of information on her site and can be a good resource for you.
It's been a privilege to have you all along with me, and if this is a dream you have, to have your own crochet website, I want to encourage you to do it! You will bring some of the most generous and kind women and a few men into your life that you can ever imagine.
I also want to recommend a book my brother and his wife recently published called STREAKING.
They wrote the book together about habit-forming principles. Hannah and I both have read it and it motivates us to continue working hard. We have seen the success in our own lives from learning and using these principles that they teach in their book.
They have created a system about setting small achievable actions in your life that help you make the changes you desire but just don't know where to start.
I recently made them hats to celebrate their first book, and I talk more about them in that post.
Thank you as always for being here with us, I hope that the tips I've shared can give you a glimpse into the behind the scenes of sharing crochet.
I hope that if you feel motivated to take your crochet to the next level that you will have the courage to do it!
I believe the crochet community in the world is full of the kindest and most generous people you will ever interact with. It's like discovering a valuable gem that you will treasure forever.
xo, Tiffany
*As an Amazon Associate, I earn from qualifying purchases