Hi, it's me again, (I'm on the right).  Previously, I shared a post titled It's Starts with a C and it's not Crochet.  I'd like to update you on the latest and share with you what I wrote to my Instagram and Facebook followers and explain why my friend Mandy is pictured with me.
First, the good news. It is with an extremely grateful heart that I am happy to report that all the testing after my surgery indicates that the cancer has not spread. The next step for me is to follow up with appointments every four months for the next three years. I did, however, get a little scolding from the Dr. for not staying closer to the couch, or actually ON the couch, so I will need to take it even easier for the next two weeks.
I do feel though like my fight against the dreaded C word has been a sprint around the block while my friend Mandy is lacing up for a marathon. The very day I found out I had cancer, she found out that her cancer was back, and this time in her liver. She previously fought colon cancer three years ago.
I'd really like you all to know, especially all of you who have made a gingham blanket, that if it wasn't for her, the pattern wouldn't even exist. Mandy was my first ever Daisy Farm fan, and an encouraging friend who loved the blankets I was making and insisted on hiring me to make one for her grandson. Back then Daisy Farm Crafts was a baby itself and I was dusting off my hooks. I was unsure my skills were up to par. She ordered anyway and loved it.
Then, she found out she had another grandson on the way and asked me again. Mandy let me know that a handmade blanket was important to welcome a baby into the world. She insisted on paying me for my work and valued what I was doing. So, when it came time that her son was having her very first granddaughter, she called and wanted a pink blanket. I let her know I was experimenting with gingham check and she just said do your thing. So I did, and the blanket I made for her granddaughter is the very first one I made and shared with you all.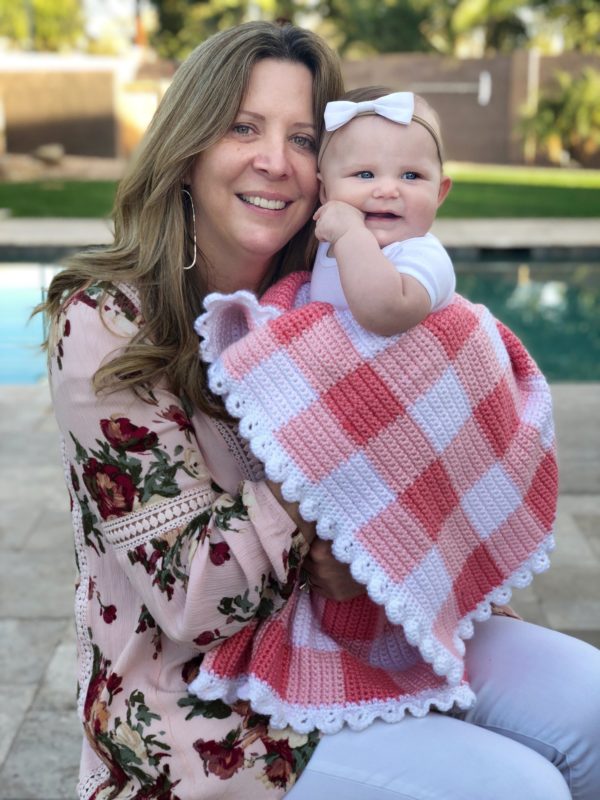 This is her pictured with her granddaughter Monna, named after Mandy's mom who died of cancer way too soon. Mandy and I are both turning 50 this year and laughed at the gift of cancer we received, and then cried together.
Today, as I was finding out my results, she was receiving her very first chemotherapy treatment, which she will receive for the next 48 hours. That's just the start. She also will try to get into a clinical trial at UCLA.
After I shared my post about having cancer here on my blog, on Instagram and Facebook, the many thoughts and prayers that were offered on my behalf were overwhelming. They came from every part of the world and from people practicing all different religions. I received all of them with a grateful heart.
Many of you know that I am a Mormon and my daughter Haley has been serving a mission in Billings, Montana and she came home from her mission three days after my surgery. I did make it to the airport to greet her, in a wheelchair. But I also rested up the following week so I could make it to church to hear her share her experiences in Sacrament Meeting.
When I walked into the chapel, very slowly, I felt every one of the prayers, from the crochet community, my church brothers and sisters, my friends and family. They flooded my heart with warmth and peace. It was so powerful it brought tears to my eyes. I knew it was because so many people had sent my name heavenward. And, Heaven heard. Blessings of strength and courage have been pouring down upon my family through this whole journey.
Thank you all so much for those prayers. No matter how or where they were uttered, I felt like I had a personal cheering section rooting for me the whole way and helping me be brave and strong.
My prayers are going to be with and for my friend Mandy now that I know how to be a cheerleader for her and because prayer is so powerful. I want her to feel strong and lifted, brave and courageous just like I felt, as she runs her long and difficult race.
It's my turn to get her over the finish line. Stay strong Mandy, many are praying for you.
And there is something special about a crochet blanket, it has even brought forth a few miracle babies. I know it will bring a miracle to you.
XO
Tiffany