Hello friends! We have a new and updated pattern for you! You may recognize this photo from a few years ago of a beautiful throw that Nicolina made: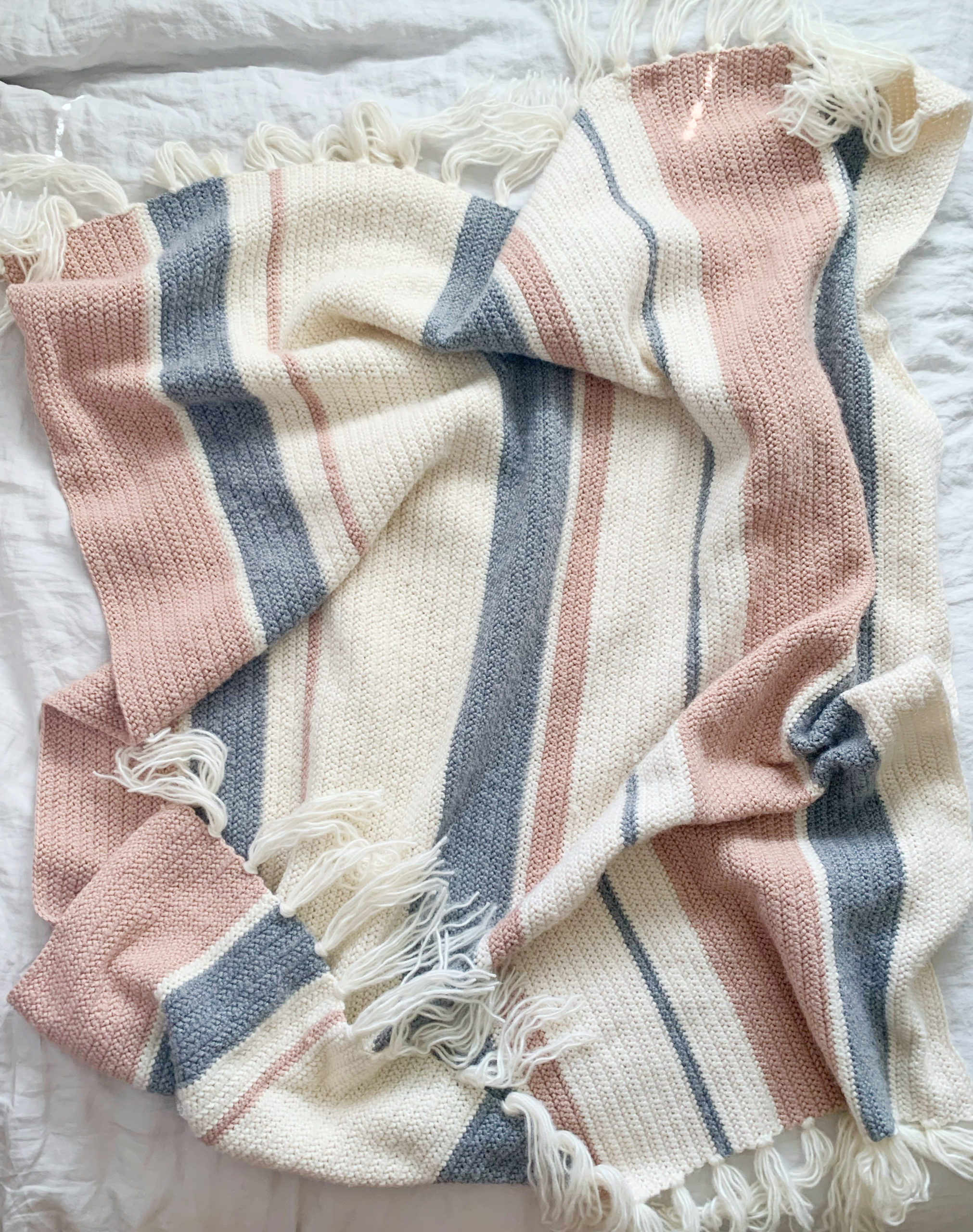 It's one of our favorite patterns (called the Herringbone Mixed Stripes Throw), but sadly the yarn she used in that original blanket has been discontinued, so we wanted to give you an updated version with some newer yarn!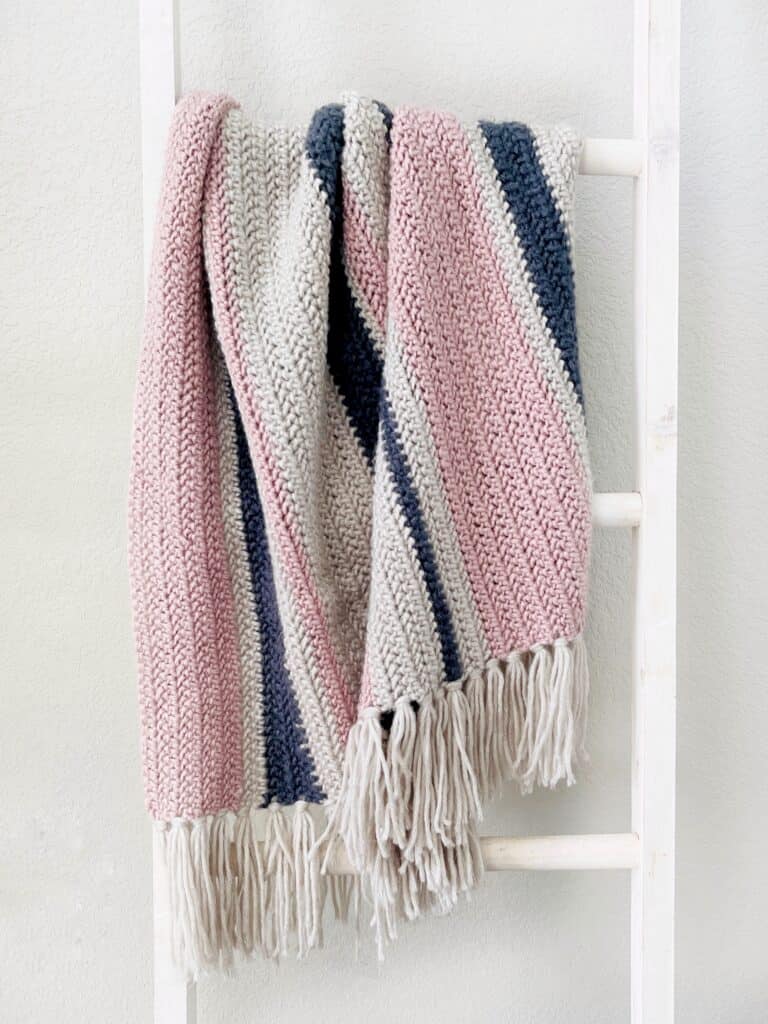 This new pattern is a bit smaller, so we are calling it a baby blanket, but you can definitely still make it a throw size by making a longer base chain. The blanket is worked lengthwise, so however long you make the base chain will be length of the blanket.
Here is a quick video of the herringbone half double crochet stitch used for this blanket if you'd like to watch before you get started!
Materials
Red Heart Super Saver Brushed (100% acrylic, 142 g/5 oz, 233 m/255 yds)
4 skeins Soft Mink, 2 skeins Shale, 2 skeins Dusty Pink
Size J/6.00mm hook, tapestry needle scissors
Size
Finished size 30 in x 40 in
Gauge 4 in = 9 st and 12 rows of pattern
Stitches
Herringbone Half Double Crochet (HHDC): Yarn over (YO), insert your hook, YO, pull up a loop and continue pulling through first loop on the hook. YO and pull through final two loops on hook.
Pattern
Chain 110 with Soft Mink. (If you'd like to make your blanket bigger or smaller, chain any number.)
Row 1: Starting in the 3rd chain from the hook, work 1 HHDC in each chain. CH 1 and turn.
Row 2: Work 1 HHDC in each stitch across the row. CH 1 and turn.
Repeat row 2 for the rest of the blanket.
NOTE: You can choose to chain 2 after every row if you wish. Chaining 1 helps to keep the sides neater looking, but it does make it tricky to find the last stitch. A great way to find it is to mark the first stitch you make in each row so that on the return pass you'll know it is the last stitch of the row.
TO CHANGE COLORS: On your last stitch in the row, YO and insert your hook into the chain space, YO and pull through stitch and through the first loop on the hook. You should have two loops on your hook. This is where you lay the new color over your hook and pull through to finish the stitch with your new color. Make sure to leave at least a 6 to 9 inch tail when you cut the previous color.
Here is a striping chart for this blanket, but feel free to get creative and space our your stripes however you like! The randomness of the stripes is what makes this blanket so cool!
COLOR CHANGES: 4 rows Soft Mink, 4 rows Shale, 2 rows Soft Mink, 12 rows Dusty Pink, 3 rows Soft Mink, 1 row Shale, 6 rows Soft Mink, 3 rows Dusty Pink, 1 row Soft Mink, 4 rows Shale, 10 rows Soft Mink, 2 rows Dusty Pink, 3 rows Soft Mink, 4 rows Shale, 2 rows Soft Mink, 8 rows Dusty Pink

Tassels
To add tassels, cut several 6 inch pieces of yarn in Soft Mink. Take two to three pieces of yarn and fold them in half. Insert the folded end into the chain space above the last row of the blanket. Pull the ends through the loop and pull tight to make a knot. Add a tassel at the end of every other row, or however far apart you'd like them to be spaced.
Thanks so much for visiting Daisy Farm Crafts! Happy Crocheting!
Click here or on image below for printable pattern