Hi All! It's Cyndi, Tiffany's sister! If you have been following along, Tiff has been teaching me how to crochet.
My project this week is this fun, colorful and easy mesh stitch vertical stripe scarf.
I love the mesh stitch! This scarf, made with long rows, is a great way to get very comfortable with the rhythm and the look of the stitch.
Constructing the scarf vertically gave me 7 feet of stitching where I could happily crochet without having to count or change color.
I've been working on getting more consistent edges on my projects and Tiff suggested I not go too fast and really take time chaining an even, not too tight, not too loose, base chain.
I'm using Red Heart Super Saver and the Caron One Pound yarn. For a beginner they are an affordable and easy weight to work with.
Plus, the best part is how many colors there are to choose from!
The color pallet I used for this project was inspired by a 1950's soda shop. The way this scarf turned out reminds me of a vanilla milkshake with sprinkles!
(And thanks to my darling niece Hannah who said my scarf totally looks like it could be sold at Anthropologie when I showed her! High praise!)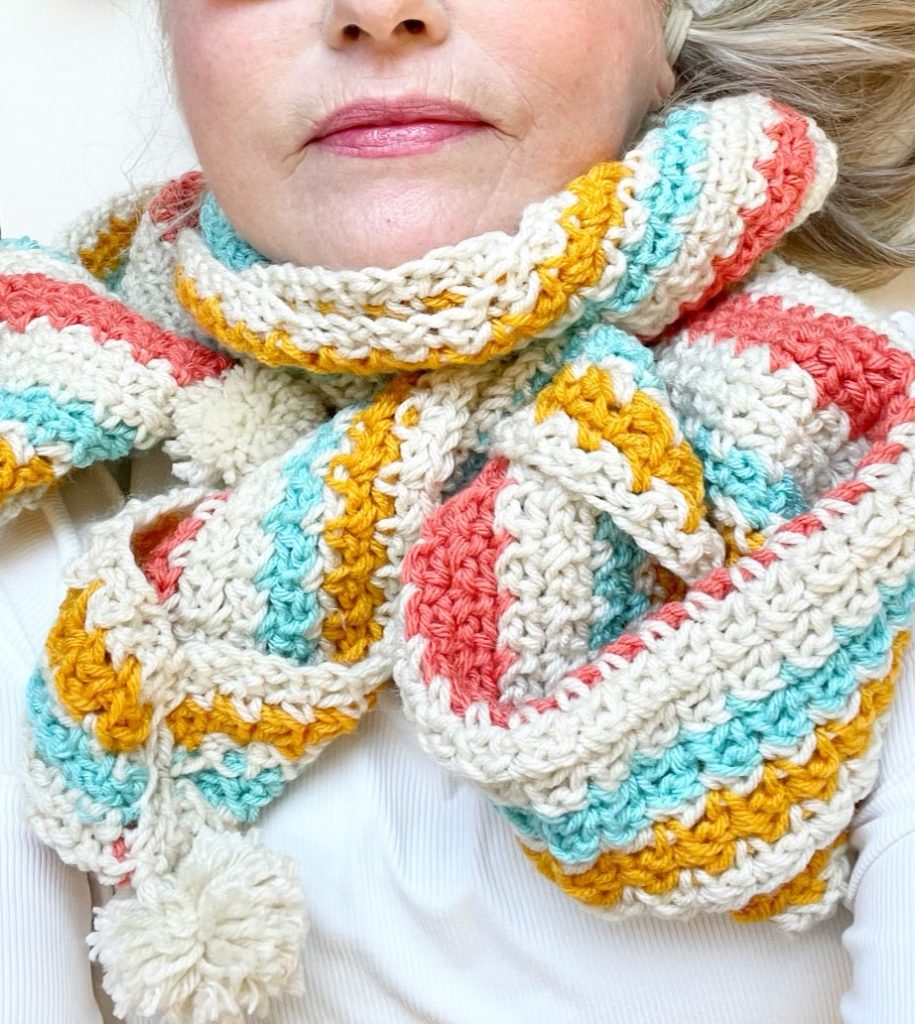 (Be sure and scroll to the end of the post if you want a printable version of this pattern.)
Materials
Red Heart Super Saver (100% acrylic, 7 oz/198 g, 364 yds/ 333 m)
3 skeins, 1 skein each Aran, Gold, Aruba Sea
Caron One Pound (100% acrylic, 16 oz/453.6 g, 812 yds/ 742 m)
1 skein Terra Cotta
Size H/5.5 mm hook, tapestry needle, scissors
Size
Finished size 84 in x 8 in
Stitches
Single Crochet (SC): Insert your hook, YO and pull up a loop, YO and pull through two loops on hook.
(This pattern uses the Mesh Stitch which is SC and CH 1 combo. For a tutorial, click here.)
Pattern
Chain 280 any even number for 7 feet (84 inches)
There will be a total of 26 rows. The graphic below shows how many rows for each color.
ROW 1: Starting in the 2nd chain from hook, work 1 SC. *CH 1. Skip one chain, SC in next chain. Repeat from * across the row, ending with 1 SC into the last CH. CH 1 and turn. (279 total sts.)
ROW 2: Starting in the 1st stitch, SC into SC of previous row. *CH 1, skip the chain space, SC into the next SC. Repeat from * across the row, ending with 1 SC into the last SC. CH 1 and turn.
REPEAT ROW 2
Cut yarn at the end of each color change leaving at least 8 inches of tail. Secure last stitch by pulling it through the loop to create a knot then weave in the end with a tapestry needle.
Gathered Ends
Thread a tapestry needle with an 18 inch piece of yarn. Start the stitch an ⅛ of an inch from the edge, leaving an 8 inch tail and weave the yarn in and out at ¼ inch intervals along the end of the scarf.
When finished, gather the end into a circle and match up into a triangle. Secure the edges of the triangle together with a blanket stitch. Attach a pom-pom to the tip of the triangle and knot. Cut and weave in ends.
To see how I made two finger pom-pom's, finished the ends (and hid my mistakes) check out the video I made on my YouTube channel, Sugar Joye.
Thank you for stopping by and thank you so much Tiffy for teaching me!
XOXO, Cyndi
Click here or image below for a free pdf of the pattern.