Our friends at Yarnspirations.com asked us to design a baby blanket for the fall season. I love working with Caron Simply Soft so naturally I gravitated to all the warm, rich tones they carry in that line.
I also wanted to do something different and modern. Hannah spotted a pillow she liked on the West Elm Instagram feed we both really liked and that became my inspiration.
Isn't that such a pretty pillow? I think the pop of orange with gold just makes it so autumn looking.
When I showed the blanket to the team at Yarnspirations, they took my idea one step further and with a few clicks in photoshop, they edited the blanket to let us see the blanket in blue tones and neutral tones.
Now I have three blankets I absolutely love!
I decided since I was changing yarn colors so much, to keep the stitch very simple and modern looking as possible. The stitch I always use to minimize lines, and to make a really solid flat looking blanket is the Wide Half Double crochet stitch, formerly called by us the HDC in between the posts. Here's a graphic from our friends at Yarnspirations.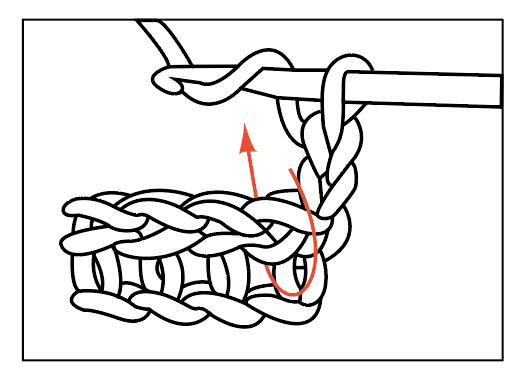 This pattern is exclusive and available on the Yarnspirations website by clicking here.
And until November 3, 2019, Caron Simply Soft is on sale! You can get 30% off on Yarnspirations.com.
Here is the list of colors I used for the girl version: Persimmon, Gold, Victorian Rose, Light Country Peach, Heather Grey.
For the Boy Version: Light Country Blue, Country Blue, Dark Country Blue, Grey Heather, Gold
For the Gender Neutral Version: Gold, Persimmon, Heather Grey, Sage and Bone.
Thank you to Yarnpsirations for sending us the beautiful Caron Simply Soft yarn to design this blanket. We have been sponsored in 2019 by them and it has been such a great time.
Ask me four years ago as I stood in the isles of Wal-mart, choosing Caron Simply Soft colors, if I'd ever thought a pattern I'd put together would be on their website, and I'd say no, never in a million years. Yet, here we are and it's such a thrill!
Thank you to all you Daisy Farm crochet friends who found us and loved what we were making. You bring so much light and love into our lives.
Have a wonderful crochet day!
Tiffany