My grandbaby Jack needed a little bit more padding for his playpen so I used it as a perfect opportunity to continue trying the new line of O'go yarn from Yarnspirations.com
I just made a small little playmat out of 2 Bernat Blanket O'gos. I had enough for a 27 x 37 inch rectangle with cream and grey leftover.
The Blanket O'go has the same amount of yarn as a regular ball of blanket yarn, but has this great way of being wound that you can separate the colors and use them how you wish.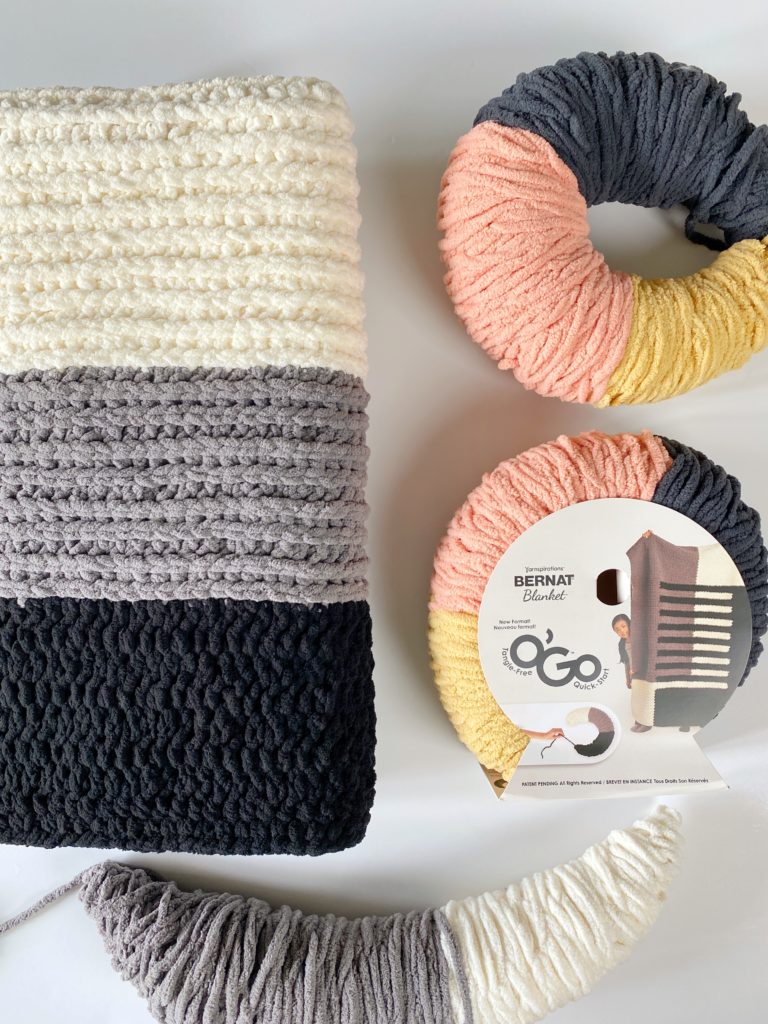 The Blanket O'go that I used was called Monochrome, but I also have some called Rose Gold as you see in the picture above.
Here's an illustration of what I mean by separating the colors:
You can gently pull the colors apart and cut them, or just start on one end, and go! For baby Jack's playmat, I just started with the black and went!
Although, I don't like color changes mid-row, so when I ran out of using the black and didn't have enough for one row, I cut and changed colors and started a new row with the grey color.
But what matters most is now Jack is a little bit more comfy for his nap time at grandma's!
Stitches
Half Double Crochet (HDC): Yarn over (YO), insert your hook, YO and pull up a loop, YO and pull through three loops.
Materials
Bernat Blanket O'go (100% polyester, 300 g/10.5 oz, 201 m/220 yds)
2 skeins in Monochrome
Size L/8mm hook, scissors, tapestry needle
Size
Finished size 27 in x 39 in, Gauge 4 in = 6 rows and 9 st of pattern
Pattern
Chain 55.
Row 1: Work 1 HDC into the third chain from the hook. 1 HDC into each chain across the row, CH 2 and turn. (53)
Row 2: Work 1 HDC inserting your hook up and under the front bottom loop of the first stitch in the row. HDC in each front bottom loop across. CH 2 and turn.
Row 3: Work 1 HDC around the front bottom loop by inserting your hook from back to front underneath the top v's and reaching hook around the bottom loop. (You want the braided look to be all on the same side of the work.) HDC around each loop, CH 2 and turn.
Rows 4 -8: Repeat rows 2 and 3.
Rows 9- 16: Change to grey color, continue repeating rows 2 and 3.
Optional: I changed the directions of the braids to be on the opposite side of the blanket after the black section, but mainly because I wanted you to see in the pictures that this stitch looks differently on either side. I think the blanket would look better if one side is all the ribbed braid look and the other smooth.
Rows 17 – 34: change to cream.
Rows 35 – 42: change to grey
Rows 43 – 50: change to black.
Border
With black, *work 1 HDC into each stitch and one HDC per the end of each row on the sides, and 3 HDC into each corner. Join with a slip stitch to first HDC, ch 1 and turn. Repeat from *. Tie off and weave in all ends.
Below is a free printable version of the pattern, look for a black bar that says print.
Thanks for coming by!
XO, Tiffany